Andrew Rafacz Gallery today announced that the gallery will be relocating to a new 2,000-square-foot space on the street level of 1749 W. Chicago, a building constructed in 1916 in Chicago's West Town neighborhood. The space, designed by Chicago-based architect Paul Preissner, will open November 8 with two exhibitions featuring new work by Julia Bland and Robert Burnier. Additionally, artist Cody Hudson will unveil a large-scale, multi-story mural on the eastern façade of the building in Spring 2020.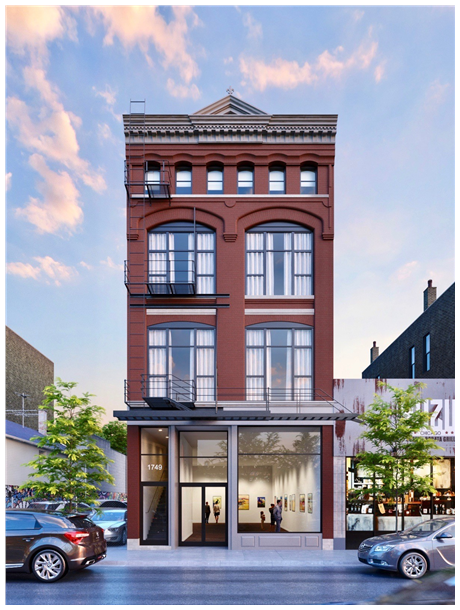 "This move is the culmination of my experience in this business and an evolving and inspired approach to how a space can function to better serve the art, the viewer and the community at large," said founder Andrew Rafacz. "With almost double the exhibition space, our new location will provide substantial growth opportunities for our existing artists as well as the opportunity to expand our roster with several incredible new artists that will be announced in the upcoming months." He added, "The move offered an exciting prospect to contribute to a neighborhood with a flourishing cultural ecosystem, where many of Chicago's most impactful galleries have made homes and are able to grow and thrive."
Preissner's design for the interior space references the ad hoc environments in which art is created by incorporating unpretentious and off-the-shelf finishes into the plan's composition in unusual ways.
"When designing the gallery space I sought to present seemingly commonplace things, such as fluorescent fixtures, in a way that is utterly normal to a degree that it becomes quite special," said Preissner. "This contradiction is exemplified by the way in which the fixtures light the gallery with a reflection of the floor, responding to the ceiling's structural steel beams." He added, "I wanted to make certain that all of the choices for the space reflect the nature of looking at and considering the artwork on exhibition in the gallery."
The inaugural exhibitions, The Half That Ties, The Half That Breaks by Julia Bland and Temple by Robert Burnier will fill both of the exhibition spaces within the gallery.
In The Half That Ties, The Half That Breaks Julia Bland presents ten works that approach the rhythm and weight of their repeated geometric forms through a series of intertwined processes. 
"By weaving, cutting, burning, sewing, dying and painting, I am continually assembling and dissembling the various materials I employ," said Bland. "This process sheds definitive notions of creation and destruction, and surfaces emerge as the record of these evolving transformations."  
In Temple, Robert Burnier combines sculptural and painterly forms that emerge out of a transformation from one geometric state to another. These transformations reveal the histories of their own making as a vital, formal element of their appearance.
"I have often presented these objects and their internal, visual, formal histories, within larger contexts involving concepts from a wider societal history," said Burnier. "I'm very excited to be mounting my next show at the new Andrew Rafacz space, which will afford me a greater opportunity to explicate these relationships at a scale not before seen in my work."
The exhibitions will remain on view through December 21, 2019.
In Spring 2020, Cody Hudson will reveal a multi-story mural on the eastern façade of the building that will feature a vibrantly shaped composition that references plant life and how the public interacts with both interior existence and the exterior world.
"While conceptualizing what will be my largest mural in Chicago, I have been interested in the connection between living plants and their influence on our human minds, both psychologically and psychedelically," said Hudson.
About Andrew Rafacz Gallery
Andrew Rafacz Gallery is a leading contemporary art gallery based in Chicago. Founded in 2008, the gallery has presented—often for the first time in Chicago—prescient exhibitions by an international roster of artists for more than a decade. The gallery represents artists from a wide spectrum of backgrounds and identities working across mediums, connected by their respective dedication to a thoughtful, defining practice. Artists represented by the gallery include Caroline Wells Chandler, Melissa Leandro, Daniel Shea, Wendy White and many more.
In November 2019, the gallery will relocate to a newly designed street level space in Chicago's West Town neighborhood (1749 W. Chicago), doubling the gallery's current size and establishing a new environment for the program and its artists to evolve. For more information, visit andrewrafacz.com.
About Julia Bland
Julia Bland (Born 1986, Palo Alto) received her BFA from RISD in 2008 and her MFA from The Yale School of Art in 2012. She has been an artist in residence at The Macdowell Colony, Yaddo, The Skowhegan School of Painting and Sculpture, Lighthouse Works, The Sharpe-Walentas Space Program, The Woodstock Byrdcliffe Guild, and The Shandaken Project: Storm King. She has received awards including The Milton and Sally Avery Fellowship from Yaddo, The Carol Scholsberg Memorial Prize, The Jacques and Natasha Gelman Trust Travel Fellowship, and The Florence Leif Award for Excellence in Painting. In the coming year she will participate in group exhibitions at the John Michael Kohler Art Center in Sheboygan, WI and at the Everson Museum in Syracus, NY, among others. Her solo exhibition at Andrew Rafacz Gallery in Chicago, IL will open on November 8, 2019.
About Robert Burnier
A native Chicagoan, Robert Burnier received his master's degree in Painting and Sculpture from the Art Institute of Chicago in 2016 after transitioning away from a career in computer science. He has always seen the two as related in terms of making, creating and thinking systemically about the means of creation. Beyond what systemic thought in technology usually involved, art has given him a way to contemplate broader themes about the way we live in a rigorous manner, through the discipline of creating bodies of artistic work which are, in a sense, new worlds to consider in their own right. 
About Cody Hudson
Cody Hudson (American, b. 1971) lives and works in Chicago. He has had recent solo exhibitions at Primary (Miami, FL), mini galerie (Amsterdam, Netherlands), ANDREW RAFACZ (Chicago, IL), Left Field (San Luis Obispo, CA), HVW8 (Berlin, Germany), and V1 Gallery (Copenhagen, Denmark). Recent group exhibitions include Joshua Liner Gallery (New York, NY), ETH Zurich Graphische Sammlung (Zurinch, Switzerland), Chicago Artist Coalition (Chicago, IL), Chicago Design Museum (Chicago, IL), Circuit 12 Contemporary (Dallas, TX), Guerrero Gallery (San Francisco, CA), 312 Bowery (New York, NY), Lamington Drive (Collingwood, Australia) and the Urban Institute for Contemporary Arts (Grand Rapids, MI). Hudson has been exhibited widely at art fairs in Chicago and Copenhagen. His work is in numerous private and public collections.
About Paul Preissner
Paul Preissner runs Paul Preissner Architects, an architecture office located in Oak Park, IL. Preissner is an Associate Professor at the University of Illinois at Chicago School of Architecture and Adjunct Associate at the Graduate School of Architecture Planning and Preservation at Columbia University in NYC. He has written essays about architecture for publications including Volume, Clog, PLOT, and NewCity. Preissner's work has been exhibited in the United States and abroad, including the Museum of Contemporary Art in Chicago, the Chicago Architecture Biennial, the Buenos Aires International Biennale of Architecture, and the Rotterdam Biennale, and is a part of the permanent collection at the Art Institute of Chicago.
Paul has previously taught at the University of Pennsylvania, Syracuse University, the Southern California Institute of Architecture, the School of the Art Institute of Chicago, and served as the Hyde Chair at the University of Nebraska.