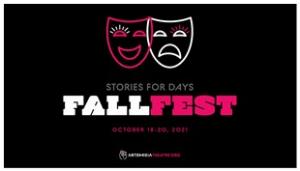 Three new plays. Three audience discussions. One great mission. 
Artemisia Theatre returns to live performances with its 10th Artemisia Fall Fest, a showcase of three timely new plays by women writers presented as staged readings, October 18-20, 2021 at Raven Theatre, 6157 N. Clark Street, Chicago.
Celebrating women as heroes is the theme. Amplifying diverse voices and creating space for interactive discussions that inspire compassion and social justice for women are the goals.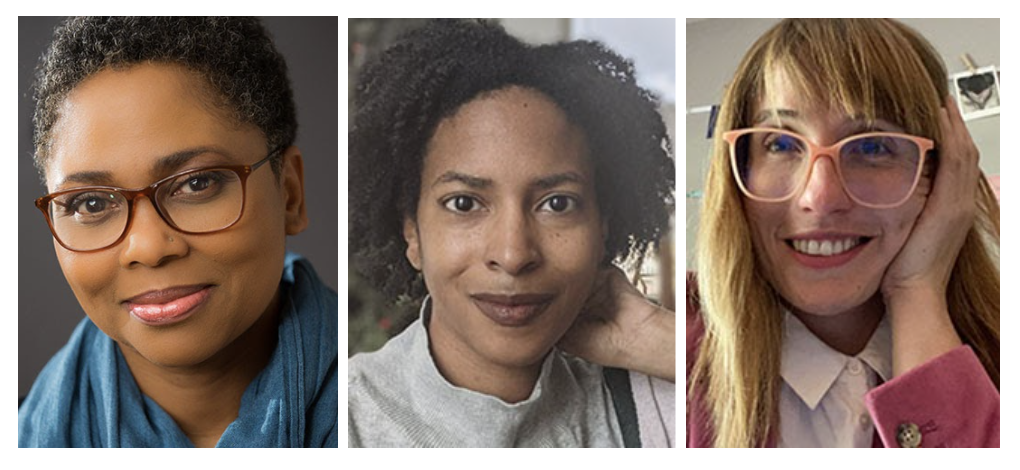 New plays by (from left) Inda Craig-Galván, Deneen Reynolds-Knott and Lauren Ferebee will be showcased at Artemisia Fall Fest, October 18-20, 2021 at Chicago's Raven Theatre.
The three new works debuting at Artemisia Fall Fest are: 
The Great Jheri Curl Debate by Inda Craig-Galván, directed by E. Faye Butler, about a Black woman who's sure the invention of the Jheri Curl marks the end of the world, set in a Korean-owned beauty supply store. The performance is Monday, October 18 at 7:30 p.m.
Babes in Ho-lland by Deneen Reynolds-Knott, directed by Myesha-Tiara, about two young Black women who transform their dorm room into a sanctuary on a white university campus. Babes in Ho-lland is Tuesday, October 19 at 7:30 p.m.
Driftless by Lauren Ferebee, directed by Julie Proudfoot, about a white, female--dominated family in the not-too-distant future grappling with the decline of their family-owned farm. Driftless will be performed Wednesday, October 20 at 7:30 p.m.
Tickets to Artemisia Fall Fest go on sale Sunday, July 25. Single tickets are $15, or purchase a Festival Pass for $40 and see all three plays at a discount. A Student Pass is $30. Each staged reading is followed by an audience discussion. For tickets and information, visit artemisiatheatre.org.
"Stories for Days" - Artemisia Fall Fest
Artemisia Fall Fest, October 18-20, 2021 at Raven Theatre, will feature staged readings of three new plays by women writers: The Great Jheri Curl Debate by (from left) Inda Craig-Galván, directed by E. Faye Butler; Babes in Ho-lland by Deneen Reynolds-Knott, directed by Myesha-Tiara; and Driftless by Lauren Ferebee, directed by Julie Proudfoot.
Since 2011, Artemisia has created career-altering opportunities for African American, Latinx, Asian, Arab and Native American (ALAANA), Caucasian and LGBTQ theater artists through full productions of classic and all-new feminist plays, along with its annual Fall Fest of staged readings.
This marks Artemisia's 10th Fall Fest dedicated to elevating new works by feminist writers. The reason? Because "women still struggle to find a place where they can share their stories and be their true selves as artists," says celebrated Chicago actor E. Faye Butler, president of Artemisia's board, and director of The Great Jheri Curl Debate. "That's what I love about Artemisia. It's a sisterhood of leaders, who empower women as writers, directors, performers. A place where women can bring their fire, their passion and their lived experience and share true stories from their perspective." 
Fire, passion and lived experience will all be on full display at Artemisia Fall Fest. Here's more about this year's exciting new works:
The Great Jheri Curl Debate
by Inda Craig-Galván, directed by E. Faye Butler
Monday, October 18, 7:30 p.m.
It's 1979 and Veralynn Jackson, a Black woman in her forties, knows hair, and she knows her neighborhood. She also knows that the invention of the Jheri Curl marks the end of the world. When she takes a job in Mr. Kim's Korean-owned Black beauty supply store and the posters start talking to her, Veralynn discovers her true calling.
The Great Jheri Curl Debate examines gentrification, immigration and racism from the perspective of two groups who don't have the luxury or privilege to ever ignore these topics: Korean immigrants and African-American citizens. The play is a retrospection of a specific point in U.S. history and is just as much a reflection of the divisions and social constructs we're operating under during 2021.
Inda Craig-Galván (playwright) is a Chicagoan who lives in Los Angeles. Her plays include Black Super Hero Magic Mama (Geffen Playhouse), I Go Somewhere Else (Playwrights' Arena), and a hit dog will holler (JAW 2021). Her work has been developed at the Eugene O'Neill National Playwrights Conference, Ojai Playwrights Conference, OSF's Black Swan Lab. Recent honors include Kesselring Prize, Jeffrey Melnick New Playwright Award, and Kilroys List. Current commissions in the works: Old Globe (San Diego) and Primary Stages (New York). She is also a TV writer on Demimonde, the upcoming HBO series created by JJ Abrams. She holds a MFA in Dramatic Writing from the University of Southern California. indacraig-galvan.com
As an actress and singer, E. Faye Butler (director) has a career that spans over 30 years nationally and internationally. Most recently she performed the role of Fannie Lou Hamer in Fannie Lou Hamer: Speak On It! for Chicago's Goodman Theatre and Arena Stage in Washington, D.C. She directed the critically-acclaimed virtual world premiere of Goods, by Lauren Ferebee, at Artemisia Theatre, where she serves as president of the company's board of directors. Her directing credits also include Lettin' the Good Times Roll with Fe and Faye, Ain't Misbehavin' (Portland Stage, Peoria Players and Old Town Playhouse), The Wiz (Columbia College) and Beattie Is… (New American Theatre). Butler also directs one person shows for artists across the country. Upcoming projects include Behind The Door and The Color Purple at Maine State Music Theatre. e-fayebutler.com
Babes in Ho-lland
by Deneen Reynolds-Knott, directed by Myesha-Tiara
Tuesday, October 19, 7:30 p.m.
In 1996, Ciara and Taryn, two young Black women, meet during a sunless winter semester on campus and share a love for R&B girl groups. They create their own bubble of discovery, music and sanctuary in Ciara's Holland Hall dorm room on a mostly white college campus. However, the stress of love, financial hardship and the persistent lack of privacy threaten to destroy it.
"Looking back, I recognize the strangeness of 18-year-olds moving from their family to a college campus: perhaps sharing a room with a stranger and experiencing an abrupt blast of freedom they may or may not be ready for," said Reynolds-Knott. "The adjustment can be stark as a young Black woman on a predominantly white campus."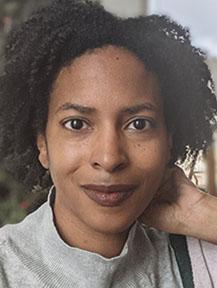 Deneen Reynolds-Knott's play Babes in Ho-lland was featured at Playwrights Foundation's 2020 Bay Area Playwrights Festival and will have a workshop production at Shotgun Players in Winter 2022. Her outdoor project, Shoebox Picnic Road Side: Route One, is scheduled to world premiere this fall at Alabama Shakespeare Festival. Her play, Flashes & Floaters, was read at the 2020 Playfest at Orlando Shakespeare Theater. Her play Baton was selected for the 2018 Premiere Play Festival and received readings at Premiere Stages, San Diego Rep's 2021 Black Voices Reading Series, Orlando Shakes' 2017 Playfest and was a finalist for the 2017 PlayPenn and Bay Area Playwrights conferences. She was a member of Clubbed Thumb's 2019-2020 Early-Career Writers' Group and received a finalist grant from their 2018 Open-Application Commission. Her work has been developed at Liberation Theatre Company's Writing Residency, Project Y's Playwrights Group, Rising Circle's INKtank Development Lab and Frank Silvera Workshop's 3in3 Playwright Residency. She received her MFA in film from Columbia University.
Myesha-Tiara (director) is an actress, director and content creator. At the end of 2019 she opened Perceptions Theatre, on the South side of Chicago, and serves as the theater's Artistic Director. Recently, she directed two audio performances for Artemisia We Women Podcast: What About the Children, by Sharai Bohannon, and Rachel, by Angelina Weld Grimke. Other Chicago directing credits include Black Magic at MPAACT, Skin Deep and The Bible for Artistic Home Theatre's Cut to the Chase One Act Fest, Some Day at The Rockwell Theatre Bandits' Ravenswood and Somewhere in Uptown for Collaboraction's Peacebook Festival. As an actor, she has performed at numerous Chicago theaters including Court Theatre, MPACCT, The Artistic Home and The Gift Theatre. TV and film credits include Rap Mom (B Side Productions), Broke AF (B Side Productions/web series) and the Academy Award winning film 12 Years a Slave. She is a graduate of Northwestern State University with a B.S. in Theatre with a concentration in Performance and Directing. myesha-tiara.com
Driftless
by Lauren Ferebee, directed by Julie Proudfoot
Wednesday, October 20, 7:30 p.m.
The Strongs, a white family that has farmed dairy in the Driftless region ever since there were settlers there, have held out against the factory farming boom until the most recent generation decided to leave. Yet even as Ruby, Chris and Jorie take their own paths in life, they're haunted by the myths of their family and the place they called home. Driftless is a story of salvaged junk, self-destruction and a sadness made of one family's discarded dreams for better lives.
"Driftless felt like the perfect play for Artemisia Fall Fest because the genesis of the play came in thinking about a lineage of vengeful mothers," said Ferebee. "This play is really looking at motherhood in a broad scope, and all the ways that nourishment and caretaking can also contain destruction - all the way from the Earth as uber-mother to the individual human mother. The terror of the female creator also being the destroyer is a potent power."
Lauren Ferebee (playwright) is an award-winning writer and a recent recipient of the 2021 Planet Earth Arts Playwriting Award from the Kennedy Center. Her play Goods premiered virtually with Artemisia in spring 2021 to acclaim from Chicago press, right before she graduated with her MFA from the University of Arkansas. She is also a recent recipient of an Arkansas Arts Council Screenwriting Fellowship and a two-time O'Neill semifinalist. Her work has been developed and produced in South Carolina, Chicago, Texas and New York. laurenferebee.com
Julie Proudfoot (director) is an actor, director and producer based in Chicago. She founded Artemisia in 2011 out of her fierce commitment to better the world through women's empowering stories and has a unique gift for curating classic and all-new feminist plays for the company. At Artemisia, she directed the premiere productions of Gambit by Ross Tedford Kendall, Belfast Girls by Jaki McCarrick, and Sweet Texas Reckoning by Traci Godfrey, all to critical acclaim. As an actor, Proudfoot has created leading roles in Chewing on Beckett and Visiting by Ed Proudfoot, and the virtual world premiere of Goods by Lauren Ferebee. She has performed on stage at TimeLine Theatre, Midsommer Flight, Akvavit Theatre, Equity Library Theatre and The Shakespeare Project of Chicago. She has been nominated for various Broadway World awards and her favorite on screen performances include Chicago Med, The Chi and Gilmore Girls. She has worked for several major Hollywood studios and regional theaters as a dramaturg and story analyst. In 2020, she launched Artemisia We Women Podcast to amplify women's voices through audio performances and empowering discussions. 
Artemisia Fall Fest is supported by the Arts for Illinois Relief Fund, Arts Work Fund, DDT Law Group, Echo Limousine, Gaylord and Dorothy Donnelley Foundation, HKM Employment Attorneys LLP, Illinois Arts Council Agency, Illinois Humanities, The MacArthur Fund for Culture, Equity and the Arts at the Richard H. Driehaus Foundation, National Endowment for the Arts, Paul M. Angell Family Foundation, Rebellious Magazine for Women and Salvi Schostok & Pritchard Trial Lawyers. 
About Artemisia Theatre: Making women heroes – on stage and off – by sharing their empowering stories
Artemisia Gentileschi was a great feminist painter, forgotten by history. Now, she's considered the greatest female artist prior to the modern period. It just shows why women's stories are important. They change our perspective, on the past, the present and the future.
That's why Chicago's Artemisia Theatre was founded, to share women's untold stories. Since 2011, Artemisia has enriched Chicago's culture by taking creative risks, achieving artistic excellence, and engaging the audience directly in unique performances and after-show discussions that inspire compassion and social justice for women. Artemisia's leadership is 100 percent women. 
For more, visit artemisiatheatre.org where you can sign up for the company's e-newsletter and subscribe to its new feminist podcast, We Women. Or, follow the company on Facebook, Twitter, Instagram, Pinterest and YouTube.