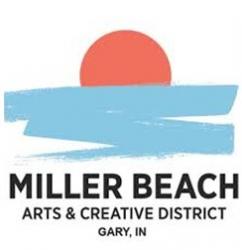 The project culminates in an indoor exhibition beginning Friday August 21 – 30th. Weekend gallery hours August 21-30 are Fridays and Saturdays 6-8pm and Sundays 2-4pm at the Marshall J. Gardner Center for the Arts, 540 S. Lake St., Gary, IN. A $5 donation to the gallery is requested. Hours for classes during the August 7 – 16th residency will be posted on the Miller Beach Arts & Creative District Facebook page and website.
Printmaking is thrilling! Monotypes are made by applying paint or ink directly onto a printing 'plate'. The painted image is transferred to paper by hand or by using a press, creating a mirror image of the original drawing. That moment of reveal when the print is pulled is pure magic. Every time. Monotypes are prized because of their unique textural qualities, and the artists are excited to share this dynamic medium with art lovers in NWI.
Angela Mathias Saxon, Anne Corlett and Royce Deans are bringing their printmaking studio front and center to the Marshall J. Gardner Center for the Arts. 
Experience their working studio and see freshly made artwork on a daily basis. This month-long event will include the creation of a new body of work by the three artists based on the beautiful landscapes of the area, free online printmaking classes, two sidewalk sale events, and a concluding exhibition of their work for the last two weeks of August. 
Angela, Anne and Royce are all established painters who grew up and still live along the shores of Lake Michigan, and each brings a 'painterly' approach to this traditional printmaking process.
EVENT SPONSORSHIP:  Be a part of the scene!
Be an integral part of this event by becoming a sponsor. There are a variety of sponsorship levels with artistic rewards for each. Sponsors will be listed on the MBACD website and the Painters Printing website.
In addition to creating a body of work based on the Miller Beach landscape, the artists will also create a signature poster available only to sponsors. Working from a panoramic viewpoint of the Miller Beach lakeshore, each artist will represent one third of the view. The three monotypes will be presented together in this signature poster. Donate at the $1000 level and you will receive all 3 original prints from this signature poster!
Sponsorship Levels can be found on our GoFundMe page https://charity.gofundme.com/o/en/campaign/monotype-artist-residency-and-classes or our Website www.millerbeacharts.org
PROGRAM DETAILS
Artists' Studio: The artists' studio will be set up in the front window of the Art Center so patrons can watch the artists at work during the day. Taking into consideration the restrictions of the COVID pandemic, the artists will offer a live video session via Zoom, Monday, Wednesday and Friday, August 10, 12 and 14 from 10-11 am. They will discuss different aspects of monotype printmaking and their own artistic practices. The sessions will include a Q&A period of time, so visitors can ask questions about the process and their work. The video will also show their working process. These sessions will be recorded and available at the MBACD website, so patrons can tune in at their convenience. The artists will be streaming live Instagram shorts daily as well.
Online Classes: In consideration of the pandemic, the artists will be offering a series of free classes online. Free material packets for the classes will be available for pickup at the MBACD. The classes will be conducted via Zoom and also recorded. Guests can either join in the live Zoom sessions or watch the instruction at their own convenience. We will encourage everyone to post their work on the Miller Beach Arts social media.
Exhibition/Sales:
Sidewalk Sale: Freshly made work will be displayed in front of the MBACD on Sunday, August 9 from 10 am - 1 pm and Friday, August 14 from 4 - 7 pm. Artwork will be available for viewing or purchasing in a safe, socially distanced shopping scenario. A portion of all proceeds will go directly to supporting MBACD programs and events.
Online Sales: As artwork is created, it will be posted on the Painters Printing online store and will be available for viewing and purchase. You can access this website from www.MillerBeachArts.org. A portion of all proceeds will go directly to supporting MBACD programs and events.
Gallery Exhibition - "Painters Printing/Miller Edition" will be open weekends August 21 – 30, 2020, showing a display of monotype prints created during the MBACD residency. A portion of all proceeds will go directly to supporting MBACD programs and events.
Visit www.MillerBeachArts.org for daily schedule of events and updates from the artists.
ABOUT THE ARTISTS
All three artists were born and raised along the southern shore of Lake Michigan. Angela Mathias Saxon was raised in Miller and is a Wirt High School graduate; she earned a BFA/Painting from Indiana University. Anne Corlett is from River Forest, IL and studied at the School of the Art Institute of Chicago. Royce Deans was raised in Western Springs and attended the American Academy of Art in Chicago.They presented an exhibition of regional landscape paintings, 'Reconnect', in 2018 at MBACD.
******* SAFETY FIRST********
Events at the Marshall J. Gardner Center for the Arts are conducted in a safe environment employing social distancing, and with masks required. The arts center is a large space which easily offers more than adequate social distancing opportunities to ensure the health and safety of volunteers, participants and artists.  
For more information, visit our website: www.millerbeacharts.org, the Miller Beach Arts & Creative District Facebook page or contact Meg Roman Email: meg@millerbeacharts.org