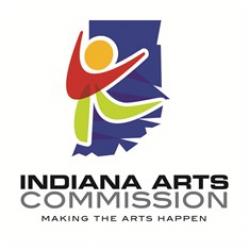 During its June 12th virtual Quarterly Business Meeting, the Commission approved funding recommendations for Arts Organization Support (AOS I, II, and III) and Arts Project Support (APS). The Commission approved grant allocations totaling more than $2.8 million in state and federal funds for grants and programs provided by arts organizations and cultural providers that prioritize community engagement throughout the state. 
Arts Organization Support provides annual operating funding for the ongoing artistic and administrative expenses of nonprofit arts organizations. Arts Project Support provides funding for one-time events like festivals, exhibits, or workshops. Together, these programs represent a broad range of arts disciplines and geographic reach. In FY 2019, recipients of AOS and APS grants together served all 92 counties in Indiana. 
"This funding is crucial to sustaining the operations of arts organizations, which is a significant source of economic prosperity in Indiana," said Lewis Ricci, IAC Executive Director. "We know that these organizations have been heavily impacted by the pandemic, and this funding will help them weather the storm as they continue to adapt to this new normal and create safe, meaningful experiences for Hoosiers." 
Region 1 (Lake, Porter La Porte counties) grant recipients are: Art Barn School of Art, Beachfront Dance School, Books, Brushes & Bands for Education, Chesterton Art Center, Community Theatre Guild/Chicago Street Theatre, Dunes Arts Foundation, Indiana Ballet Theatre NW, Jack & Shirley Lubeznik Center for the Arts, Lakeshore Community Concerts, Laporte Symphony Orchestra, Memorial Opera House, Miller Beach Arts & Creative District CDC, Northwest Indiana Symphony Society, South Shore Arts, Theatre at the Center and Towle Performing Arts Company.  
Find the list of Arts Organization Support grants here.
Region 1 (Lake, Porter La Porte counties) grant recipients are: African American Achievers Youth Corps, Ballet Folklorico Tapatio Co. of Northwest Indiana, Boys & Girls Clubs of Greater Northwest Indiana, Cesare Battisti Lodge, Chautauqua in the Dunes, Crossroads Connect Incorporated, Duo Sequenza, Family Folklore Foundation, Gary Shakespeare Company, Humane Indiana, Indiana Dunes Environmental Learning Center, International Friendship Gardens Music Festival, Izaak Walton League of America Porter County Chapter, Kristina Isabelle Dance Company, Memorial Opera House Foundation, Michigan City Chamber Music Festival, Michigan City Messiah, North Coast Cultural Association, Northwest Indiana Excellence in Theatre Foundation, Northwest Indiana Public Broadcasting, Opportunity Enterprises, Porter County Parks and Recreation Department, Regional Performing Arts Company, Rockopelli, Seedlings Theatre Company, Sociedad Cultural Y Civica La Reforma, South Shore Brass Band, St. Mary Catholic Community School, The Artistic Recovery, The Duneland Family YMCA, Tradewinds Services, Valparaiso Theatrical Company, Whiting/Robertsdale Community Improvement Corporation and WVLP-LP.
Find the list of Arts Project Support grants here.
About the Indiana Arts Commission
The Indiana Arts Commission works to positively impact the cultural, economic, and educational climate of Indiana by providing responsible leadership for and public stewardship of artistic resources for all of our state's citizens and communities.