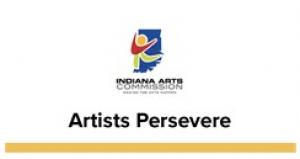 Here were the highlights:
Governor Holcomb allocated $10M from Indiana's CARES Act funds to ensure the stability of arts, culture, and destination marketing organizations.

Three Indiana writers received fellowships from the National Endowment for the Arts for the development of new works of American literature and the translation into English of literary prose, poetry, and drama.

Vigo County Public Library in Terre Haute, IN received $15,000 from the National Endowment for the Arts' Big Read initiative to host a community reading program.

Community-based arts providers throughout Indiana received grants totaling more than $2.8M for fiscal year 2021.

The Indiana Women's Suffrage Centennial Commission unveiled two original works of art that will remain a part of the State of Indiana's permanent public art collection.

Research originating in Indiana showed that, through arts integration, students are gaining knowledge, skills, and understanding in the arts and in literacy skills. 

Thirty-two poets had poems added to the State of Indiana's poetry archive.

Fort Wayne, Goshen, Kokomo, and Wabash focused and deepened arts and culture-based strategies to grow community wellbeing through the Creative Community Pathway program.

Seven arts apprenticeships teams are teaching traditional artistic knowledge to their family and community members.
All of this wouldn't have been possible without the support of statewide and national partners, the leadership of Governor Eric Holcomb, and the continued encouragement and investment from the Indiana General Assembly, members of Congress, and our federal partner the National Endowment for the Arts.
From all of us at the Indiana Arts Commission, best wishes for a happy, healthy, and creative new year.