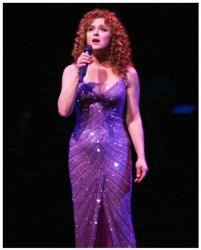 There are more than 2000 seats in the Paramount and almost all of them were full for a special appearance by one of Broadway's brightest stars.  Peters is blessed with a voice that is quite simply glorious!  She had the audience spellbound with her music and chuckling at her funny, self-deprecating stories and commentary.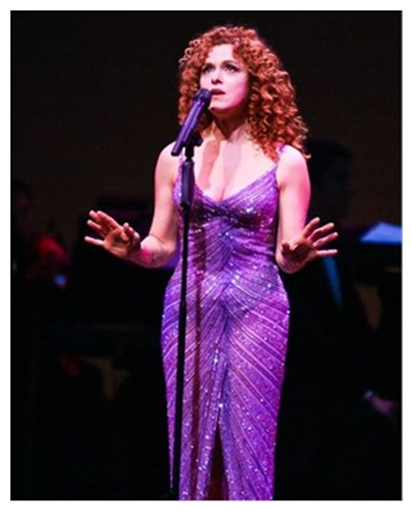 Bernadette Peters appeared on stage wearing a gorgeous, sexy, sparkly evening dress which would have revealed every flaw, if she had any!  Her signature red curls and youthful face really do prove that new adage - 70 is the new 50!  
Peters opened with her own interpretation of "Let Me Entertain You" from "Gypsy" – kind of an appropriate start to a very entertaining evening.  By the way, she said that she spent the last year on Broadway in the revival of "Gypsy", but she didn't sing that song. 
After her next song, "No One Is Alone", she drew some laughs when she said that was one of her favorite songs from "Into the Woods" – but she didn't sing it in the show!  Other Sondheim songs – "Losing My Mind" and "In Buddy's Eyes" from "Follies"; "Children Will Listen" from "Into the Woods"; "Send in the Clowns" from "A Little Night Music" and "Being Alive" from "Company".
Peters said she grew up listening and loving the music of Rodgers & Hammerstein, but she made a curious choice for her first R & H song – "There Is Nothing Like a Dame" – a gimmicky song which is generally performed by a man.  Peters sang it slow and quiet, except during the choruses which she belted out.  It just didn't work for me.  Growing up, she said her favorite Rodgers & Hammerstein record was "Carousel" so she sang her favorite song from that show, "(When I Marry) Mister Snow".  She followed that up with a Sinatra hit, "It Might as Well Be Spring" from the film, "State Fair".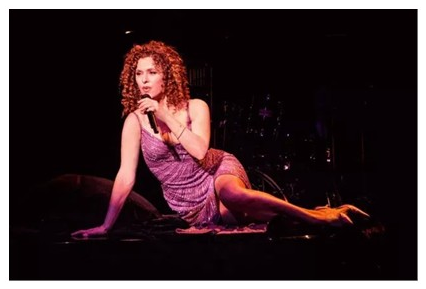 Peters said that she decided to learn something new for this concert series, one of those songs which are always identified by the singer.  This one has a particular beat emphasized by snapping fingers long before the singer breathes "Fever".  Peters had the beat and the sexy hesitations down pat but when she climbed up on the piano and laid down, the song became the sexiest of the evening.   
For a performance in Disney Hall in Los Angeles, Peters said she had to learn a Disney song, whereupon she sang "When You Wish Upon a Star", a perfect selection for her voice. 
In "Hello, Dolly!", Peters played Dolly Levi, a widow who decided she was ready to live again and maybe even marry again, but she wanted a sign from her husband.  Two songs, "Before the Parade Passes By" and "So Long Dearie", are a tribute to him. 
She ended her performance to tremendous applause, demanding an encore.  When Peters returned to the stage, she told a story about her first children's book, "Broadway Barks".  She wanted a lullaby to include on a CD in the book, but couldn't find one that fit, so she wrote a song expressing everything Kramer, her dog, meant to her, entitled "Kramer's Song". While she sang this song, she wandered down into the audience and walked along in front of the stage, then took a final bow. 
Peters was accompanied on the piano by her Arranger/Music Director, Marvin Laird.  Her drummer was former Mouseketeer, Cubby O'Brien.  Unfortunately, I didn't catch her bass player's name.  In addition, there were eight musicians (four on strings, four on woodwinds) from the Paramount Orchestra.