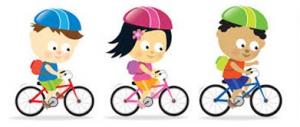  Please encourage children to wear helmets when riding bicycles.
 Inspect your bicycle before using it (air, brakes, chain) for safety purposes.
 Never allow small children to ride their bicycles in the street or by themselves.
 Bicyclists of all ages are reminded that you need to follow all posted traffic signage such as stop signs and stop lights.
 Don't wear earbuds or headphones as this will prevent you from hearing vehicle horns or other noises.
 Use bicycle paths and follow the same traffic direction.
 If you are riding at night, make sure that you are visible by using lights and wearing reflective clothing.
 Don't assume that vehicles will stop for you at intersections and look both ways before crossing streets.