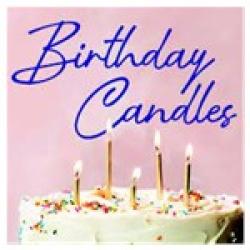 **** Highly Recommended   You can add another kudo to Kate Fry's resume, her tour de force performance in Northlight Theatre's production of Birthday Candles.  I don't mind telling you that this beautiful play, directed by Jessica Thebus, had me laughing and crying, sometimes at the same time.  Everything about it moved me!  4 BIG Spotlights
Birthday Candles is a series of living snapshots of Ernestine Ashworth's birthdays – from age 1 to over 100 – baking the same cake, in the same kitchen.  There isn't a snapshot of every year, but enough to draw a picture of her life, her loves and her sorrows.  It's a very personal play and I think everyone in the audience was moved. 
Aside from Kate Fry and her real-life husband Timothy Edward Kane, the cast all play multiple parts – Ernestine's mom, her husband, her children, her grandchildren and a spouse or two.  They are: Cyd Blakewell (Alice/Madeline/Ernie), Samuel B. Jackson (Billy/John), Chiké Johnson (Matt/William) and Corrbette Pasko (Joan/Alex/Beth).
The play opens on Ernestine's (Fry) 17th birthday, and she's supposed to be helping her mother, Alice (Blakewell) bake her cake.  Instead, she's obsessed by her small part of the universe and even more important, the tryouts for the school play, a slightly altered Shakespeare classic, Queen Lear.  Her friend Kenneth (Kane) drops in with a gift. Her mom insists that she take a minute to breathe in the moment. 
On her 18th birthday, she's lost her mom, so she's baking her own cake when Kenneth drops in with a gift and asks her to the prom.  She turns him down, saying she's not going.  She's firm on that until Matt (Johnson) asks her to the prom.  She says yes, but on the understanding that they're just friends because she has dreams. 
On her next birthday, we learn she married Matt and stayed in the same house in the same neighborhood, only now she has a son, Billy (Jackson) and a daughter, Madeline (Blakewell).  Billy's an athlete, Maddie has mental health issues.     
Highlights & lowlights: One birthday everyone is sad because Madeline overdosed. On another, Billy brings a very nervous Joan (Pasko) home and announces he's going to marry her.  Another birthday, Billy and Joan have a new baby.  On another, she learns that her husband cheated on her.  
Each and every birthday, she makes the same cake in exactly the same way.  As her family rush in and rush out, she insists they stop and take in the moment.  The one person who is always there for her is geeky Kenneth. 
I must mention the set, designed by Sotirios Livaditis.  I would kill for that kitchen!  It's gorgeous, roomy and yet warm and cozy. 
Birthday Candles was written by Noah Haidle.  It premiered in Detroit in 2018 and was scheduled for Broadway in 2020 but was delayed for two years due to the pandemic.  It finally opened on Broadway in 2022.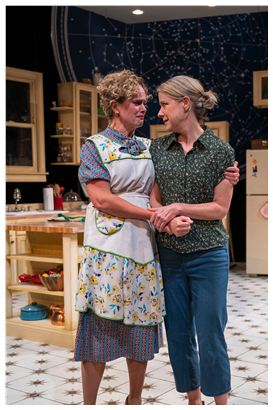 Birthday Candles runs through October 8th at Northlight Theatre, North Shore Center for the Performing Arts in Skokie, 9501 Skokie Blvd, Skokie.  Parking is free.  Running time is about one hour, 40 minutes, no intermission. 
Performances:
Wednesdays at 1:00 & 7:30 pm
Thursdays at 7:30 pm
Fridays at 8:00 pm
Saturdays at 2:30 and 8:00 pm
Sundays at 2:30
Tickets range from $30-$89.  FYI (847) 673-6300 or www.northlight.org.