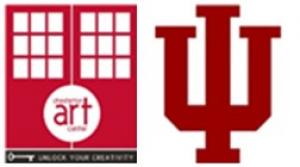 The Chesterton Art Center is pleased to announce a unique collaboration with the School of the Arts at Indiana University Northwest.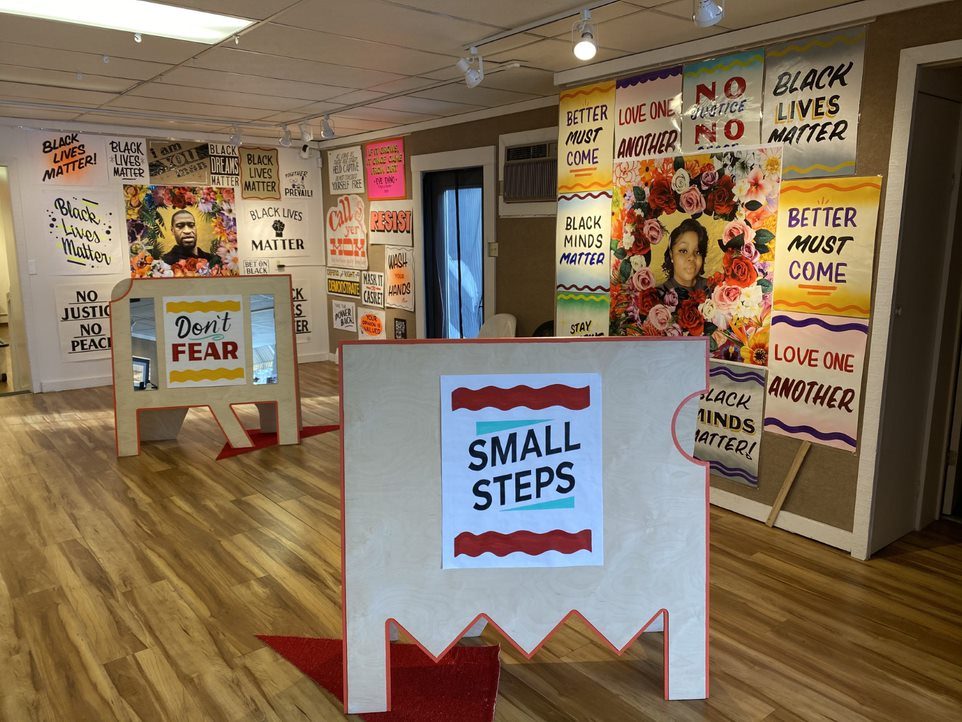 The Mobile Art + Action Pop-Up at the Chesterton Art Center is a month-long exhibition and creative installation featuring IU Northwest School of the Arts faculty and alumnus artworks and hand-painted protest paper signs by national and international artists. Also on display is the School of the Arts Mobile Art + Action Community Lab, a versatile exhibit display system launched fall 2020 in Gary, Hobart, and Hammond offers an immersive viewing experience.  In observation of Black History Month, exhibition elements include a spotlight on living contemporary African American artists, a comprehensive set of The Black ABC's on loan by a private collector and 'Echo Location' by The Floating Museum, a Chicago-based collective presenting six small 3D printed busts from the collection of the DuSable Museum of African American History.
"I am very excited about this partnership with the Chesterton Art Center. The Mobile Art and Action Community Lab initiative was developed as a Covid-19 pandemic 'pivot' for the School of the Arts at IU Northwest. As Lauren Pacheco, Director of Arts Programming and Engagement, and I began to reset our public engagement goals, we quickly re-focused on bringing new art experiences into Northwest Indiana communities. During February, you can find our Mobile Art and Action Community Lab on display at the South Shore Art Center, the Chesterton Art Center, and in the John W. Anderson Library at IU Northwest," states School of the Arts Dean David Klamen.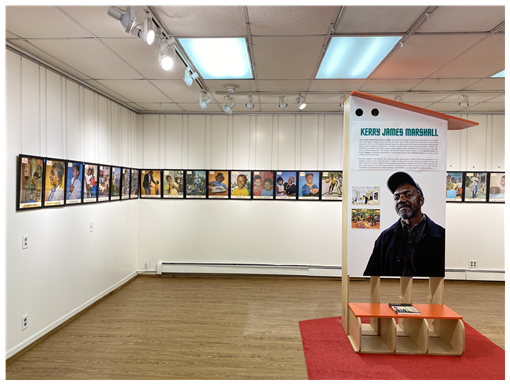 Lauren Pacheco, Director of Arts Programming and Engagement, says, "curating programming for the Mobile Art and Action Lab in community social spaces like the Chesterton Art Center becomes a real extension of Indiana University Northwest's resources.  It's quite fun to develop a curatorial proposal with ideas of storytelling, relevancy, and engagement as a powerful driver to reach new audiences, build trust and create a safe space for people to engage with art."  A COVID-19 Innovative Response Grant awarded by The Legacy Foundation in December 2020 supports traveling the Mobile Art and Action Lab throughout Northwest Indiana - the Chesterton Art Center pop-up exhibition kicks off an ambitious year-long programming schedule. 
"Dedicated funding will allow us to activate indoor and outdoor environments with a series of site-specific and community-centric traveling exhibitions and episodic experiences, including visual, performance, moving image, historical, archival, and sound presentations intended to engage, entertain, and educate people of all ages." Pacheco says.
Wendy Marciniak, Chesterton Art Center President commented, "We are thrilled to be partnering with the School of the Arts at Indiana University Northwest to bring this very important and timely exhibition to our space.  It's extremely powerful, thought-provoking and beautiful as well.  We cannot wait to share it with everyone either virtually or in person during our regular business hours. Unfortunately, we will not be able to host the artists with a reception due to COVID-19, but we encourage anyone who is able to stop in and view this exhibit in person.  We have taken every precaution to keep visitors safe when they visit."
An immersive 3D virtual tour is available to view at https://www.chestertonart.org/galleries and on social media channels.  Visit www.iun.edu/arts and www.chestertonart.org for more information. 
Exhibition Content Details and Participating Artists
Luella DeWulf Gallery:
'Paper Signs of the Times' and 'Words of Encouragement' are two moment-specific-art-installations and creative responses to the COVID-19 pandemic and civil unrest affecting our nation.
'Paper Signs of the Times' features over 50 one-of-a-kind hand-painted protest signs by emerging and established international and national sign painters. Curated by Heart & Bone, Gold Gilded, and Hand Painted Signs, a Chicago-based sign shop offering the highest quality of traditional gold leaf and hand-painted sign work. This small team of professional craft artists specializing in brushwork has 20 plus years of experience and mentorship within the professional painting field by some of the best sign painters and gold leaf artists in the country.
'Words of Encouragement' is a collective and social responsibility act of visual kindness that touches upon the necessity for cultural appreciation and democratization even in these challenging times. While we may feel alone when sheltering in place, this crisis affects all of humanity, and we are not alone. In the end, this project serves as a 'call to action.' It reminds us to remain hopeful as we all work together in solidarity to stay connected and respond to each other with love, compassion, sensitivity, and intelligence. Curated by Lauren M. Pacheco.  Artwork by Heart & Bone Hand Painted Signs.
Ruth Bicknell Gallery:
The Black ABC's was a project pioneered by two Chicago teachers in 1970. The series would become known colloquially were once ubiquitous in Chicago Public Schools. The Black ABCs was owned by the Society for Visual Education, which started in Chicago in 1919 and by the early 1970s became a leading supplier of classroom films.  The Black ABCs, which came from a lifelong friendship between a pair of Chicago teachers, was a byproduct of the civil rights movement, part of a need for classroom materials that moved beyond a white "Dick and Jane" and reflected the backgrounds of black students. Instead of letters paired with disassociated objects and illustrations, each image offered a handsome portrait of African American children growing up in Chicago.  Source: Chicago Tribune, Christopher Borrelli
Kelly Knaga presents site-specific vinyl mural installation entitled 'XXX'.  She is a working artist, illustrator, designer, and muralist living and working in Chicago and Gary, Indiana. Her works are investigations of natural landscapes by layering shape, image, color, and story. The use of color exploits historical and sometimes fictional references through anthropological studies, mapmaking, and storytelling. Knaga is a co-founder of Art and Action Community Lab, a design lecturer at Indiana University Northwest. Her work can be found in private collections, galleries, public art spaces, magazines, department stores, and digital and physical products. www.kellyknaga.com
'Echo Location' was shown in the exhibition Singing Stones, curated by the Palais de Tokyo's Katell Jaffrès in 2018. It was a hybrid of the exhibition, architectural infrastructure, and sculpture. Floating Museum worked with the DuSable Museum of African American History to create works inspired by and echo some works in their collection, including a terracotta sculpture by William Artis and a piece by an anonymous artist of deceased Chicago Mayor Harold Washington. 'Echo Location' is in part inspired by Etienne-Jules Marey, a physiologist and contemporary of Eadweard Muybridge, who developed chrono photography, a precursor to the motion picture camera.  The Floating Museum is an arts collective that creates new models exploring relationships between art, community, architecture, and public institutions. Using site-responsive art, design, and programming, we explore these relationships' potential, considering the infrastructure, history, and aesthetics of a space.  The Floating Museum collective was recently on view at the Museum of Contemporary Art (Chicago) in 'The Long Dream' a massive group exhibit. The Floating Museum is co-directed by Avery R Young, Andrew Schachman, Faheem Majeed, and Jeremiah Hulsebos-Spofford.  www.floatingmuseum.org
Ryan Bennett is a Gary, Indiana native, and IU Northwest alumnus.  Bennett, a potter, and creative entrepreneur, founded Infinite Roots Pottery, shaping handmade one-of-a-kind ceramics. His artworks reflect his upbringing and life passions - geology, craft, the City of Gary, and environmental conservation. Facebook: Infinite Roots Pottery