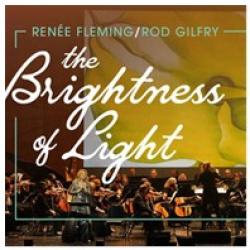 ***RECOMMENDED***  The American artist Georgia O'Keeffe, who is the primary subject of "The Brightness of Light," was a very complex individual. This recent work by Pulitzer Prize-winning composer Kevin Puts (2012's "Silent Night") offers a rare glimpse into her most intimate and private thoughts, all presented in her own words. Interpreting all of O'Keeffe's text is the beloved American soprano Renee Fleming, who is currently in her twelfth year as Lyric Opera's creative consultant. Chicago audiences clearly adore Fleming and they turned out in droves to get the rare opportunity to hear her perform live in this glorious one-night only event.  3 SPOTLIGHTS
Composer Puts was commissioned by his alma mater, the Eastman School of Music in Rochester, New York to create a new work specifically tailored for another of their famous alumni, Renee Fleming.  Initially premiering at Lincoln Center in 2016 under the title "Letters from Georgia," the piece featured Fleming as a solo artist. Upon its warm reception and strong critical acclaim, Fleming reached out to Puts and requested that he expand the work to include an additional role, that of Alfred Stieglitz, the well-known photographer and respected art curator who eventually would become O'Keeffe's husband. With that new material added, the piece became "The Brightness of Light."
Joining Fleming on stage is tenor Rod Gilfry singing the role of Stieglitz, who was much older than O'Keeffe and also married when they first started corresponding in May of 1916. "The Brightness of Light" chronicles their relationship as Stieglitz, who was already very well established in his career, encouraged his young protegé to develop her talent while he was promoting her work on a national level until she had made a name for herself.
Divorcing his wife in order to marry O'Keeffe in 1924, the two artists had a tempestuous relationship throughout their marriage. Upon discovering Stieglitz's multiple infidelities, a distraught O'Keeffe moved out of New York to the American Southwest. She continued to communicate with Stieglitz until his death in 1946. Living alone in Taos and surrounded by that landscape inspired much of O'Keeffe's later work, much of which is immediately recognizable as paintings which border on the iconic in American art history.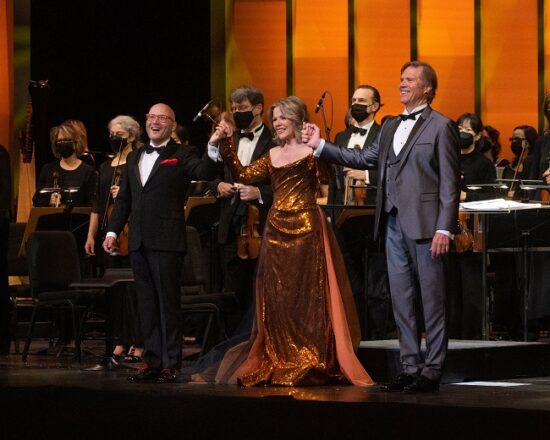 Puts' libretto consists entirely of O'Keeffe and Stieglitz's letters and features various styles of music, conducted by Lyric's Music Director Enrique Mazzola. Those individual movements range from the humorous ("Violin") to the reflective ("Ache") to the forlorn ("Faraway"). The first orchestral interlude ("Georgia and Alfred") is beautiful. The second ("The High Priestess of the Desert") is simply ravishing and leads directly into the final two movements ("Friends" and "Sunset") which allow Fleming to illustrate just why she is still one heck of a sensational soprano.
Worth noting is the projection design of Wendall K. Harrington, who had to sort through thousands of letters and pieces of artwork -- from O'Keefe's early watercolors to her paintings of flora as well as Stieglitz's photography, many of which feature O'Keefe and her isolated body parts in cold black and white -- to assemble images that perfectly complement the emotions and literal representations expressed in the libretto.
Following a brief intermission, the evening continued with a more relaxed feel as Fleming and Gilfry performed songs from what they termed the Golden Age of Broadway. Lovely selections from Rodgers and Hammerstein as well as Lerner and Lowe were presented. Fleming and Gilfry were very comfortable together and their genuine affection for one another was evident. The banter between songs was casual but informative and often very funny, especially Gilfry's humorous set-up recounting his first meeting with Fleming in 1985 while waiting to meet his host family in Belgium.
Included in the merriment was Mazzola, who Gilfry joked was doing such a terrific job at the podium that in Lyric's off-season he should be working on Broadway. While most of the musical numbers were recognizable, a few were more obscure. Fleming and Gilfry sang a duet from Andre Previn's "A Streetcar Named Desire" and Fleming noted that she had sung the role of Stella in Lyric's 1998 production of that opera. Fleming also perfomed the haunting "Winter" and "Love and Love Alone" from Kander and Ebb's lesser-known musical "The Visit" and her crowd-pleasing comedic turn in "The Diva," which is suddenly becoming her signature number. Hearing Mazzola lead the 60+ members of the Lyric Orchestra through the Overture to "The Sound of Music" was priceless.
After three encores, the unique evening which billed itself as "The Brightness of Light" came to a shimmering conclusion.