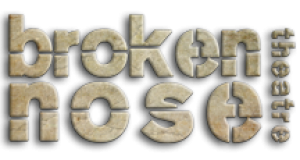 Broken Nose Theatre is pleased to present BECHDEL FEST 8: REALIGN, the company's annual festival of new short plays featuring an ensemble of femme, female-identifying, non-binary, trans and queer actors talking about things other than men. This year's festival showcases eight stories that center around characters who find themselves at pivotal moments, as new circumstances push each of them to reconsider both their identity and their place in the world. BECHDEL FEST 8 will stream for free from January 29 – March 26, 2021 on BNT's YouTube channel, with a new play released each Friday for an entire week before it's removed and a new play is broadcast.
All the works in BNT's perennial feminist festival are inspired by the famous Bechdel-Wallace Test. Created by cartoonist Alison Bechdel, the test asks whether a work of entertainment features at least two non-male identifying characters in conversation about something other than a man. Since the fest's first iteration in 2013, Broken Nose has worked with some of the most exciting voices in the Chicago theater landscape on over 50 stories that, by design, do not revolve around men. For additional information, visit brokennosetheatre.com.
Comments BNT Artistic Director Elise Marie Davis: "Many of the immensely talented artists involved in this season's festival have been signed on since last spring, back when we were expecting to host the event in-person during the summer. The fact that they graciously and enthusiastically stayed onboard as this year's lineup was pushed back, and ultimately pivoted to becoming digital, is enormously exciting to the Broken Nose family and myself. This week-by-week release structure is brand-new to us, but we're thrilled to bring the magic of the fest into audiences' homes, virtually and entirely free-of-charge. We look forward to sharing these stories with you!"
BECHDEL FEST 8: REALIGN includes:
Friday, January 29 –Cowabunga
By Jamie Olah, Directed by Lauren Katz
Friday, February 5 – The High
By Brynne Frauenhoffer, Directed by Lexi Saunders
Friday, February 12 – How Strong is Your Tree Pose?
By Asha McAllister, Directed by Brenda Scott Wlazlo*
Friday, February 19 – QUITTER
By Keyanna Khatiblou, Directed by Alison Thvedt
Friday, February 26 – The Ladies Next Door
By Iris Sowlat, Directed by Anna C. Bahow
Friday, March 5 – A Mid-Pandemic Night's Stream"
By Ismail Khalidi, Directed by Benjamin Brownson*
Friday, March 12 – going green
By Lane Anthony Flores, Directed by JD Caudill*
Friday, March 19 – WINDFALL
By Robert Koon*, Directed by Aaron Mays
*Denotes BNT company members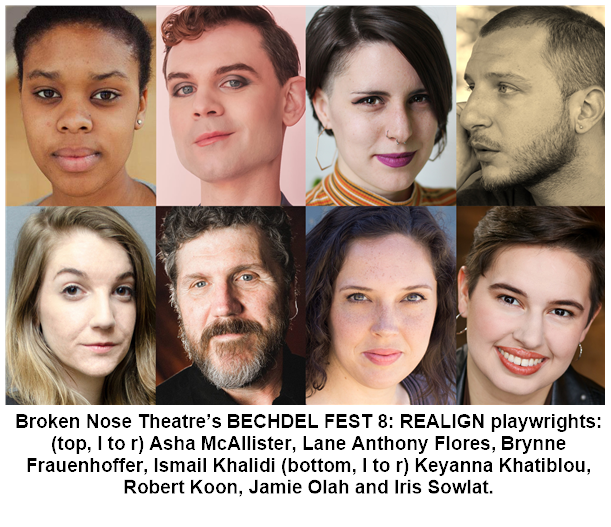 Playwright Biographies:
Lane Anthony Flores is a Queer actor, writer, poet and classicist based out of Chicago. In 2011, he helped found and manage Adapt Theatre Productions, which produced his original works Below, a verse adaptation of The Little Mermaid, and Pride and Prejudice, an adaptation set to the music of Taylor Swift. As an actor, he is represented by DDO Chicago and has appeared onstage at Chicago Shakespeare Theater, Steppenwolf, About Face Theatre, Raven Theatre, The Gift Theatre, and others. Currently, Lane is pursuing study in classics (Greek and Latin language and culture) with a focus in Greek tragedy. Lane is so excited about this piece, and beyond thankful for the folx at Broken Nose Theatre! He is also so thankful for you, the person reading this. Thank you, so much, for supporting live theatre and the arts! 
Brynne Frauenhoffer is a Chicago-based playwright. Her full-length production credits include Vape Naysh (First Floor Theater) and Bury Me (Dandelion Theatre). Other full-length development: Pro-Am (Sideshow Theatre; selected for upcoming production; selected for The Kilroys List 2020); Synchronicity (Salt Lake Acting Company; Semi-Finalist for the 2018 O'Neill National Playwrights Conference); The Young Ones (First Floor Theater; Jackalope Playwrights Lab); Pizza Hut Heartbreaker (Commission Theatre); Age Play (The New Colony); Sh*tty Christians (Prop Thtr). She co-founded the Wampus Cat Collective with a group of fellow playwrights, has worked as a script supervisor for Rivendell Theatre and Chicago Dramatists, and profiled Chicago theatremakers for PerformInk. Her current play-in-progress is titled Faculty (or, The Opposite of Oleanna). www.brynnefrau.com.
Ismail Khalidi was born in Beirut to Palestinian parents and raised in Chicago, and has since written, directed, performed, curated and taught internationally. Khalidi's plays include Tennis in Nablus (Alliance Theatre, 2010), Truth Serum Blues (Pangea World Theater, 2005), Foot (Teatro Amal, 2016-17), Sabra Falling (Pangea World Theater, 2017), Returning to Haifa (Finborough Theatre, 2018) and Dead Are My People (Noor Theatre, 2019). Khalidi's plays have been published in numerous anthologies. His writing on politics and culture has appeared in The Nation, Guernica, American Theatre Magazine and Remezcla. His poetry and plays have been published by Mizna, and he co-edited Inside/Outside: Six Plays from Palestine and the Diaspora (TCG, 2015). Khalidi has received commissions from the Actors Theatre of Louisville, Noor Theatre, Pangea World Theatre and The Public Theatre, and is currently a Visiting Artist at Teatro Amal in Chile. He holds an MFA in Dramatic Writing from NYU's Tisch School of the Arts. 
Keyanna Khatiblou is an LA-based playwright. She has been published by Samuel French, produced Off-Broadway as part of Theatre Masters National MFA Playwrights Festival, and was recently a finalist for the Alliance/Kendeda National Graduate Playwriting Competition. Her plays have been developed with Chicago companies including Theater on the Lake, The New Colony, About Face Youth Theatre, Prop Thtr, the Jackalope Playwright's Lab and the Chicago Women's Theater Alliance. She has been commissioned and produced by the Evanston Children's Theater three times to write female-focused adaptations myths and fairytales. Keyanna is currently a Core Apprentice with the Playwrights' Center. BA: Univ. of Arizona, MFA: Northwestern, 2020.
Robert Koon is a Broken Nose ensemble member, writing for his third Bechdel Fest. He was last seen onstage for BNT as the venal, yo-yo spinning Howard in Labyrinth. Other recent appearances include A Dickens Carol at Madison Street Theatre, Casa Valentina for Pride Films and Plays and Fun Harmless Warmachine for The New Colony. Robert is also a Resident Playwright Alumnus at Chicago Dramatists and The William Inge Center for the Arts. He is a member of the Dramatists Guild of America. Love to JM and Dr. K.
Asha McAllister is a playwright, potter, costume designer and theatre critic. After graduating with a BA from Kenyon College, Asha became the first playwright in residence and a company member of 20% Theatre Company. She has had two readings of her full-length Crabs in a Barrel and readings for her shorts It's About A Sandwich, Me, You, and the Cat, Aiding and Abetting and Some Day. Coming up, she will have a staged reading of her full length Some Kind of Nightmare. Peace and long life. Live long and prosper. 
Jamie Olah is a Chicago playwright specializing in the development of highly visual, movement-driven plays that celebrate the heroic stories of women and girls. She is the Founder of Chicago Playwrights Group and served as a company member with Dal Vivo and The Moving Dock Theatre Co. Her works have been presented at The New Colony, The Arc Theatre, Links Hall, Clock Productions, Red Tape Theatre, Dell'Arte International, Food & Performance, and others. Jamie is a theatre educator with over 13 years of experience empowering students of all ages to craft and share their stories. She is a three-time recipient of grants from the City of Chicago DCASE. She holds a BFA in Theatre Performance from Viterbo University. jamieolah.com.
Iris Sowlat is thrilled to write for Bechdel Fest and to bring this story to life! She returns to Broken Nose after directing for Bechdel Fest 5 and assistant-directing Human Terrain in 2016. Primarily a director, credits include Joan of Arc, Underworld Anthem and The Anxiety Variety Show (Prop Thtr's Rhinofest), The Days Are Shorter (Pride Films & Plays), ABCD (Piven Theatre's Lab) and Narratives of Achromatopsia (Chicago Fringe Festival). She has also worked with Northlight Theatre, American Blues Theater, About Face, and others. She is also the co-Artistic Director of Violet Surprise Theatre. "This play is for anyone who has had to pick up the pieces and make something brighter." www.IrisSowlat.com.
Director Biographies:
Anna C. Bahow is a Chicago-based theatre director committed to the development of new work and a diversity of voices. She is an Artistic Associate with Silk Road Rising foregrounding Asian, South Asian and Middle Eastern artists, an Associate Artist with The International Voices Project bringing plays from around the world to Chicago, an Associate Artist at Chicago Dramatists and a member of Promethean Theatre. Bahow received an After Dark Award and her productions have received Jeff Awards for New Work and Use of Multi-Media. She was honored to have served as a Maggio Fellow at the Goodman Theatre, to be a recipient of a 3ARTS WAVE Grant and several Chicago Individual Artist Grants. www.AnnaBahow.com.
Benjamin Brownson (he/him) founded Broken Nose Theatre in 2012 and served as artistic director for the company's first six seasons. Directing highlights for BNT include: My First Time, ROOMS: a rock romance, Human Terrain and several iterations of Bechdel Fest, which he co-created and for which he has also written multiple pieces. In addition to directing and playwriting, Ben has performed in the BNT ensemble hits At The Table and Labyrinth. He holds an MA in the Humanities from the University of Chicago, and currently works as a consulting associate with Morten Group, a multiracial, cross-generational group dedicated to social change and transforming organizations through assessment, education and action. He is delighted to return to his artistic roots with another round of his favorite feminist festival! 
JD Caudill is a queer director, literary manager and music director whose recent direction includes Southern Comfort (Pride Films and Plays), Bechdel Fests 4-6 (Broken Nose Theatre) and other plays at The New Colony, Haven, The Runaways Lab Theatre, New American Folk Theatre, Hobo Junction, 20% Theatre, Paragon Theatre, Otherworld Theatre, Arc Theatre, 16th Street Theatre, Stage Left, The Syndicates and Red Theater. They are a proud ensemble member of Hell in a Handbag, where they have music directed countless shows, and the literary manager at Broken Nose Theatre.
Lauren Katz is a freelance director, dramaturg and teaching artist. She served as the Artistic Apprentice at Steppenwolf Theatre Company for their 2016-17 Season, and as a fellow in the 2018-19 Directors Inclusion Initiative at Victory Gardens Theater. Recent directing projects include: Hershel and the Hanukkah Goblins (Strawdog Theatre), This is a Chair (Haven) and Women of 4G (Babes with Blades Theatre). As an assistant director and dramaturg in Chicago, Lauren has worked with various companies including: About Face Theatre, Firebrand Theatre, Goodman Theatre, Redtwist Theatre, Theater Wit, Steppenwolf Theatre, Victory Gardens Theater, Writers Theatre and Windy City Playhouse. As a teaching artist, Lauren works with Lookingglass Theatre, Mudlark Theater and Steppenwolf Theatre.
Aaron Mays is an emerging director and playwright in Chicago with a passion for stories of the African diaspora and the narratives of marginalized voices. Aaron's most recent directing credits include Gem of the Ocean (South Bend Civic Theatre), 2 X 2 (Haven), Waiting for Godot (Tympanic Theatre) with an all-Latinx cast and Tug of War (CIRCA Pintig), a series of short plays on war, trauma and immigration. In addition, he has worked with Chicago's top directors, serving as the assistant director for such productions as Sweat (Goodman Theatre), Two Trains Running (Goodman Theatre) and Whorl Inside a Loop (Second Stage). As a writer, Aaron's plays include Black Santa, Sticks and Stones and The Street Corner. Aaron is a proud graduate of Northwestern University.
Lexi Saunders (she/they) is a queer director, performer and teaching artist originally from Los Angeles. Recent Chicago directing credits include Roan @ The Gates by Christina Telesca (American Blues), Power in Pride (About Face); The Departure (Haven); Eurydice (Jedlicka PAC); Missed Opportunities (Cuckoo's Theatre Project); Grounded (Theater of Thought); Fifty Shades of Shakespeare ((re)discover); Super (Mudlark); and various other works and staged readings at Victory Gardens, The Gift, Chicago Dramatists and 2nd Story. She has assistant directed for Steppenwolf, Victory Gardens, Steep, Jackalope and La Jolla Playhouse; and was honored to be selected for Victory Gardens' 2016 Directors Inclusion Initiative and Haven's 2017 Directors Haven. Lexi is an Artistic Associate with About Face Theatre, where she will direct Laced by Sam Mueller upon reopening. BA Theatre, UC San Diego.
Alison Thvedt is a Chicago-based director. Recent credits include Happy Birthday Mars Rover (The Passage Theatre), The Shady Lady: A Robust Blend of Privilege, Influence, and White Collar Crime (Rhino Fest 2020), All the Love We Almost Didn't Take (arciTEXT Festival), Advice to Chicago Residents About Lead in Drinking Water (City Lit Art of Adaptation Festival) and A Love Song for Dodi Al Fayed (The Agency). Assistant directing credits include Macbeth (Children's Director/Young Performer Supervisor, Chicago Shakespeare Theater), A Great Migration (Silk Road Rising), King Lear (Observership, Guthrie Theater), Love Person (Park Square Theatre) and Dear World (Ten Thousand Things). Alison has also directed high school productions of Eleemosynary, Once on This Island, The 25th Annual Putnam County Spelling Bee and Almost, Maine.
Brenda Scott Wlazlo holds a BA in Theater from Florida State University and is the Audience Development Director at Broken Nose. She was most recently seen in Red Tape's Jeff recommended production of All Quiet on the Western Front. In addition, she's worked at Chicago Kids Company, Redtwist Theatre, Red Theater, Chicago Slam Works, Tympanic Theater, Promethean and Red Tape Theatre (where she is also a proud company member). When not onstage, Brenda can be found in her voice studio narrating audiobooks and coaching. She has over 20 audiobooks published and can be heard on Audible, iTunes and more. You can check out her work at www.BswVoice.com.  
About Broken Nose Theatre:
Broken Nose Theatre is a Pay-What-You-Can theatre company. Founded in 2012, BNT was the 2018 recipient of the Emerging Theater Award, presented by the League of Chicago Theatres and Broadway in Chicago. The company has produced and developed 22 full-length plays (including 13 Chicago, U.S. or world premieres) and over 50 new short plays through our annual Bechdel Fest. We strive to spark conversation, cultivate empathy, and amplify underrepresented voices, and are committed to making new, exciting and relevant theatre that is economically accessible to all audiences. For more information, please visit www.brokennosetheatre.com.