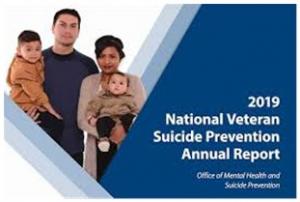 The 2019 National Veteran Suicide Prevention Annual Report includes the most recent analysis of Veteran suicide data from 2005 to 2017. The report's format is meant to clearly present complex suicide data in a practical way, convey the key findings in the clearest terms, and highlight the data-driven initiatives VA and its partners have implemented to prevent Veteran suicide.
As the largest national analysis of Veteran suicide rates, this report also examines:
• Veterans suicide rates by age, gender, method, and more.
• Suicide rates in the Veteran population compared with rates in the non-Veteran population.
• Suicide rates among Veterans who use VHA health care compared with rates among those who do not.
Please contact the VA Suicide Prevention Program at VASPDataRequest@va.gov if you are interested in learning more about prevention efforts. To read the full newsletter, click here.