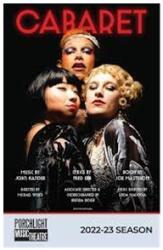 3-1/2 stars – bumped up to 4 stars!  Porchlight Theatre's "Cabaret" is fun and entertaining yet retains its dark underpinnings of things to come: having to do with the Nazis' rise to power in Germany in the 1930s. With hummable music by Kander and Ebb and a remarkable book by Joe Masteroff, the singing, dancing, and acting in this show are terrific—and many elements are exceptional. Having seen other productions before, I felt that this one needed to show more of how ghastly the Nazis were to those whom they categorized as being their enemies. Showing the symbol of the swastika (and assuming that theatregoers know what this means) is simply not good enough in this day and age. As the generation who actually lived through World War II passes away and their collective memory fades into history, it is important to remember what these people went through and to realize that right-wing extremism can rear its ugly head anywhere. In that vein, "Cabaret" makes important points about how a society can descend politically and culturally into one where hate and violence rule and where racism, anti-Semitism, and homophobia become normative.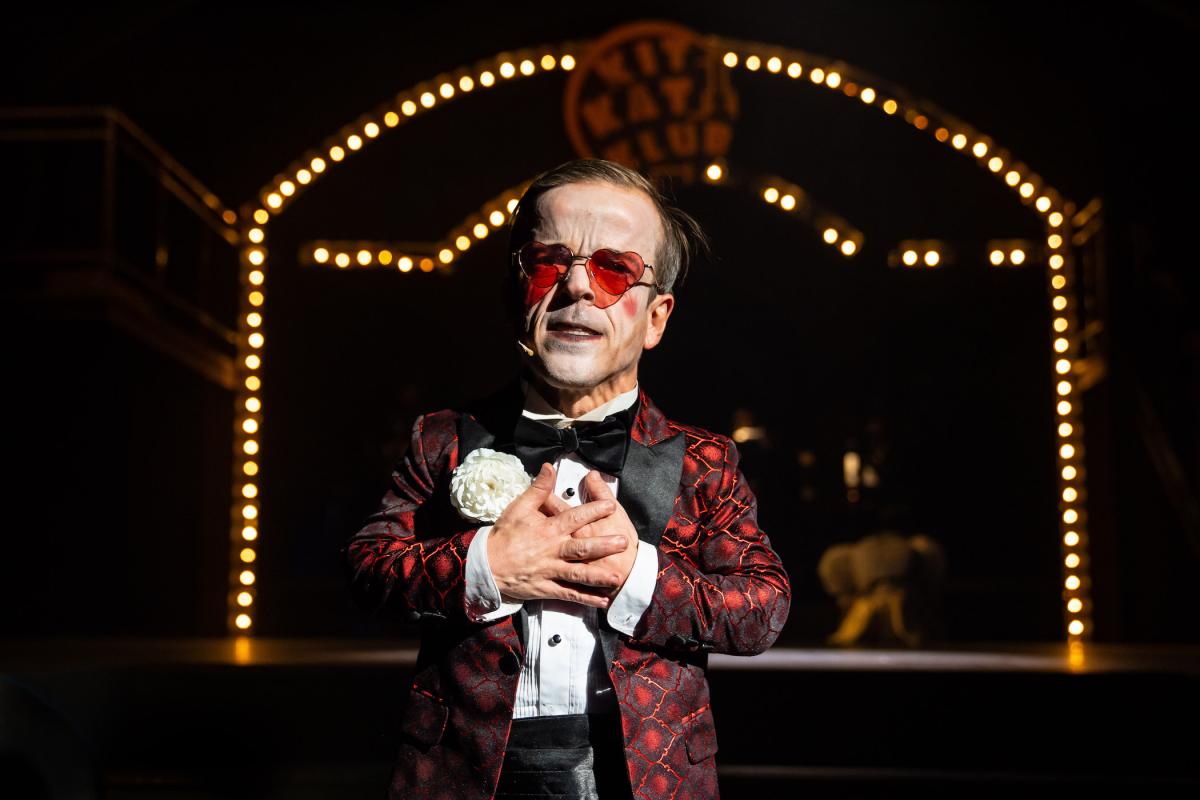 Despite several shortcomings in this production, the onset is very powerful. Director Michael Weber initially explains how the recollections of American journalist Christopher Isherwood made their way to the precursor of "Cabaret": a 1951 Broadway play called "I Am a Camera." Based on that show, today's performance opens with Clifford Bradshaw (Gilbert Domally) returning to Germany well after the end of World War II, taking flash photos of the former Kit Kat Klub. The once-glamorous nightclub is now a heap of rubble, brought to the ground by bombardment but is still identifiable. Next, we see the emcee (Josh Walker) come forward with his Victrola, playing a record of the signature song "Willkommen" from back in the day. The first thought that entered my mind is that the emcee lived through the war. Considering how many people had died or had been sent to concentration camps and did not survive, this was a hopeful sign.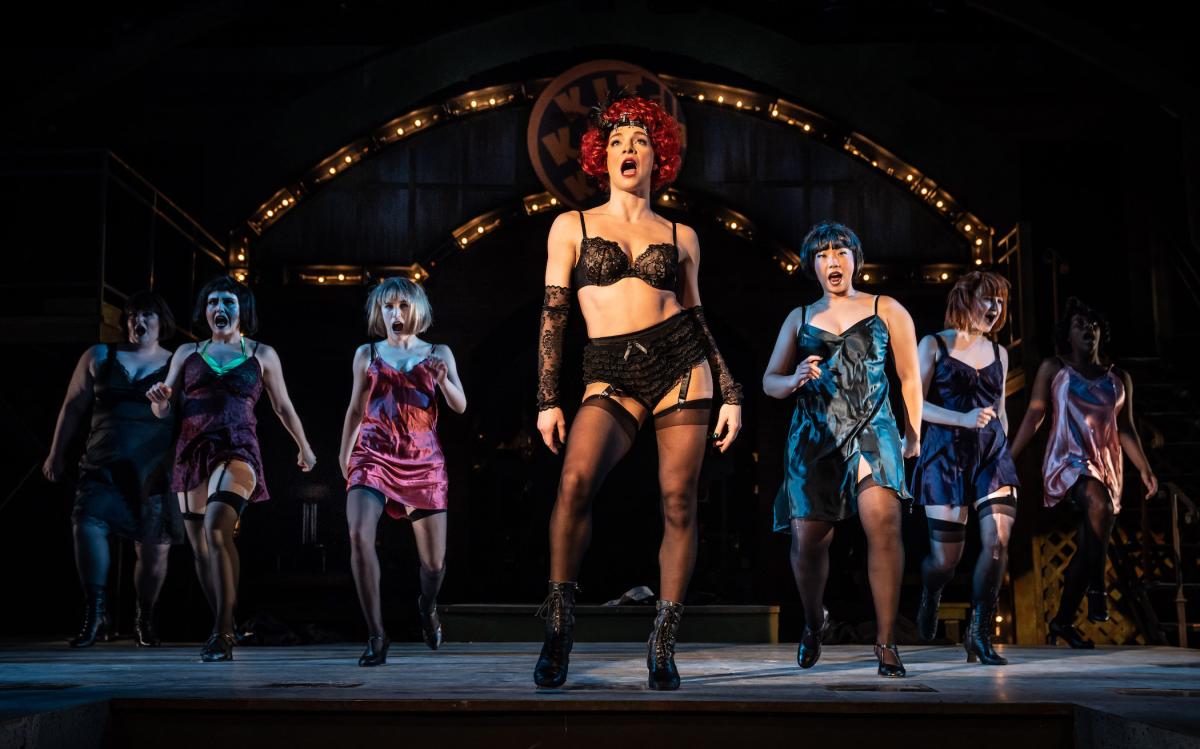 The story is told in flashback. The year 1951 morphs into 1929, when the history of the club merges with Cliff's personal history when he first arrives in Berlin. We see how he meets Ernst Ludwig (Josiah Haugen) on the train and how they become fast friends. We witness the marvelous singing, dancing, and gyrations of British performer, Sally Bowles (Erica Stephan) and how she and Cliff start a relationship together. At the same time, Cliff expresses some same-sex interests in the person of Bobby (Shaun White). But perhaps the most intriguing part of the presentation has to do with the cabaret venue itself. The showstoppers charm the audience, especially whenever the character of the emcee takes the stage. Short in stature but mighty in voice and exuberance, Josh Walker is amazing! His vivacity holds the whole story together!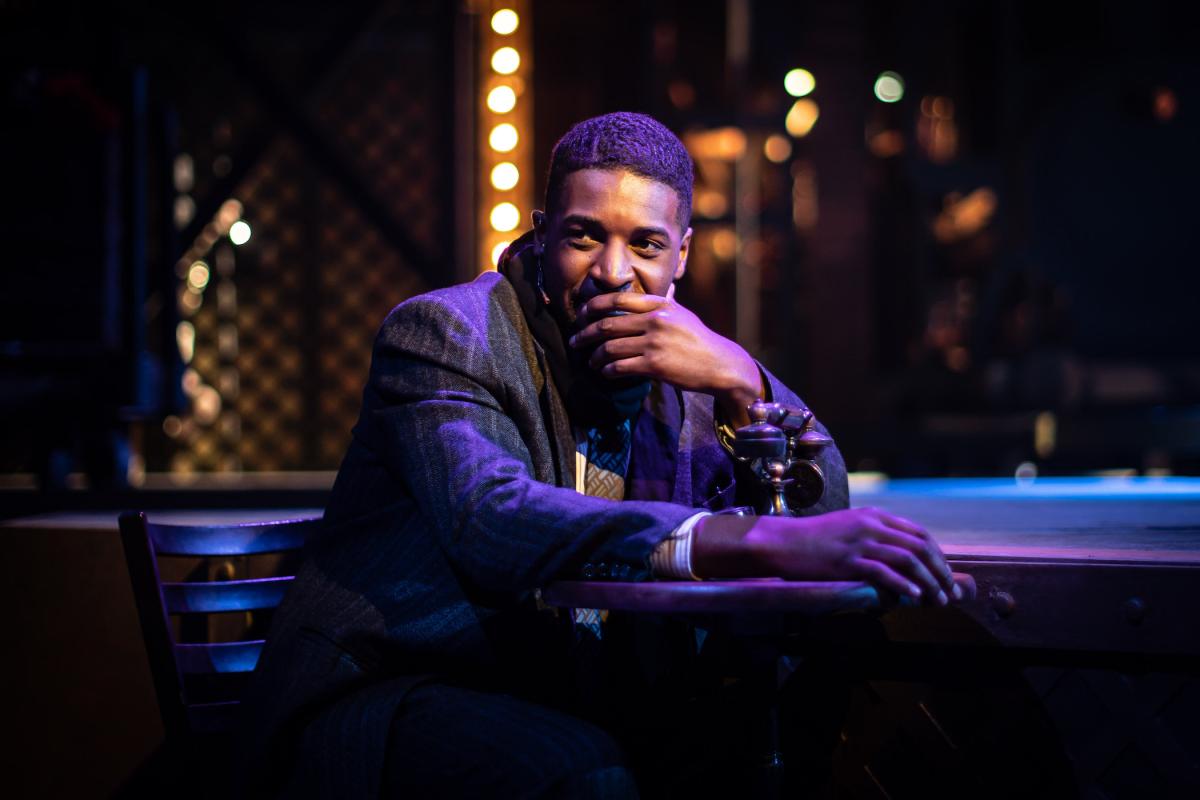 In this production, casting an African American actor to play the part of Cliff is an interesting twist that seems okay in the first act. In 1929, European nations largely accepted black people within their societies (in contrast to segregation and Jim Crow that plagued the United States). Most Europeans were also more likely than most Americans to accept an interracial couple, such as Cliff and Sally. But once the banks fail and bad economic times befall the Germans and the Nazis take power in 1933, the Cliff character seems miscast. In the show, we see him reading Hitler's "Mein Kampf" in his room. Suddenly his good friend Ernst openly wears a swastika and is making remarks about Jews not being true Germans. So why would Ernst want to remain friends with a black man, given the Nazi Party's ideas about racial superiority and inferiority? This makes no sense. (Think about Jesse Owens and Ralph Metcalfe, who won medals in track and field at the 1936 Berlin Olympics, and how angry Adolf Hitler was that his prized white Aryans lost to these two black men. But I digress.)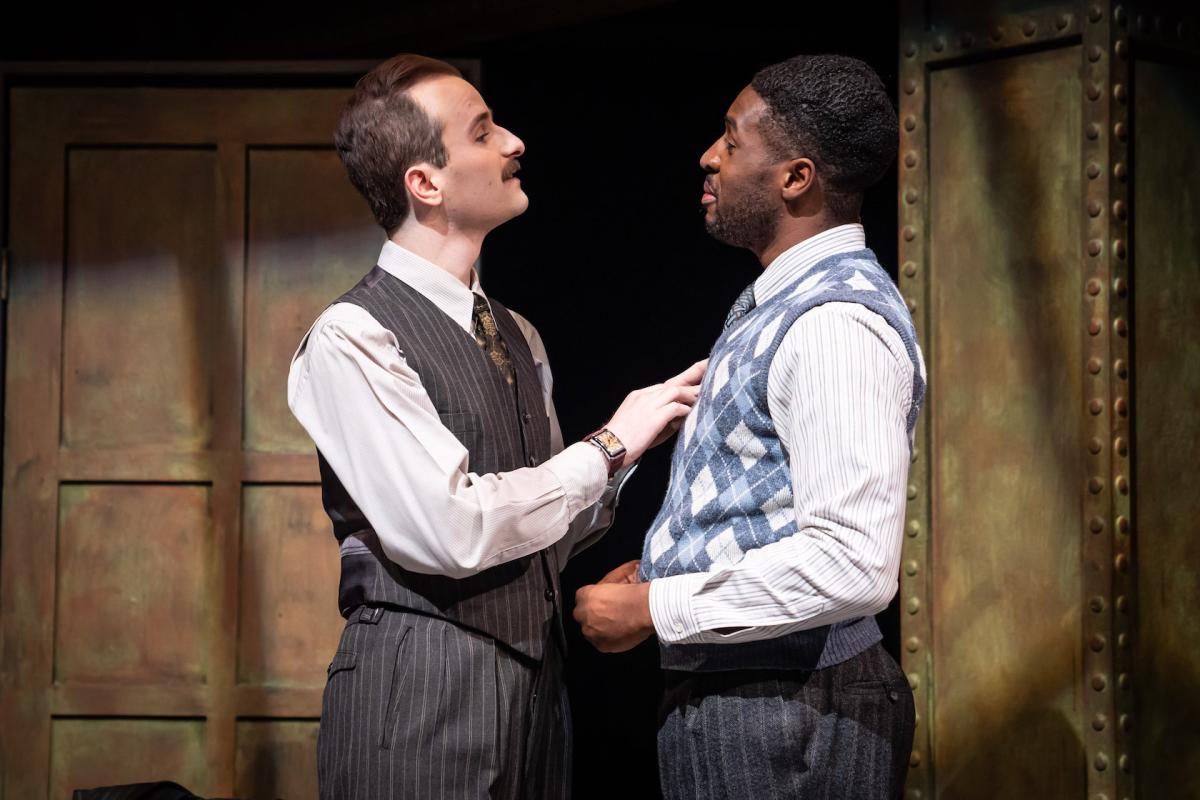 If we, in the audience, are supposed to be colorblind with regard to viewing cast members in this show, then we lose any special (and important) meaning of having Cliff be an African American traveling in Europe during this time period. But if the audience is supposed to make note that Cliff is a black man, then the second act of "Cabaret" doesn't work as it should. Even if Cliff isn't German, he would have been shunned by those who believe he shouldn't be fraternizing with a white woman. Having a black character living the life of a (white) American in Germany in the Nazi era would mean that his life is endangered in more ways than one. And if that's the case, then his girlfriend and his friends should care about his well-being and tell him to get out of the country quickly. That would entail the script having to be significantly rewritten. It is not enough to witness Cliff being beat up by several Nazis, nor is it sufficient to witness Fraulein Schneider (Mary Robin Roth) being put under public pressure to cancel her marriage to Herr Schultz (Mark David Kaplan) because he was Jewish. The audience needs to observe anti-gay and anti-Semitic attacks within the cabaret setting too. I wanted to see the Jewish dancer lose her job or have an accident, or have some of the gay men beat up, or have the emcee being given the "choice" to change his sexual orientation. I was waiting for more overt prejudice to come out and more physical violence to occur, not just implied discrimination.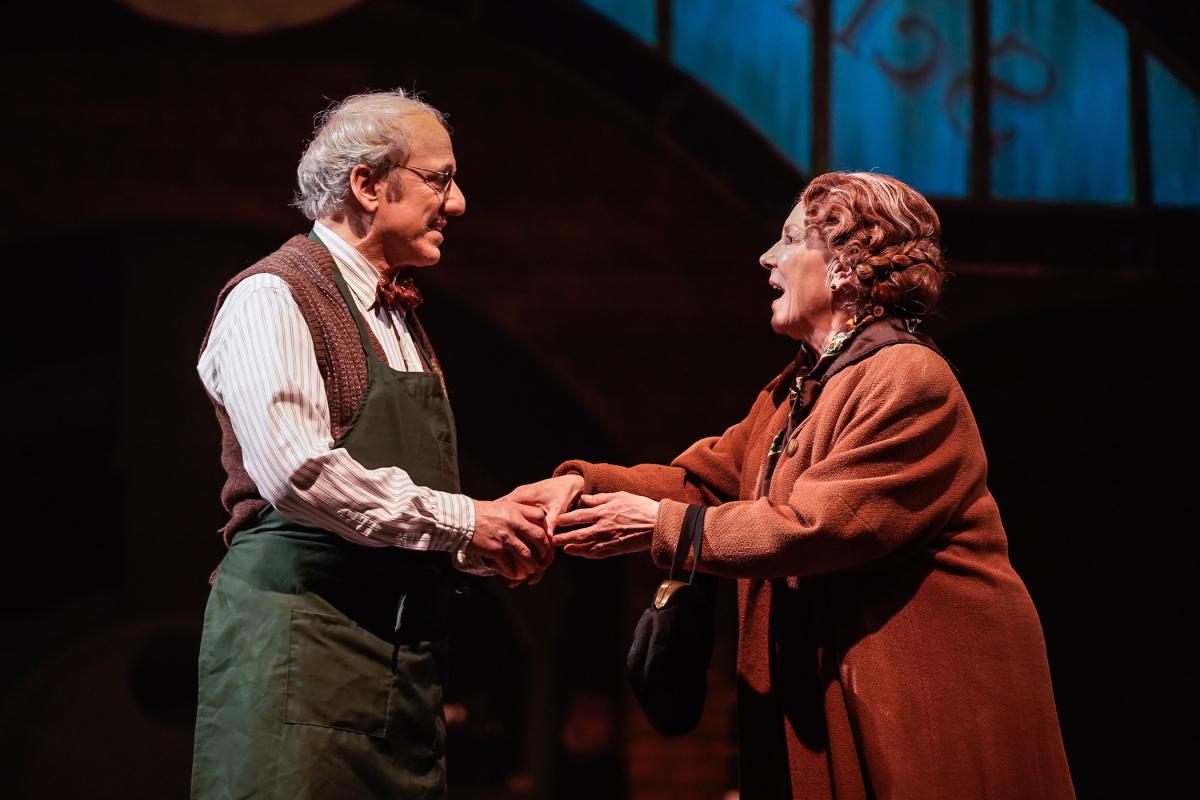 Choreography by Brenda Didier is nicely sexually suggestive, vibrant, and delightful. Dialect coach Kathy Logelin has done a fine job in getting the characters to speak with German accents. Costumes worn by the cabaret dancers are alluring and perfectly appropriate, thanks to costume designer Bill Morey. I liked seeing the same sexy dress worn by Sally Bowles and the emcee, not to mention the various wigs that Sally and the ensemble wore throughout. The long faces and red noses worn by the ensemble accompanying the song "Mein Herr" are especially funny. Projection design in this show is great due to the efforts of Smooch Medina. It is wonderful to see the train station and the cabaret in 1951 and how the clock is rolled back to 1929, and also how the setting becomes Herr Schultz's grocery store, etc. Sound design by Matthew R. Chase is well done. The lighting design, however, could have been more dramatic. For example, the lighting during many of the cabaret scenes could have been more imaginative than a lot of rotating white bulbs. The green lights coming up from the bottom of the stage towards the end are not flattering to the dancers.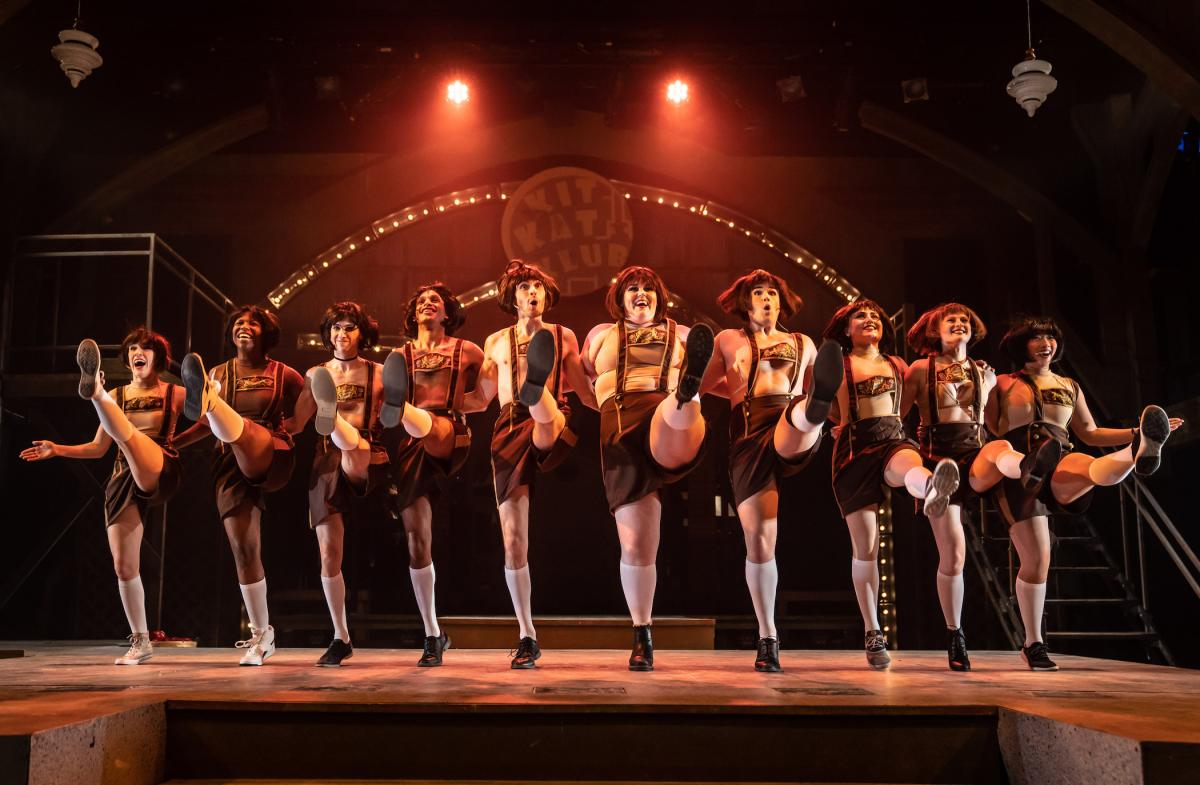 Music director Linda Madonia carefully leads the orchestra, consisting of Cara Strauss (reeds), Alison Tatum (violin), Greg Strauss (trumpet), Stephanie Lebens (trombone), Jake Saleh (bass) and Justin Kono (drums).  In this performance, the musicians are located behind a black scrim at the back of the stage, made to look like the front of a moving train, steaming towards the audience. Symbolic, yes! But this means that everything that occurs on stage has a black background: even the fanfare surrounding the live stage shows. In my opinion, Angela Weber Miller's set needs more artistry and ought to be redesigned. The series of round tables directly in front of the first row is unnecessary. And with the way things are set up, much of the action having to do with Cliff's personal life takes place on the periphery of the stage. The floating door props are interesting and often amusing, but they get tiring, especially when we can view the actors before they advance toward us.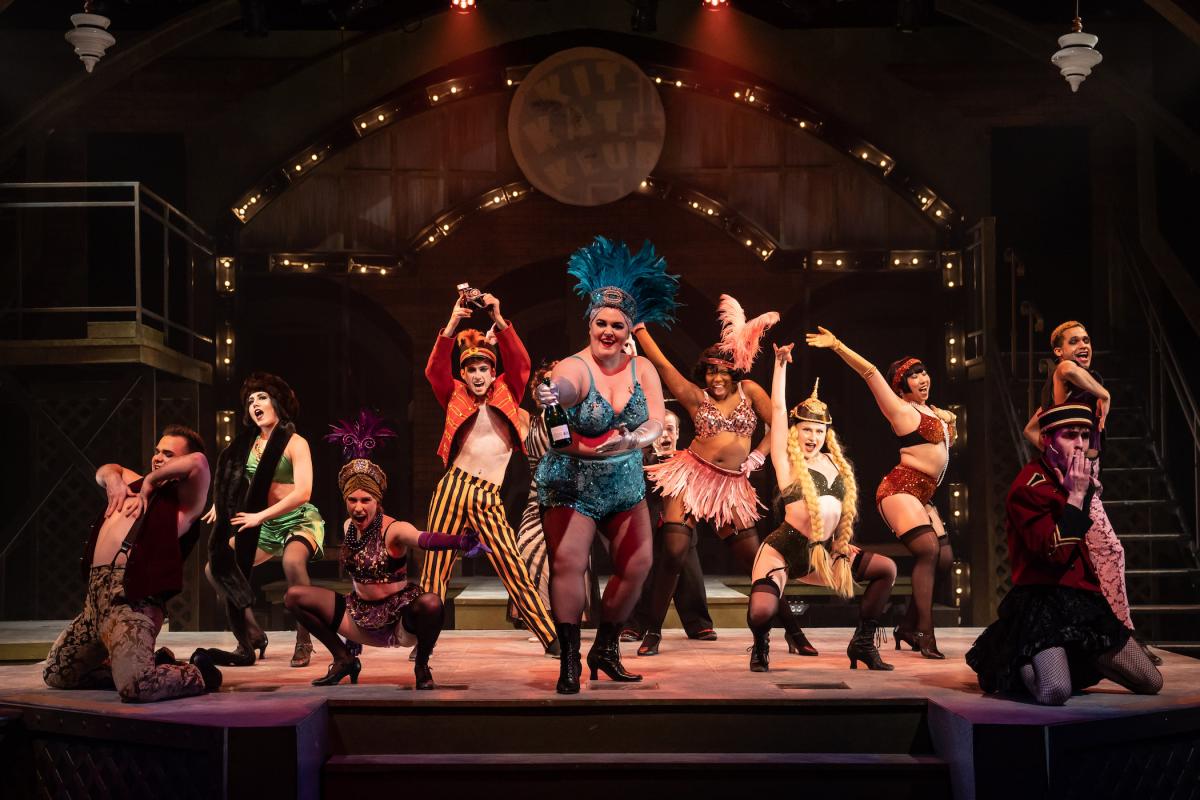 In a society becoming increasingly more intolerant by the minute, the Kit Kat Klub remains a sanctuary from the outside world. Even when the characters ultimately realize the inevitability of their demise—whether it has to do with the destruction of their lifestyle or even life itself—they dismiss it at first or don't want to believe it until it is much too late. This is where Cliff offers us a unique perspective: As a black man in America, he has seen racism and hatred front row center and knows that things are going downhill in Germany. He can't wait to return to his home country, despite its ills.
This leads me to discuss one of the most poignant scenes in the show, having to do with the song "Tomorrow Belongs to Me." The first time it is sung, we see Aryan faces and culture being promoted in one of the cabaret acts. What was not lost on me was the invention of the character of the Statue of Liberty, holding her torch, and its implicit reference to today's United States. As recently shown in the Ken Burns documentary "The U.S. and the Holocaust", the statue was just as much a symbol of the freedom that America offered to those seeking refuge on our shores as it was a sign that certain immigrants were not welcome: with people from Northern European cultures being favored over others.\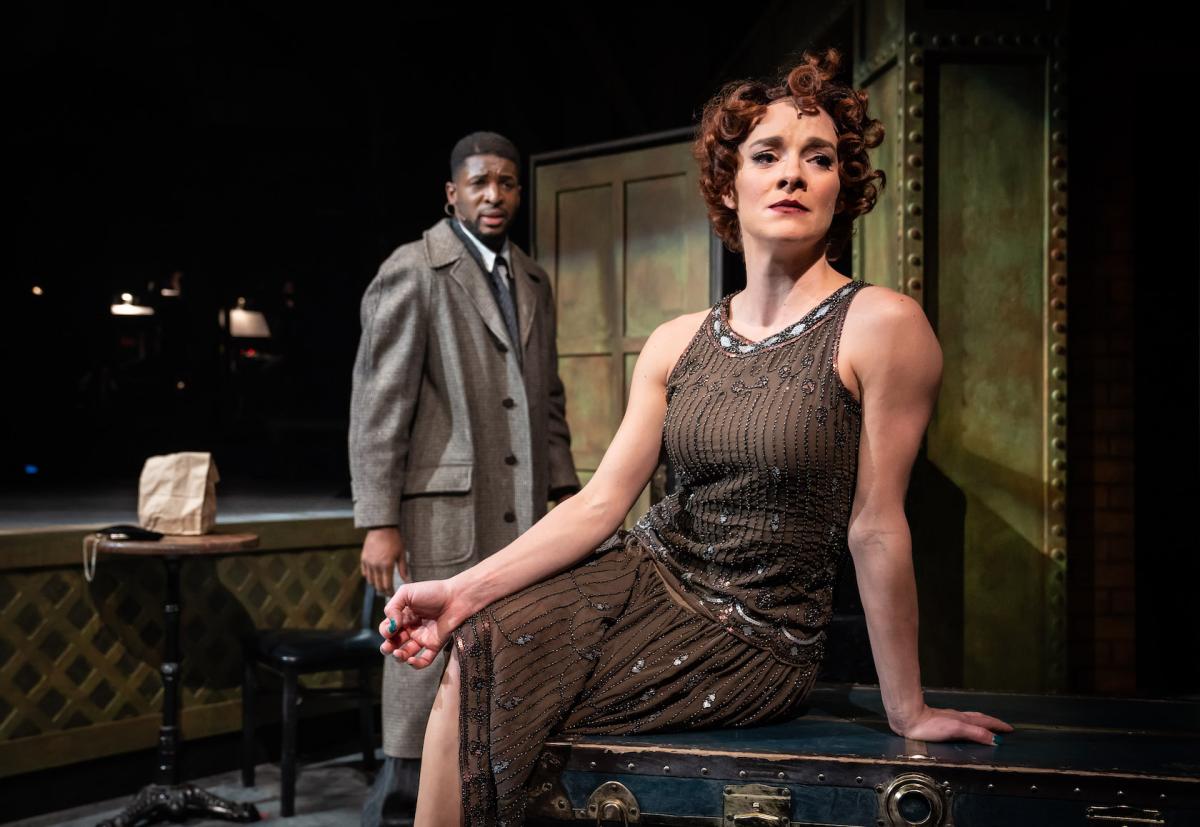 If you're already familiar with Germany in the 1930s, the implicit parallels between that era and our own cannot be overstated. The revival of "Cabaret" comes at a very uneasy time in the history of America, with the spread of white supremacist movements and paramilitary organizations. Let's think of this production as a warning of what could happen when the politics of hate and violence are allowed to triumph over democratic action and cultural pluralism.
"Cabaret" has been extended through March 5th, 2023, at the Ruth Page Center for the Arts, 1016 N. Dearborn Street, Chicago.
Tickets start at $25.
Performance Schedule:
Thursday, January 26 at 7:30 p.m.
Friday, January 27 at 8 p.m. (Post-Show Talk Back)
Saturday, January 28 at 3:30 p.m. (Open Caption Performance)
Saturday, January 28 at 8 p.m.
Sunday, January 29 at 2 p.m.
Thursday, February 2 at 1:30 p.m. (Post-Show Talk Back)
Friday, February 3 at 8 p.m.
Saturday, February 4 at 3:30 p.m. (Open Caption Performance)
Saturday, February 4 at 8 p.m.
Sunday, February 5 at 2 p.m.
Friday, February 10 at 8 p.m.
Saturday, February 11 at 3:30 p.m.
Saturday, February 11 at 8 p.m.
Sunday, February 12 at 2 p.m.
Friday, February 17 at 8 p.m.
Saturday, February 18 at 3:30 p.m.
Saturday, February 18 at 8 p.m.
Sunday, February 19 at 2 p.m.
Friday, February 24 at 8 p.m.
Saturday, February 25 at 3:30 p.m.
Saturday, February 25 at 8 p.m.
Sunday, February 26 at 2 p.m.
Friday, March 3 at 8 p.m.
Saturday, March 4 at 3:30 p.m.
Saturday, March 4 at 8 p.m.
Sunday, March 5 at 2 p.m.
For more information about the show, to see a calendar with all the performance dates and times listed, and to purchase tickets, visit https://porchlightmusictheatre.org/cabaret/ or call the box office at 773-777-9884.
For general information about Porchlight Music Theatre and for a list of their other offerings, go to: https://porchlightmusictheatre.org/.
For the latest information on COVID protocols, visit: https://porchlightmusictheatre.org/visit/#covid-19-health-safety.  Masks are currently being required for all audience members unless you are actively eating or drinking. Proof of vaccination is no longer being required. For questions, phone: 773-777-9884 or email the boxoffice@porchlightmusictheatre.org.