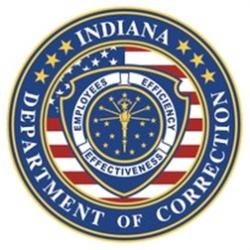 Branchville, Ind. -  On Friday, October 25th, Warden Kathy Alvey announced 20 offenders graduated from the first Catapult Manufacturing training class held at the Branchville Correctional Facility.
Catapult is a joint venture of Branchville Correctional Facility, Indiana DOC, Vincennes University, CFA Staffing and Conexus.  The programs first cohort began their four week course in September 2019, with graduates receiving their certificates from Vincennes University on Oct. 25, 2019 at graduation ceremony hosted at the Branchville Correctional Facility. 
The participates completed 160 hours of classroom instruction and hands on skill building.  Graduates learned the manufacturing process by participating in a  simulation of building a car while working on a mechanical conveyor belts with lego's as building materials.  The process exposed the participants to working on teams and production lines.  It also taught the participants how to handle small parts and operate power tools effectively and safely.  The program prepares graduates by teaching the necessary skills desired by today's manufacturing companies.
Deputy Warden Dan Mitchell commented "The Catapult program is one of many opportunities offered to offenders at the Branchville Correctional Facility." Mitchell continued, "Other programs include welding, culinary arts, and many more, all designed to help soon to be released offenders obtain the security of meaningful employment."
The last few days of the class the graduates prepared for the future by participating in Skype interviews with CFA Staffing.  CFA Staffing is tasked with helping each graduate find gainful employment upon release.  CFA will work with companies all over Indiana to help  graduates connect with companies in their home counties.  
Pictured with the graduating students, left to right is Matt Schwartz, with Vincennes University, and Dep. Warden Dan Mitchell
About Conexus Indiana:
For more than a decade, Conexus Indiana, one of the Central Indiana Corporate Partnership (CICP) non-profit initiatives, has been positioning the Hoosier State as the best place for advanced manufacturing and logistics industries to invest, employ and succeed. By collaborating with industry, academic and public sector partners on a shared vision for an innovative, skilled workforce and stronger business climate, Conexus Indiana has helped to create opportunities for advanced manufacturing and logistics companies, prepare Hoosiers to succeed in the state's largest industry sectors and maintain Indiana's competitive advantage. For more information, go to www.ConexusIndiana.com.
About CFA Staffing:
CFA Staffing is a certified, female-minority-owned staffing service putting thousands of employees to work annually.  CFA is not a franchise operation, which gives us the ability to work directly with owners, providing immediate response and customized staffing services.  We are independent of financial burdens such as royalties or franchise fees, keeping employer's costs down.  As a female-owned-minority company, CFA Staffing meets the guidelines for minority business certification and is listed as a member of the National Minority Supplier Development Council.  Through efficient management, CFA has created the most aggressive low-cost staffing service available.
Click here for more information about CFA.
The Indiana Department of Correction is currently seeking qualified candidates. Jump start your career in corrections by visiting this link and apply for a correctional officer or caseworker position today!