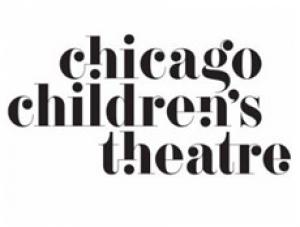 Families, you better start hopping because The Beatrix Potter Drive-In Theatre Experience has just arrived at Chicago Children's Theatre, and tickets are selling like hot cakes.
This past weekend, the city's largest professional theater dedicated to children and families converted its West Loop parking lot into an outdoor drive-in, where it debuted its all-new, outdoor, socially distanced production to sold out parking lots.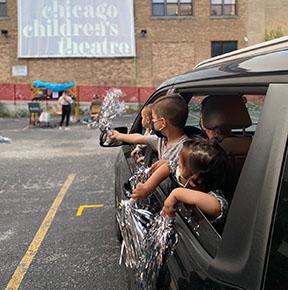 Due to this strong audience demand, The Beatrix Potter Drive-In Theatre Experience, originally slated to run October 1-18, has already been extended through November 1. Performances are Thursday, Friday, Saturday and Sunday at 6:30 p.m. at Chicago Children's Theatre 100 S. Racine Street, located in the heart of Chicago's West Loop, just minutes from I-90, I-290, downtown and Ashland Avenue.
Tickets, $55 per car (up to 6 people, not including lap children under 18 months), are on sale now at chicagochildrenstheatre.org. Advance reservations only. No walk-up sales. Space is limited to 17 cars per show, so please reserve early. Gates open at 6 p.m. Tickets include free snacks and beverages. For more information, call CCT Guest Services, (312) 374-8835.
Note: The Beatrix Potter Drive-In Theatre Experience is being projected on a 15 x 30-foot screen in the theater's parking lot on the south side of the building. Please enter via Racine. Socially distancing norms are enforced and masks are required. Families may bring blankets and lawn chairs to sit outside near their vehicle.
Click above to watch
The Beatrix Potter Drive-In Theatre Experience video trailer.
Long a favorite at Chicago Children's Theatre, CCT planned ahead this summer and re-envisioned its perennial hit Beatrix Potter and Friends as a unique blend of live and pre-recorded action, all with a fun, outdoor drive-in setting in mind.
The Beatrix Potter Drive-In Theatre Experience reunites director, Will Bishop, designer Grace Needlman, and veteran cast members Lara Carling, Kay Kron and Ray Rehberg, who together created and filmed a delightful quartet of Beatrix Potter's favorite tales - The Tale of Mrs. Tittlemouse, The Tailor of Gloucester, The Tale of Mr. Jeremy Fisher and The Tale of Peter Rabbit - for this fall's outdoor run. Special protocols were put in place to ensure the safety of the creative team.
Watch your family grow thoroughly engrossed as these talented storytellers unspool tales of mischief and adventure about Peter Rabbit and his animal friends, all while unsealing mechanical "suitcase sculptures" that reveal ingenious 3D puppet characters, props and backdrops to help carry the stories forward. To add live touches, cellist Sonia Goldberg, aka "Music Bear" last season at CCT's Wake Up, Brother Bear!, welcomes audiences with live classical music "for beginners" and is visible playing live from CCT's glassed-in lobby during the show. Co-creator Kay Kron live hosts each performance, introducing each story and leading kids in safe, socially distanced, interactive fun-havin' throughout. 
Chicago Children's Theatre debuted its first Beatrix Potter trunk-and-puppet show in 2015, and it has grown into an annual, sold-out production every season since. The Chicago Reader summed up why, calling 2018's The Beatrix Potter Holiday Tea Party "…dazzling, brisk at under an hour, and sweet as can be." Last summer, Beatrix Potter and Friends was even invited to tour China as part of the 9th Annual China Children's Theatre Festival, where it played to and enthusiastic audiences and sold-out houses in Beijing and Jinan.
Chicago Children's Theatre's Beatrix Potter series is devised by Will Bishop, Lara Carling, Kay Kron, Grace Needlman and Ray Rehberg. Principal performers are Lara Carling, Kay Kron, with Ray Rehberg on violin and other instruments. Music is written and performed by Ray Rehberg.
Drive-In Theatre: Beatrix Potter and Friends is directed by Will Bishop, who is also Director of Production at Chicago Children's Theatre. Designer is Grace Needlman. The duo has teamed on two virtual productions for CCT already this year, the critically acclaimed Frederick: A Virtual Puppet Performance based on Leo Lionni's Frederick, read by Michael Shannon, and Doll Face Has a Party! directed by Brian Selznick.
Both productions are racking up views on Chicago Children's Theatre's new YouTube channel CCTv: Virtual Theatre and Learning from Chicago Children's Theatre, launched in April when CCT pivoted from creating live to delivering virtual productions directly to families' homes in response to the current Covid pandemic.
Not only are high-quality family productions streaming free, 24/7 on CCTv, the channel boasts a growing play list of short, "how to" videos on theater crafts like costume design, prop making, puppetry and coloring activities. CCTv also hosts more than a dozen original short plays created and submitted by families during quarantine to CCT's Ralla Klepak Foundation Play@Home Contest.
Kay Kron (left) and Lara Carling on video in The Beatrix Potter Drive-In Theatre Experience.
More video screen grabs from The Beatrix Potter Drive-In Theatre Experience.
Play@Home classes: More online learning opportunities from Chicago Children's Theatre
In addition to its new YouTube channel, Chicago Children's Theatre will offer a robust line-up of virtual Play@Home youth performing arts classes and school's out day camps this fall.
Online education from Chicago Children's Theatre starts with live, interactive online group learning sessions via Zoom, supplemented with at-home assignments that keep children engaged and active while stuck at home. CCT offers a wide selection of unique weekly classes for theatre novices, accomplished performers, and everyone in-between. Led by experienced and enthusiastic teaching artists, our classes help students gain confidence, develop their artistic voices and build lasting friendships. For children on the autism spectrum, Chicago Children's Theatre's Red Kite Project continues to offer classes like Shakespeare and Autism.
To learn more and register for classes or camps, visit chicagochildrenstheatre.org.
About Chicago Children's Theatre
Chicago Children's Theatre was founded in 2005 with a big idea: Chicago is the greatest theater city in the world, and it deserves a great children's theater. Fifteen years later, Chicago Children's Theatre is the city's largest professional theater company devoted exclusively to children and young families, with a national reputation for the production of first-rate children's theater with professional writing, performing, and directorial talent and high-quality design and production expertise.
In January 2017, the company celebrated the opening of its new, permanent home, Chicago Children's Theatre, The Station, located at 100 S. Racine Avenue in Chicago's West Loop community. The building, formerly the Chicago Police Station for the 12th District, was repurposed into a beautiful, LEED Gold-certified, mixed-use performing arts, education and community engagement facility that now welcomes all Chicago families.
Inclusion and access are core values at Chicago Children's Theatre, where every child can have access to the company's programming regardless of financial position. Thanks in part to the Susan M. Venturi Fund in memory of James and Roslyn Marks, CCT provides scholarships for children and families with demonstrated need. As a result, one in five youth at CCT receive financial assistance annually. Additionally, tens of thousands of free and reduced price tickets are distributed to under-resourced schools each season in partnership with Chicago Public Schools.
Chicago Children's Theatre won the 2019 National TYA Artistic Innovation Award from Theatre for Young Audiences/USA for its pioneering work creating and presenting live theater experiences that tear down barriers for persons with disabilities. In addition, Chicago Children's Theatre has garnered six NEA Art Works grants, and in 2017, became the first theater for young audiences in the U.S. to win a National Theatre Award from the American Theatre Wing, creators of the Tony Awards.
Chicago Children's Theatre is led by Co-Founders, Artistic Director Jacqueline Russell and Board Chair Todd Leland, with Board President Armando Chacon. For more, visit chicagochildrenstheatre.org.