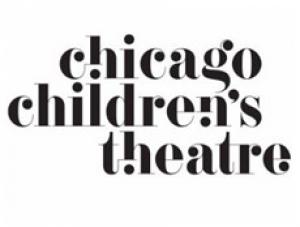 During this difficult time when children aren't in school, Chicago Children's Theatre has launched a new Play@Home Contest that encourages kids to build new worlds and stories using their own imaginations, found objects, family members (pets included), and a little help from Chicago Children's Theatre.
20
Watch Dexter Ellis, Director of Education and Community Engagement, Chicago Children's Theatre, explain how to enter CCT's new Play@Home Contest.
Parents, here's a fun new activity that invites your homebound kids to get creative, write their own script, find props and costumes from around the house, and perform their original work on video.
Kids, nothing is off-limits -- make new artwork for scenery, use your favorite stuffed animal as a sidekick, enlist your cat to play a superhero, or create puppets with spoons. Maybe even cast a parent as your nemesis. Or build a blanket fort for your laboratory…anything goes! Just let your imagination soar.
The top three staff picks will be featured on Chicago Children's Theatre's YouTube page. The winner will receive their choice of a Family Four Pack to Chicago Children's Theatre's 2020-21 Season or one free performing arts class session.
Watch CCT's first Play@Home Contest video entry
Enjoy the world premiere of The Unicorn, The Witch, and The Villain, an original play devised by the Knowles family of Chicago, and CCT's first entry in the Play@Home Contest. Click here to download the video file and candid photos of the Knowles
family creating their five-minute play.
The rules for Chicago Children's Theatre's new Play@Home Contest are:
* Your play MUST include a mythical creature of your choice, an evil villain, and one of your family members.
* Your video should be 5 minutes or less.
* Young artists of all ages welcome to participate. 
* Ask an adult to help you send the video via Dropbox, Google Drive or WeTransfer to dexter@chicagochildrenstheatre.org.
* Receive bonus points for asking a parent or guardian to share portions of the videos and "on set" photos while tagging Chicago Children's Theatre on Facebook or Instagram and using the hashtag #PlayAtHomeContest.
* To be considered for the prize, the deadline to submit is Monday, April 20, 2020.
Questions or stuck? Email Dexter Ellis, Director of Education and Community Programs, Chicago Children's Theatre, at dexter@chicagochildrenstheatre.org. Dexter and his team of CCT teaching arts can help families out over email or set up a FaceTime session.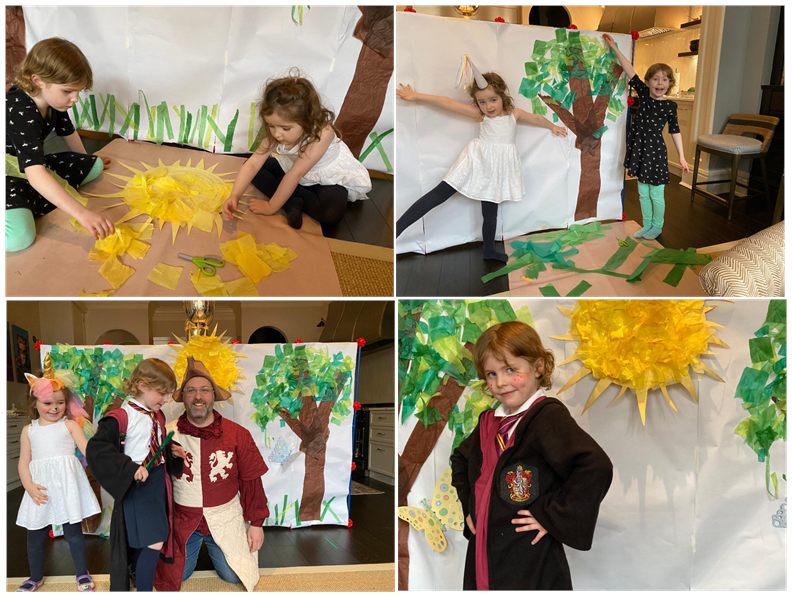 Chicago Children's Theatre subscriber Ariel Knowles and her family took these behind-the-scenes candids while creating their Play@Home Contest entry The Unicorn, The Witch, and The Villain. Click here for these images and more.
"Andrà tutto bene" (Everything will be okay)
An update from Chicago Children's Theatre's blog
"Chicago Children's Theatre is deeply grateful for the expressions of love we received over the weekend as the COVID-19 crisis forced us to cancel shows and classes, and postpone our spring production Me…Jane: The Dreams and Adventures of Young Jane Goodall. As you can imagine, the impact will be devastating with a projected net loss of up to $200,000 in income, representing 12% of our annual operating budget.
Your giving at this critical moment is paramount to our survival as an institution and also to those vulnerable artists, teaching artists and technicians who are dependent on us for much of their livelihood. The outpouring of support in this fast-changing environment has been reassuring, inspiring, even overwhelming at times. Only with the support of our community will we pull through these unprecedented times.
Our work is to impact the children of the world through the arts, even as they teach and inspire us. In the spirit of solidarity, we wanted to share this story: 
In Italy, children are making handmade artworks with a rainbow and the phrase "Andrà tutto bene" – Everything will be okay. Paper and scraps of fabric hang in windows and pictures are shared across social media, showing the resilience of our community and our children. We stand with them, and with children and families around the world. We will get through this together."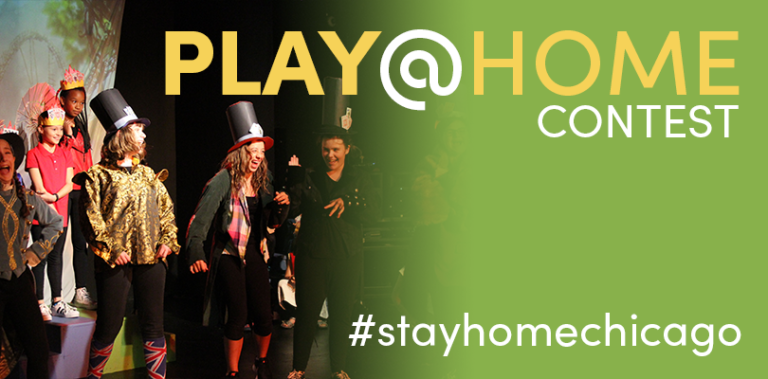 Classes at Chicago Childrens Theatre run the gamut and teach kids all sorts
of creative and collaborative skills, from prop making (above) to film making (below).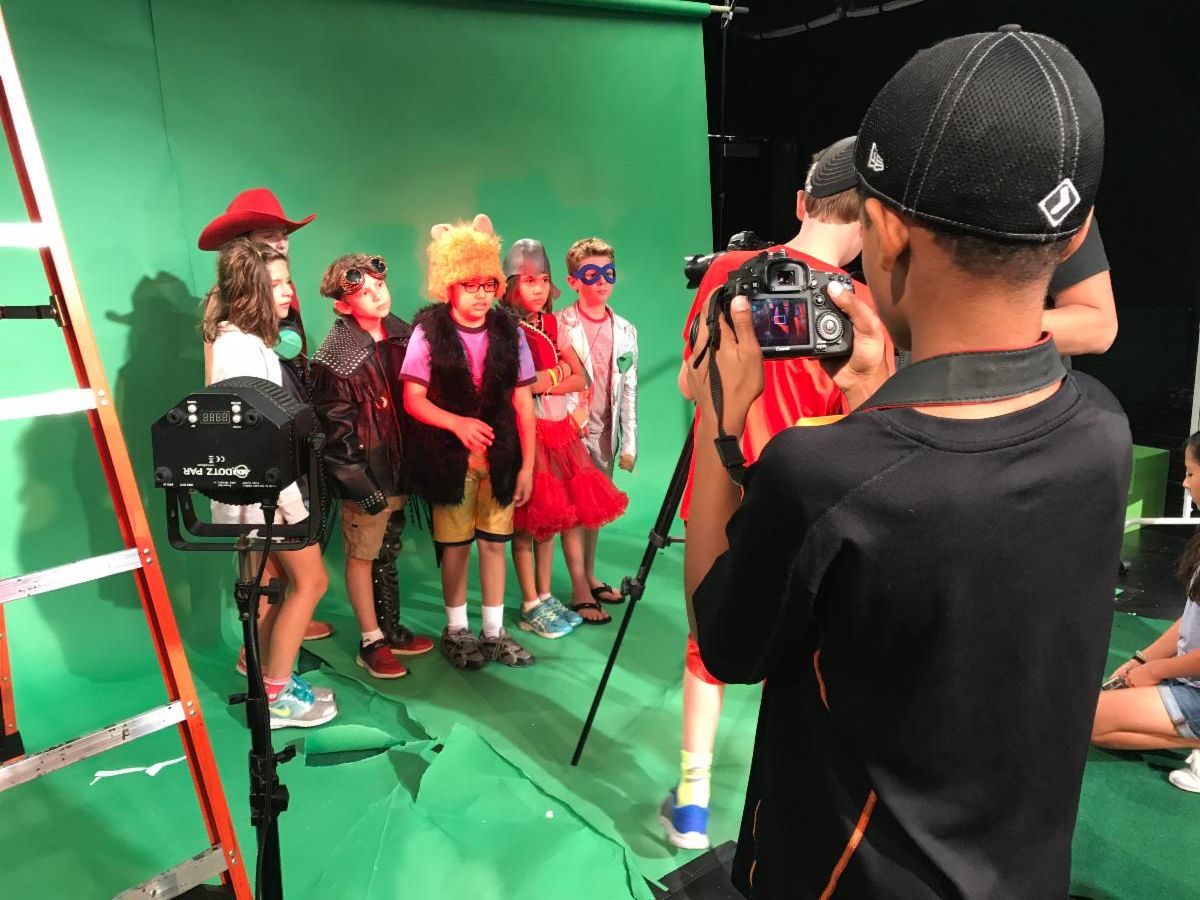 About Chicago Children's Theatre
"The Chicago theater scene is legendarily vibrant, so naturally a number of companies tailor productions to younger audiences. The cream of the crop is Chicago Children's Theatre."
– Chicago Tribune
Chicago Children's Theatre was founded in 2005 with a big idea: Chicago is the greatest theater city in the world, and it deserves a great children's theater. Nearly 15 years later, Chicago Children's Theatre is the city's largest professional theater company devoted exclusively to children and young families, and has established a national reputation for the production of first-rate children's theater, with professional writing, performing, and directorial talent and high-quality design and production expertise.
In January 2017, the company celebrated the opening of its new, permanent home, Chicago Children's Theatre, The Station, located at 100 S. Racine Avenue in Chicago's West Loop community. The building, formerly the Chicago Police Station for the 12th District, was repurposed into a beautiful, LEED Gold-certified, mixed-use performing arts, education and community engagement facility that now welcomes all Chicago families. CCT offers free tickets to more than 5,000 low-income students each season in partnership with Chicago Public Schools. CCT also continues to grow its performing arts and STEAM education programs, offering classes, workshops, winter and spring break camps, and summer camps for ages 0 to 13.
Last year, Chicago Children's Theatre won the 2019 National TYA Artistic Innovation Award from Theatre of Young Audiences/USA. In addition, Chicago Children's Theatre has garnered six NEA Art Works grants, and in 2017, became the first theater for young audiences in the U.S. to win a National Theatre Award from the American Theatre Wing, creators of the Tony Awards.
Chicago Children's Theatre is led by Co-Founders, Artistic Director Jacqueline Russell and Board Chair Todd Leland, with Board President Armando Chacon.
For more, visit chicagochildrenstheatre.org.