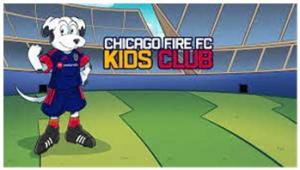 Chicago Fire FC today unveiled plans and membership benefits for its reimagined Kids Club program. As part of its expanded Kids Club offerings, the Fire will offer members high-value gifts, experiences and content, each of which are uniquely tailored to children 0-to-3, 4-to-8 and 9-to-12 years of age.
Registration is free for all kids and comes with an exclusive Chicago Fire FC Kids Club welcome package. Each welcome package features a series of items corresponding to the registrant's age group, with gifts ranging from Chicago Fire FC burp cloths and bibs to notebooks, water bottles and backpacks. Fans can register by clicking here.
"We're thrilled to launch our new Chicago Fire FC Kids Club program, giving children and families the chance to create memorable moments and begin a lifetime connection to our sport and our Club," said Chicago Fire FC Chief Operating Officer John Urban. "The Fire have long invested in Chicago's youth, through camps, clinics and our award-winning P.L.A.Y.S. Program. Now, through the content, activities and game-day experiences delivered via the Kids Club, our youngest Fire followers can gain an early appreciation for the global game and feel the fun and excitement of being part of Chicago Fire FC in their very own way."
The Club also engaged Chicago-based cartoonist and illustrator George Gant (Instagram: @geogantart), who will contribute artwork and narrative storytelling to help bring the Kids Club to life across various Club channels. Gant recently spearheaded the reimagining of the illustrated persona of Sparky, the beloved Chicago Fire FC mascot, and the creation of an all-new "Adventures of Sparky" comic series available exclusively to Kids Club members.
Future perks of Kids Club membership include the invitation to exclusive non-matchday programming, including FIFA Tournaments, a Summer Reading Program presented by Moraine Valley Community College, family days and opportunities to interact with Chicago Fire FC first team players. Details for all forthcoming events will be announced at a later date.
Members may request their welcome packet be mailed to their home address for a flat $10 shipping charge.
The Fire kicked off their opening match in the MLS is Back Tournament with a 2-1 victory against defending MLS Cup champion Seattle Sounders FC on Tuesday, July 14. This Sunday, the Fire will face off against the San Jose Earthquakes at 7:00 p.m. CT. The match will be televised nationally on FS1 and TUDN and transmitted locally in Spanish on TUDN 1200AM. Fans can participate in the Fire and Continental Tire's "Drive-In Matchday" that will be held that night. The event will take place on the Waldron Parking Deck at Soldier Field. Parking lots will open at 5:30 p.m. CT. For more information, click here.
Visit ChicagoFireFC.com for the latest news, schedule and coverage from the league-wide competition.
Chicago Fire FC Lanza un Extenso y Renovado Programa Infantil Para Niños de 12 y Menores de 12 Años
El Club presenta nueva serie de cómics "Las Aventuras de Sparky"
CHICAGO (17 de julio, 2020) - El Chicago Fire FC reveló hoy los abonos y beneficios para los socios de su renovado programa infantil "Kids Club". Como parte de los beneficios del Kids Club, el Fire ofrecerá regalos, experiencias y contenido especial diseñado exclusivamente para niños de 0 a 3 años, de 4 a 8 y de 9 a 12 años.
El registro es gratis para todos los niños e incluye un paquete de bienvenida exclusivo del Chicago Fire FC Kids Club. Cada paquete de bienvenida cuenta con artículos correspondientes a la edad de la persona registrada, con regalos que incluyen desde baberos y toallas de bebé del Chicago Fire FC hasta cuadernos, botellas de agua y mochilas. Los aficionados pueden registrarse oprimiendo aquí.
"Estamos muy emocionados por lanzar nuestro programa Chicago Fire FC Kids Club, dándole a los niños y a las familias la oportunidad de crear momentos memorables y una conexión de por vida con nuestro deporte y nuestro Club", dijo John Urban, Director de Operaciones del Chicago Fire FC. "El Fire ha invertido durante mucho tiempo en la juventud de Chicago a través de campamentos, clínicas y su galardonado Programa P.L.A.Y.S. Ahora, a través del contenido, las actividades y las experiencias en los días que hay partido, el Chicago Fire FC Kids Club es un medio a través del cual los niños pueden obtener una apreciación temprana del juego global y sentir la diversión y la emoción de ser parte del Chicago Fire FC de una manera individual ".
El Club también trabajará con el artista e ilustrador con sede en Chicago George Gant (Instagram: @geogantart), quien contribuirá con obras de arte y narración para ayudar a darle vida al Kids Club a través de varios canales. Gant encabezó recientemente la reinvención ilustrada de Sparky, la querida mascota del Chicago Fire FC, y la creación de las completamente nuevas "Aventuras de Sparky", una serie de cómics disponible exclusivamente para miembros del Kids Club.
Los futuros beneficios de la membresía del Kids Club incluyen la invitación a eventos exclusivos en días que no hay partido, incluyendo torneos de FIFA, un programa de lectura de verano, días familiares y oportunidades de interactuar con los jugadores del Chicago Fire FC. Los detalles de los eventos se anunciarán posteriormente.
Los miembros pueden solicitar que su paquete de bienvenida sea enviado por correo a domicilio por un cargo de envío fijo de $10.
El Fire arrancó con una victoria de 2-1 en el Grupo B el martes, 14 de julio contra el actual campeón de la Copa MLS Seattle Sounders FC. El Fire se medirá contra los San Jose Earthquakes el domingo a las 7:00 p.m. CT. El partido será transmitido en televisión nacional por FS1 y TUDN, y por radio local en español en TUDN 1200AM. Los aficionados también podrán presenciar el partido como parte del evento del Chicago Fire FC y Continental Tire "Drive-In Matchday". El evento se llevará a cabo en el Waldron Deck del Soldier Field. Los estacionamientos abren a las 5:30 p.m. CT. Para más información, oprima aquí.
Visite ChicagoFireFC.com para las últimas noticias, calendario y cobertura de la competencia.