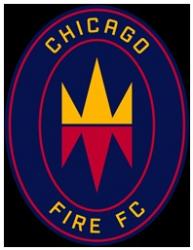 "The signing of Allan proves the success of the Academy program under the leadership of Cedric Cattenoy and Brian Roberts," said Head Coach Raphael Wicky. "The Academy recognized the talent that Allan possesses and have been able to develop him to this point as he earns a Homegrown contract. We're excited to welcome Allan to the first team."
Identified by the Indiana Fire Academy scouting staff, including Indiana Fire Academy Technical Director Phil Presser, Rodríguez joined the Indiana Fire in the fall of 2017. In January 2019, Rodríguez transferred to the Chicago Fire Academy in order to develop his talents through the resources available in Chicago. In 21 appearances (15 starts) for the Academy, he's provided one goal and one assist.
"We're excited for Allan and his family as he has shown he has the tools to perform at an optimal level both on and off the field," said Presser. "Our close relationship with Chicago afforded this opportunity and we appreciate what they've done for Allan's continued growth in the game."
Within just a few months of joining the Fire Academy and receiving exposure through the Development Academy, Rodríguez was called into his first U.S. Youth National Team camp. The midfielder ended his 2019 season by captaining the U.S. U-15s to first place in Group B in the Concacaf Boys' U-15 Championship, where they eventually fell in the semifinals to tournament host Portugal.
"Allan has grown a tremendous amount since joining the Fire Academy and we are all proud to see his efforts lead him to a Homegrown contract," said Chicago Fire FC Academy Technical Director Cedric Cattenoy. "He knows there is a ton of work ahead of him, but I know he is more than capable of handling the job at the professional level. Credit to all the Academy staff that have been involved in his development to lead him to this point."
Transaction: Chicago Fire Football Club signs Allan Rodríguez as a Homegrown Player on March 25, 2020.
Name: Allan Rodríguez
Position: Midfielder
Height: 5'6"
Weight: 153 lbs.
Date of Birth: May 27, 2004
Birthplace: Elkhart, Ind.
Citizenship: United States of America
Chicago Fire FC Ficha al Jugador
del Fire Academy Allan Rodríguez
CHICAGO (25 de marzo, 2020) – Chicago Fire FC anunció hoy que el Club ha fichado al mediocampista del Fire Academy Allan Rodríguez mediante un contrato como Jugador Procedente de Fuerzas Básicas. Rodríguez, 15, es el 20º jugador de Fuerzas Básicas fichado en la historia del Club. Está bajo contrato con el Fire hasta el 2023 con una opción del Club para continuar el contrato hasta el 2024.
"El fichaje de Allan comprueba el éxito de la Academia bajo el liderazgo de Cedric (Cattenoy) y Brian (Roberts)," dijo el Director Técnico Raphael Wicky. "La Academy reconoció el talento de Allan y lo han desarrollado hasta este punto de fichar como jugador procedente de fuerzas básicas. Estamos contentos por darle la bienvenida a Allan al primer equipo."
Descubierto por los cazadores de talento de la Indiana Fire Academy, incluyendo al Gerente Técnico de Indiana Academy Phil Presser, Rodríguez se unió al Indiana Fire en el otoño del 2017. En enero de 2019, Rodríguez se transfirió a la Chicago Fire Academy para seguir desarrollando su talento con los recursos disponibles en Chicago. En 21 partidos (15 de titular) con la Academia, ha anotado un gol y dado una asistencia.
Estamos contentos por Allan y su familia ya que ha demostrado que tiene las herramientas necesarias para desempeñarse a un nivel óptimo, tanto dentro como fuera del campo," dijo Presser. "Nuestra relación cercana con Chicago abrió esta oportunidad y agradecemos lo que han hecho por el continuo desarrollo de Allan."
A pocos meses de llegar al Fire Academy y jugar en la Academia de Desarrollo de U.S. Soccer, Rodríguez fue convocado por primera vez a una Selección Juvenil de U.S. Soccer. El mediocampista cerró el 2019 cómo capitán de la Selección Masculina Sub-15 de EE.UU. que terminó en primer lugar del Grupo B del Campeonato Masculino Sub-15 de Concacaf, en donde eventualmente cayeron en semifinales contra Portugal, quien terminó como campeón del torneo.
"Allan ha crecido inmensamente desde que llegó al Fire Academy y estamos orgullosos de ver que su esfuerzo lo llevó a un obtener un contrato como jugador procedente de fuerzas básicas," dijo el Director Deportivo del Chicago Fire FC Academy Cedric Cattenoy, "Sabe que tienen mucho trabajo por delante, pero sé que es que capaz de cumplir con el a nivel profesional. Hay que darle crédito a todo el personal de la Academia que ha estado involucrado en su desarrollo y lo han guiado hasta este punto."
Transacción: Chicago Fire Football Club ficha a Allan Rodrígeuz como Jugador Procedente de las Fuerzas Básicas el 25 de marzo del 2020.
Nombre: Allan Rodríguez
Posición: Mediocampista
Estatura: 5'6"
Peso: 153
Fecha de Nacimiento: 27 de mayo del 2004
Lugar de nacimiento: Elkhart, Ind.
Ciudadanía: Estados Unidos de América