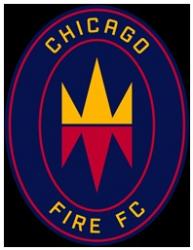 "We're excited about the quality that Chris brings at the goalkeeper position," said Head Coach Raphael Wicky. "He's shown at trainings this preseason that he is ready to take the next step with the first team and gain valuable experience as a professional as he continues to develop in a competitive environment."
A native of Naperville, Ill., Brady joined the Chicago Fire Academy in 2017 after playing for Roadrunners Soccer Club and has since featured at the U-14, U-15, U-16 and U-17 levels while training under Academy goalkeeper coach Igor Dimov. Throughout his four seasons with the Fire Academy, Brady made 48 appearances (48 starts) while competing in the U.S. Soccer Development Academy (USSDA) league.
"Everyone within the Academy is proud to see Chris take this next step in his career," said Chicago Fire FC Academy Technical Director Cedric Cattenoy. "He's a talented goalkeeper and between the Academy and trainings with the first team staff, Chris will continue to develop as one of the best talents at his position."
Brady earned his first international call-up to the U-15 U.S. Boys' National Team during the 2019 season, participating in the team's domestic training camp in Carson, Calif. Most recently, Brady was a member of the U-15 U.S. Boys' National Team for the 2019 Concacaf U-15 Boy's Championship.
Transaction: Chicago Fire Football Club signs Chris Brady as a Homegrown Player on March 24, 2020.
Name: Chris Brady
Position: Goalkeeper
Height: 6'3"
Weight: 170
Date of Birth: March 3, 2004
Birthplace: Naperville, Ill.
Citizenship: United States of America
El Chicago Fire Ficha al Portero del Fire Academy Chris Brady
CHICAGO (24 de marzo, 2020) – El Chicago Fire FC anunció hoy que el Club ha fichado al portero del Fire Academy Chris Brady mediante un contrato como Jugador Procedente de las Fuerzas Básicas. Brady, quien celebró su cumpleaños No. 16 ayer, es el 19º jugador de Fuerzas Básicas fichado en la historia del Club. Está bajo contrato con el Fire hasta el 2023 con una opción del Club para continuar el contrato hasta el 2024.
"Estamos emocionados con la calidad de Chris como portero," dijo el Director Técnico Raphael Wicky. "Ha demostrado durante la pretemporada que está listo para tomar el próximo paso con el primer equipo y obtener valiosa experiencia como profesional en lo que continúa desarrollándose en un ambiente competitivo."
Nacido en Naperville, Illinois, Brady se unió al Chicago Fire Academy en el 2017 después de haber jugado con Roadrunners Soccer Club y desde entonces ha formado parte de los equipos Sub-14, Sub-15, Sub-16 y Sub-17 mientras entrenaba bajo las órdenes del entrenador de porteros de la Academia, Igor Dimov. En sus cuatro temporadas con el Fire Academy, Brady jugó en 48 partidos (48 de titular) en la liga de la Academia de Desarrollo de U.S. Soccer (USSDA).
"Todos dentro de la Academia estamos orgullosos de ver a Chris tomar este próximo paso en su carrera," dijo el Director Deportivo del Chicago Fire FC Academy Cedric Cattenoy. "Es un portero con mucho talento y entre los entrenamientos con la Academia y los entrenamientos con el cuerpo técnico del primer equipo, Chris continuará a desarrollarse como uno de los mejores talentos en su posición."
Brady fue convocado a la Selección de EE.UU. Sub-15 por primera vez durante el 2019, participando en el primer campamento nacional en Carson, California. Más recientemente, Brady formó parte de la Selección Masculina Sub-15 de EE.UU. para el Campeonato Sub-15 de Concacaf 2019.
Transacción: Chicago Fire Football Club ficha a Chris Brady como Jugador Procedente de las Fuerzas Básicas el 24 de marzo del 2020.
Nombre: Chris Brady
Posición: Portero
Estatura: 6'3
Peso: 170
Fecha de Nacimiento: 3 de marzo, 2004
Lugar de nacimiento: Naperville, Ill.
Ciudadanía: Estados Unidos de América