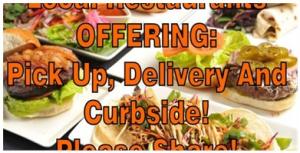 Harbor
In an effort to take at least one thing off your plate, so you can take care of yourself and your loved ones, Harbor is making it easy and introducing family style packages. Enjoy a meal for two ($26) or four ($50), such as Split Roasted Chicken, Pizza, or Bolognese, all served with a variety of sides, and the restaurant team will bring it directly to your car door, deliver it to your home for free, or have the meal available for takeout. 6 packs of beer and bottles of wine will be 30% off with delivery as well. Harbor is the South Loop's newest dining destination located at 1312 S. Wabash and offers a locally inspired and sourced menu from Chef Anthony Bernal. To see what's on the menu today or to order, please call (312) 736-1570. For more information, please visit their website.  
KINTON RAMEN
The popular Japanese restaurant concept that has taken Canada and now the United States by storm, Kinton Ramen is offering delivery and takeout from its two Chicago locations in West Loop (163 N. Sangamon St.) and Wicker Park (1426 N. Milwaukee Ave.). With every delivery and take-out order, Kinton Ramen is giving a complimentary four-piece vegetarian gyoza appetizer, plus a coupon for 25% off their next take-out order. For those ordering on Uber Eats or Caviar from the West Loop location receive $5 off any order of $20 or more. In observance of National Ramen Day (April 4) from Friday, March 20 through Saturday, April 4, ramen lovers may enjoy a buy one, get one offer for take-out orders. To receive the complimentary bowl of ramen with the purchase of another bowl of ramen, guests must call in their order to either Chicago location. The BOGO offer cannot be combined with any other offers or promotions. Delivery couriers will not enter premises and will be "curb-side" only with extra sanitation processes in place.
 Geja's Cafe
Geja's Café, located at 340 W. Armitage, is offering a robust Geja's To Go Monday through Sunday from 12 p.m. to 8 p.m., allowing guests the opportunity to have Geja's signature items delivered straight to their doors. Menu items include Swiss Gruyere Cheese Fondue with breads, apples, grapes and vegetables for dipping; Belgian Chocolate Fondue with pound cake, rice krispie treats, and assorted fruits for dipping; as well as their Gourmet Meat and Cheese boards. For the full To-Go menu or to make an order, please visit their website or call 773-281-9101. Physical and digital gift cards are also available for purchase here. Through the end of March 2020, for every $100 gift card purchased through their website, the Geja's team will add an additional $25 to the gift card for you to use when it is safe for the restaurant to re-open for normal business. 
Jet's Pizza
Jet's Pizza, known for its Detroit-style deep dish, eight-corner pizza, has 20 Chicago stores that are open for delivery orders. Jet's Pizza is also offering all service workers in need a 30% online only discount with discount code VIP. Jet's Pizza is also looking to hire service workers currently out of work during the shutdown. For the full menu or to order a meal for delivery, please visit their website. Gift cards are available for purchase here.
 Turkitch
With three locations in Chicago, Turkitch Turkish Kitchen is offering delivery via GrubHub (with free delivery and 10% cash back) and Uber Eats and pick-up service at each of its locations. Additionally, as a close neighbor to St. Joseph Hospital, Turkitch encourages guests who are able to sponsor meals to those working the hardest to ensure our community stays safe and healthy. When orders are made for St. Joseph's, guests will receive 10% off the order and the Turkitch team will deliver the meal safely free of delivery charge. To learn more or to order, please call (773) 453-3323 or visit their website.
Allgauer's on the Riverfront
Allgauer's on the Riverfront, the beloved North Shore restaurant and family owned business for more than 40 years, located at 2855 N. Milwaukee Ave., will offer curbside pickup for those looking to enjoy selections from their menu at home. For more information, please visit their website.
Columbus Tap
Columbus Tap, the quintessential gastropub located at the Fairmont Chicago, Millennium Tap, 200 N. Columbus Dr., is offering its full menu for takeout. Orders can be placed on Grubhub or by calling (312) 444-9494. For more information or to view their menu, please visit their website.
the Wit
theWit Hotel is pleased to offer a collection of their house made treats, from award-winning Pastry Chef Toni Roberts, to go! Experience a range of theWit's signature sweet and savory treats from the comfort of your own home by visiting abitofthewit.com.  Please allow 24 hour advance notice for pick up, available at theWit Hotel at 201 N. State St.