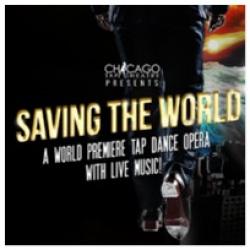 I first experienced Chicago Tap Theatre when I saw their stunning production of "Time Steps" (also written by Marc Kelly Smith) back in 2016.  I didn't know anything about the company or what they did, but I loved this beautiful, amazingly creative tap opera, so I made sure that the company stayed on my radar.  
In "Saving the World", June Pasteur (Jennifer Pfaff Yonally) decides to spend her life helping people, so she founds something called Disaster Relief Control (DRC), and recruits a group of eager young people to help her.  June and her team, Domonique Promise (Kirsten Uttich), David Hart (Isaac Stauffer) and Wanda Musson (Aimee Chase) plan to go to major disasters all over the world, helping people recover. 
After their first successful event, the team celebrates with "Pong Ping", an incredibly fast and complicated game played on an oversized board.  "Pong Ping" is one of the most creative dance sequences I've ever seen.  I actually held my breath because I thought they might crash into one another. 
As DRC became more successful, it attracts the attention of Maximus Worthington (Mark Yonally), a smiling villain in a suit.  Worthington seduces Rachel's staff and volunteers with huge promises.  After Worthington had broken promise after promise, he admitted that he's not interested in the people who need help, he's in it for the money.  After that people started coming back to DRT. 
The CTT ensemble – who are terrific – includes Baily Caves, Sterling Harris, Heather Latakas, Chris Matthews, Case Prime, Molly Smith and Anabel Watson.  The original music was written by Diana Lawrence, who also served as Music Director, with David Keller and Mike Przygoda.
I have to mention CTT's 2017 fantastical science fiction tap opera, "Changes", felt like a time warp, flashing me back to my favorite space hero on TV, Flash Gordon, who traveled through the galaxy in his spaceship, fighting cosmic villains. Everything was there - a hero, a villain, minions, captured/oppressed people, a rocket, even a cheesy laser weapon.  Plus, the spacey score (pun intended), a mélange of David Bowie's song tracks with some live additions and laser lighting, made it a winner. 
By the way, this is not the tap you'll see/hear in a Broadway musical like "42nd Street".  It sounds more like the sounds Irish dancing produces in "Riverdance".  In fact, they wear an oxford style tap shoe rather than a Mary Jane. They look and sound a lot like the shoes the dancers in "Riverdance" wear, but they don't have the reinforced toes.
Chicago Tap Theatre's "Saving the World" runs through June 30th at Stage 773, 1225 W. Belmont, Chicago. Running time is 90 minutes with an intermission. Performances are Fridays and Saturdays at 7:30, Sundays at 3:00 pm. Tickets range from $30-$40. Valet parking is available.  FYI (773) 327-5252, www.stage773.com or www.chicagotaptheatre.com.