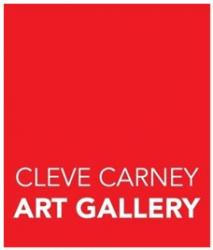 The Cleve Carney Museum of Art (CCMA) and McAninch Arts Center (MAC), located at 425 Fawell Blvd. on the College of DuPage campus, today announced a robust series of virtual offerings for their audience to enjoy while the museum is closed to the public now through December 2020. Programming will include online exhibitions, artist talks and educational resources for children, and feature well-known artists such as Edra Soto and Trevor Paglen. "We are committed to continually inspiring our audiences through art," said Cleve Carney Museum of Art Curator Justin Witte. "The work and ideas of emerging, established and legendary artists can be presented in many ways, and we will continue to serve both the College of DuPage student body and the greater public by exploring these various channels of connection."
The museum's long-running Visiting Artist Series will be presented online, beginning with a panel discussion on Wed., Sep. 9 featuring photo-based artist Alice Hargrave in conversation with environmental ecologists. On Thurs., Oct. 15, artist and MacArthur Fellow Trevor Paglen will present a lecture on his body of work, which is chiefly concerned with seeing the historical moment we live in and developing the means to imagine alternative futures. Artist Mary Mattingly, known for her floating eco habitats and edible landscapes, will present a lecture on Wed., Oct. 28. Closing out the virtual season will be a conversation between University of Chicago Art History Professor Darby English and Chicago-based artist Ayanah Moor exploring Blackness and gender identity within fine art and popular culture. All talks will be available at https://theccma.org/vas-20202021 and an archive of past talks by groundbreaking contemporary artists, including Nick Cave, Faheem Majeed and Luftwerk is available for viewing at www.theccma.org.
The museum's educational series for children and adults, titled CCMA Creates, is a great resource for parents and caregivers seeking interactive learning activities. CCMA Creates: Kids is geared towards children aged 12 and younger but accessible to all ages and skill levels. CCMA Creates: Stuck in the Studio offers studio visits with artists who have previously exhibited at the institution. Both series can be found on the CCMA Facebook page and the MAC Facebook page, with new episodes aired at 12 p.m. on Tuesdays and Fridays, respectively. Art classes and virtual artist studio visits will feature local, national and international contemporary artists who are leaders in their field. The schedule will be announced monthly and the line-up now through August 2020 includes the following:
·        Tuesday, July 28, 12 p.m.
Erin Washington: How to Make a Brush
·        Friday, July 31, 12 p.m.
Stuck in the Studio: with Tres Fridas
·        Tuesday, August 4, 12 p.m.
CCMA Creates: Kids: Design Your Own Crest, Part 1
·        Friday, August 7, 12 p.m.
CCMA Museum Tour
·        Tuesday, August 11, 12 p.m.
CCMA Creates: Kids: Design Your Own Crest, Part 2
·        Friday, August 14, 12 p.m.
CCMA Creates: Stuck in the Studio with College of DuPage Archivist Jenny Dunbar
·        Tuesday, August 18, 12 p.m.
CCMA Creates: Kids: Design Your Own Crest, Part 3
·        Friday, August 21, 12 p.m.
CCMA Creates: Stuck in the Studio with Artist Selina Trepp
·        Tuesday, August 25, 12 p.m.
Build a Sketchbook
·        Friday, August 28, 12 p.m.
CCMA Creates: Stuck in the Studio with Artist Edra Soto
More episodes of CCMA Creates will be announced at a later date, and past episodes can be found at www.theccma.org/ccma-creates.
Beginning on July 20, www.theccma.org began hosting the online exhibition We've been here before: Balance from Ancestral Totems by the artist Charles Morrison. Employing clay, print, performance and social practice, in a 7-minute video Morrison guides viewers through a Kemetic breathing exercise centered around the power of the breath and the ability to restore balance and proper circulation to the body and brain through conscious breathing. The museum will also be a host site for Color Code, a project by artist team Luftwerk in collaboration with Renata Graw. Beginning on Tues., Sept. 15 and running through Tues., Nov. 3., 12 cultural locations across the country will display a three-part set of contrasting color flags evoking the international signal of distress, SOS, transforming it into a sign of solidarity and connectedness.
The solo exhibition Jesus of Western Avenue, featuring works celebrated Chicago resident Tony Fitzpatrick, will now open on Saturday, Oct. 2, 2021 and run through Monday, Jan. 31, 2022.
About the Cleve Carney Museum of Art
The late Cleve Carney provided a significant legacy gift to establish the Cleve Carney Art Gallery at College of DuPage. The gallery opened in February 2014 with its inaugural exhibition Selections from Cleve Carney's Art Collection. The gallery has expanded to a 2,500 square-foot museum, the Cleve Carney Museum of Art, and will host Frida Kahlo: Timeless summer 2020. The museum will maintain the standards set by the American Alliance of Museums. More information can be found at www.TheCCMA.org or by calling 630.942.3206.
About the MAC
The McAninch Arts Center at College of DuPage is located 25 miles west of Chicago near I-88 and I-355. It houses three indoor performance spaces (the 780-seat proscenium Belushi Performance Hall; the 236-seat soft-thrust Playhouse Theatre; and the versatile black box Studio Theatre), the outdoor Lakeside Pavilion, plus the Cleve Carney Museum of Art and classrooms for the college's academic programming. The MAC has presented theater, music, dance and visual art to more than 1.5 million people since its opening in 1986 and typically welcomes more than 100,000 patrons from the greater Chicago area to more than 230 performances each season.
The mission of the MAC is to foster enlightened educational and performance opportunities, which encourage artistic expression, establish a lasting relationship between people and art, and enrich the cultural vitality of the community. Visit AtTheMAC.org or facebook.com/AtTheMAC for more information.