Collaboraction, Chicago's theater for social change, is launching Family Tree Stories, a new mixed media project that will illuminate how systemic oppression impacts our ancestral narratives and how interconnected our family stories actually are. 
Conceived and directed by Artistic Director Anthony Moseley, Family Tree Stories will launch in mid-March as a website introducing 15 original Family Tree Storytellers. The site will be familytreestories.com (coming soon), and their stories will be sortable by video, audio, text narratives and keywords to allow users to examine the way our lives overlap and intersect.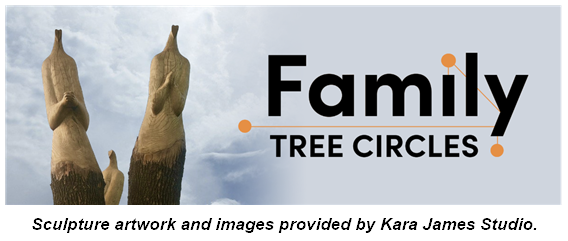 Soon after the site launches, the public will be invited to upload their own Family Tree Stories to help cultivate a lush, virtual, renewable forest of diverse family histories.
The 15 original Family Tree Storytellers are Dana N. Anderson, Dr. David Ansel, Dr. Finley Campbell, Tommy Carroll, Sandra Delgado, GQ, Arica Hilton, Loretta "Firekeeper" Hawkins, Jamil Khoury, Sean Patrick Leonard, Aria Mallare, Sammy Rangel, Jasmine Robinson, Jacqueline Russell and Priya Shah.
Encouraging collaborators to share their family narratives through the prism of how they've been impacted by systemic oppression has been a growing part of Moseley's model for co-devising theater around critical social issues. The practice is now a group ritual when Collaboraction brings artists, activists and social change thought leaders together for festivals, virtual productions, live talk shows on its Together Network, EDI workshops, racial healing circles, even staff meetings and board retreats.
"The act of sharing what your family has gone through to allow you to be present and connected to others today is a living manifestation of your ancestors," said Moseley. "Family Tree Stories are powerful reminders that we are all completely interconnected and have much more in common than not. They're the perfect way for us to share part of our devised theater-making process while leveraging the digital medium during the pandemic." 
On Thursday, February 18 at 8 p.m. CT, Collaboraction's live, digital talk show Crucial Connections will preview the launch of Family Tree Stories.
Rayshauna Gray, a Chicago southside native, historian, author of "Roseland: A Family History," currently working at Harvard University and the Cambridge Historical Society. Gray will be joined by three original Family Tree Storytellers - Dana N. Anderson, GQ and Sandra Delgado.
Crucial Connections is an online, monthly talk show that explores the intersection of critical social and cultural issues, co-hosted on Collaboraction's Together Network by Anthony Moseley and Collaboraction Executive Director Dr. Marcus Robinson. Audiences can join and interact with the hosts live on Zoom by registering in advance at collaboraction.org. Livestreams and past episodes can also be found on Collaboraction's YouTube and Facebook pages. 
Collaboraction's Family Tree Stories production team is Anthony Moseley (director), Sarah Swift (producer), Crystal Barnes (associate producer), Alex Groesch (editor), Sarah D. Espinoza (sound and multimedia design), Nikolaj Sorensen (production manager) and James Anthony (graphic design). Anthony Moseley and Dr. Marcus Robinson are executive producers.
Looking ahead, Collaboraction's staff, board, and company members are planning three short work performing arts festivals in 2021: The Light, a summer festival showcasing Chicago artists 21 and under; Encounter Englewood, a new video fest created by and showcasing Englewood artists/activists; and the 6th Annual PEACEBOOK, Collaboraction's fall festival of new theater, music, dance and spoken word about peace. All three festivals will be produced either live, onstage or as a virtual video fest. 
In addition, stay tuned for news of more exciting virtual programming from Collaboraction in 2021, including expanded programming on the company's new, member-supported Together Network. Collaboraction will also develop and present a new world premiere musical satire, Red Island, that shines a light on our nation's outrageous history and the ridiculous evolution of American "isms," created by Anthony Moseley and Carla Stillwell.
For more information, visit collaboraction.org, or follow the company on Twitter, Facebook,  Instagram or YouTube, or call the Collaboraction box office, (312) 226-9633.
Family Circle Storytellers - Biographies
Dana N. Anderson is a Collaboraction Company Member and writer, dancer, actor and poet who has just released Cries From Quarantine: Poems About Love.
Dr. David Ansel is the Senior Vice President for Community Health Equity at Rush University Medical Center in Chicago. He has been particularly involved in health equity work, bringing attention to higher rates of breast cancer mortality for African-American women in Chicago. In 2007 he co-founded the Metropolitan Chicago Breast Cancer Taskforce. In 2011 he published an acclaimed memoir "County: Life, Death and Politics at Chicago's Public Hospital." His most recent book is "The Death Gap: How Inequality Kills."
Dr. Finley Campbell is a co-chair of the Unitarian Universalist Multiracial Unity Action Caucus, an Illinois not-for-profit group affiliated with the Chicago Area Unitarian Universalist Council. He believes that multiracial unity is an important way to fight racism. The solution is kindness, compassion and personal interaction.
Tommy Carroll is a totally blind Chicago-based drummer/composer/producer seeking to create the soundtrack to a more inclusive world. Described by the Chicago Reader as a workhorse drummer, he has performed nationally with rock bands, jazz combos, rappers, and singers of everything from bluegrass to soul.
Sandra Delgado is a company member with Collaboraction and Teatro Vista, creator and star of La Havana Madrid, and was just named a 2021 United States Artists Fellow.
GQ is an activist, actor, writer and rapper who is a part of the acclaimed Q Brothers where he co-created The Bomb-itty of Errors, Othello: the Remix and The Rap Pack and has been seen in movies including Drumline and Rescue Dawn.
Loretta "Firekeeper" Hawkins is a legendary Chicago playwright, poet and performer who has worked with Collaboraction numerous times including her portrayal of Harriet Tubman in her one woman play Dese Shoes.
Arica Hilton, a multimedia artist born on the Mediterranean coast of Turkey, studied architecture and design and has worked as an artist, gallerist, curator, art publisher, poet, interior designer and patron of the arts since 1985. She is the founder and president of Hilton | Asmus Contemporary, a fine art gallery in Chicago. 
Jamil Khoury is the Co-Executive Artistic Director of Silk Road Rising. A theater producer, playwright, essayist, and filmmaker, Khoury's work focuses on Middle Eastern themes and questions of Diaspora. He is particularly interested in the intersections of culture, national identity, religion and belonging.
Sean Patrick Leonard is a writer/director/actor of theater and film and he runs the production company Crash of Rhinos which has produced numerous award winning short films. Sean is a proud active anti-racist.
Aria Mallare, a senior at Whitney Young High School, is a poet and performer. She was featured in Collaboraction's The Light youth festival in 2019 and 2020.
Sammy Rangel is an author, social worker, peace activist, speaker, trainer and father. After living a life fueled by violence, Rangel is now Executive Director and Co-Founder, Life After Hate, a Chicago-based non-profit committed to helping people leave the violent far-right to connect with humanity and lead compassionate lives. 
Jasmine Robinson is an insightful soul who hails from Miami, Florida and is now a proud resident of the Englewood neighborhood on Chicago's south side.
Jacqueline Russell is Co-Founder and Artistic Director of Chicago Children's Theatre where she is known for her innovative and inclusive vision for sharing and celebrating each other's stories.
Priya Shah is the founder and Executive Director of A Simple Good as well as an artist, model and motivational force for good.
About Collaboraction
Collaboraction, Chicago's theater for social change, collaborates with a diverse community of Chicagoans, artists and community activists to create original theatrical experiences that cultivate dialogue and action around the city's most critical social issues.
Collaboraction's new member-supported Together Network presents exclusive virtual content like Becoming: Unlearning White Supremacy, a live web show for all people looking to be active anti-racists (first Tuesday of every month at 6 p.m. CT), and Crucial Connections, a live, interactive talk show that brings social justice warriors, artists and community residents together for crucial conversations (third Thursday of every month, 8 p.m. CT).
A $5 monthly subscription fee allows unlimited access to all of the company's Together Network programming while providing steady financial support for Collaboraction and its artists. Sign up at collaboraction.org/together-network.
After 10 years at the Flat Iron Arts Building in Wicker Park, Collaboraction has moved to AV Chicago in Chicago's South Loop and is now focused on producing high-end virtual theater, live, interactive talk shows and online special events. All productions adhere to Collaboraction's six-point pandemic safety protocols, and all artists and staff are paid equitably per Collaboration's new Equity Pay for All policy.
As soon as it's safe to present in-person performances again, Collaboraction will continue to use the theater at Kennedy-King College in Englewood as its mainstage producing home. Meanwhile, Collaboraction has initiated a search for its next home for live performances, community building and video production, exploring Chicago neighborhoods historically overlooked like Englewood, Austin and Lawndale.
Since its founding in 1996, Collaboraction has pushed artistic boundaries working with more than 3,000 artists to bring more than 60 productions and events to over 150,000 audience members. Collaboraction partnered with the Chicago Park District's Night Out in the Parks program for five straight years cultivating relationships and theater in Englewood, Austin and Hermosa through the Crime Scene, PEACEBOOK and Encounter tours. Other memorable productions include Forgotten Future: The Education Project by Sarah Moeller, This is Not a Cure for Cancer by Anthony Moseley and Sarah Illiatovich-Goldman, Gender Breakdown by Dani Bryant and Erica Barnes, Dark Play (or stories for boys) by Carlos Murrillo, the Chicago premiere of 1001 by Jason Grote and the annual SKETCHBOOK Festival for 15 years.
Collaboraction has been acknowledged for innovation and inclusivity by using theater as a tool for social change with numerous awards including, most recently, a 2020 Foster Innovation Award from Chicago's Department of Cultural Affairs and Special Events (DCASE), the 2020 Multi-Racial Unity Award from the First Unitarian Church - Chicago, a 2018 Stand For the Arts Award from Comcast, and an Otto Award from New York's Castillo Theatre.
Collaboraction is supported by The Chicago Community Trust, Find Your Light Foundation, Illinois Arts Council Agency - a state agency, Illinois Humanities, Joseph and Bessie Feinberg Foundation, Marc and Jeanne Malnati Family Foundation, the National Endowment for the Arts, and the Paul M. Angell Family Foundation. A CityArts Grant from the City of Chicago Department of Cultural Affairs and Special Events partially supports Collaboraction with funds provided by the National Endowment for the Arts as part of the Coronavirus Aid, Relief, and Economic Security (CARES) Act.
Collaboraction is led by Artistic Director Anthony Moseley, Executive Director Dr. Marcus Robinson, a company of 27 talented Chicago theater artists, and a dedicated staff and board of directors.
For more information, visit collaboraction.org.
About Healing Illinois
Family Tree Stories is made possible in part by a grant from Healing Illinois, a racial healing initiative of the Illinois Department of Human Services (IDHS), in partnership with The Chicago Community Trust. Healing Illinois is designed to distribute $4.5 million grants to organizations across the state to begin, or continue, the work of racial healing. Its goals are to:
Build and advance knowledge and understanding of racial healing and racial equity in communities across the state
Increase trust and relationship building among the residents of Illinois
Provide opportunities for communities and individuals to begin to heal from the harms caused by racism
Build the foundation for long-term racial healing and anti-racism in Illinois
For more information, visit dhs.state.il.us/page.aspx?item_126286