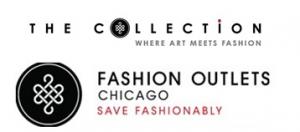 THE COLLECTION: Where Art Meets Fashion, the multifaceted contemporary art program located within Fashion Outlets Chicago, announces the unveiling of the program's latest site-specific installation by Pakistani artist Anila Quayyum Agha. The two-part interactive installation, Shimmering Mirage (Red) and Descent into Light will transform the grand entrance of the shopping center with vibrant light and exuberant patterning. The installation will be completed and on view to the public in January, 2020.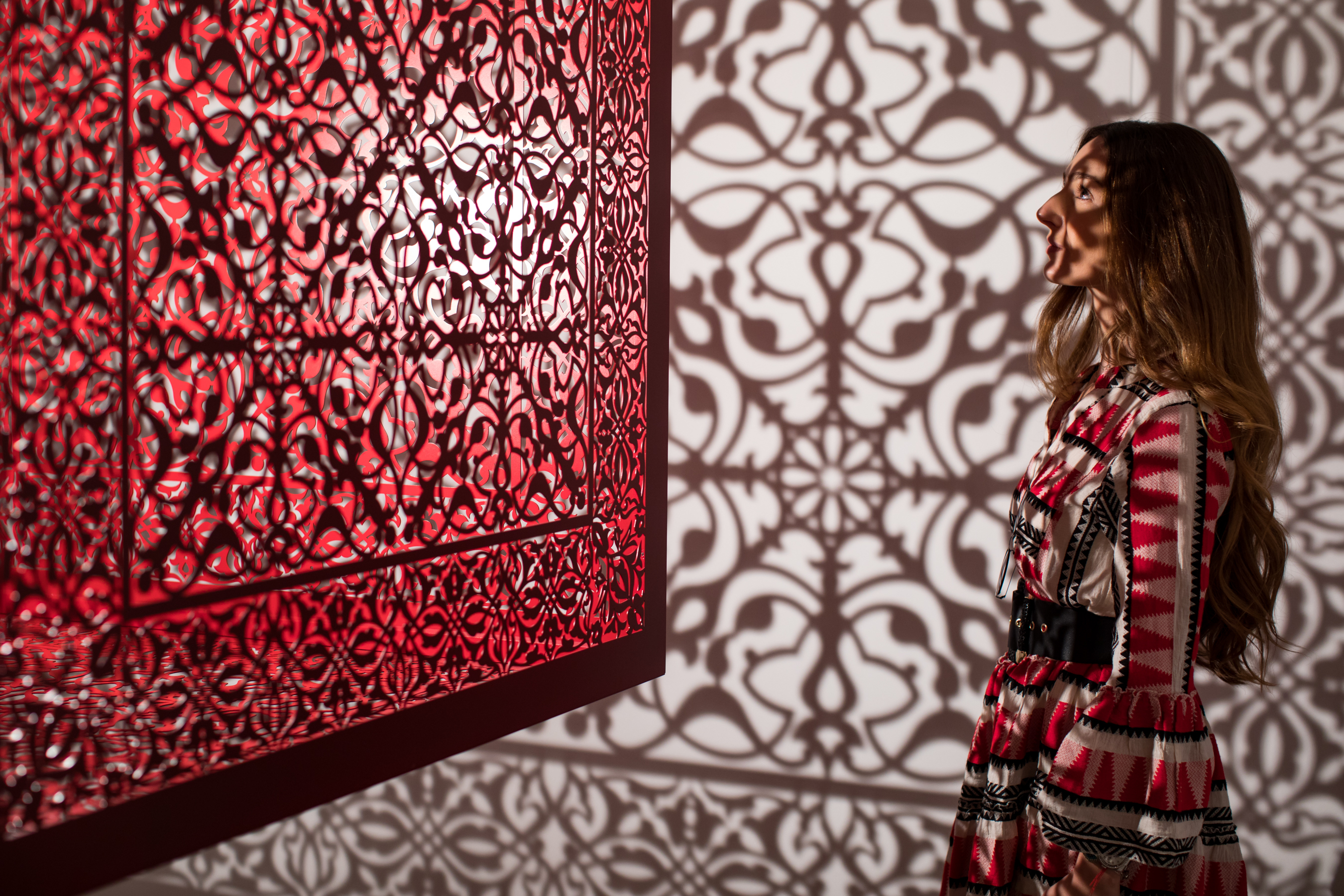 "The addition of Agha's interactive installation will provide our shoppers with a dazzling immersive experience from the moment they walk in our grand entrance," said Senior Marketing Manager Katie Walsh. "This work exemplifies Macerich's dedication to support a diverse range of artists and provide a public platform for creativity."
Agha's installation features a three-dimensional luminescent cube carved with elaborate designs that extend beyond the sculptural form into a mural that envelops the space in vibrant color. The cube, suspended and lit from within, results in mesmerizing floor-to-ceiling shadows that transform the surrounding environment creating a truly immersive experience.
"The installation draws from calligraphy and geometric motifs that are hallmarks of Islamic art and architecture, known for its contemplative focus and for providing an understanding of the underlying order of both the cosmos and the natural world through symmetries found in nature," said Agha. "Because of the installation's placement within a busy shopping environment, it was important to me to tempt the visitors into taking a few moments to contemplate connections and find commonalities between people of diverse backgrounds and cultures." She added, "My hope is that the experience will be at once weighty and weightless, transporting the viewer to a mysterious and sublime environment."
To learn more about "THE COLLECTION" and its programming visit fashionoutletsofchicago.com/thecollection.
About Anila Quayyum Agha
Anila Quayyum Agha was born in Lahore, Pakistan and received a BFA from the National College of Arts, Lahore and MFA from the University of North Texas. Agha resides in Indianapolis, serving as associate professor at Herron School of Art and Design, Indiana University. Agha's work has been exhibited in numerous exhibitions including the Peabody Essex Museum, National Sculpture Museum in Valladolid, Spain, Dallas Contemporary Art Museum, Cincinnati Art Museum, Grand Rapids Art Museum and the Museum of Contemporary Art, Jacksonville, FL. Major awards include the Efroymson Contemporary Arts Fellowship, ArtPrize (Juried and Public Vote Grand Prize 2014), Creative Renewal Fellowship and DeHaan Artist of Distinction (Indy Arts Council), Research Scholar Award (Indiana University), Schiele Prize (Cincinnati Art Museum) and the 2019 Painters and Sculptors Grant from the Joan Mitchell foundation. For the 2019 Venice Biennale Agha was included in the collateral event She Persists. Her work has been collected by institutions and private collectors nationally and internationally.
About Sundaram Tagore Gallery
Sundaram Tagore Gallery is devoted to examining the exchange of ideas between Western and non-Western cultures. With spaces in Hong Kong, Singapore and New York City (in Chelsea and on Madison Avenue), the gallery was the first to focus exclusively on the rise of globalization in contemporary art. The gallery represents painters, sculptors and photographers from around the world. They each work in different mediums and use diverse techniques but share a passion for cross-cultural dialogue. The gallery is renowned for its support of cultural activities—including poetry readings, book launches, music performances and film screenings furthering its mission of East-West exchange.
About THE COLLECTION: Where Art Meets Fashion
THE COLLECTION: Where Art Meets Fashion is a multifaceted contemporary art program located within Macerich's Fashion Outlets of Chicago. Components of THE COLLECTION include 19 permanent commissions and a rotating exhibition series located throughout the common area of the shopping center. The public art program has invested in works by Daniel Arsham, Derrick Adams, Carlos Rolón Dzine, Jen Stark, Matthew Hoffman, and many more. THE COLLECTION's rotating exhibitions feature work by a variety of artists displayed in glass cases located throughout Level Two of the shopping center. For more information, visit https://www.fashionoutletsofchicago.com/TheCollection.
About Fashion Outlets of Chicago
Fashion Outlets of Chicago is an award-winning 530,000 square-foot, two-level indoor shopping center that is home to more than 130 designer outlets, an impressive contemporary art collection known as THE COLLECTION and high-end amenities. The one-of-a-kind upscale outlet property that redefines and elevates the outlet shopping experience, is located at 5220 Fashion Outlets Way in Rosemont –minutes from O'Hare International Airport and Chicagoland's major highways. For more information, visit www.fashionoutletsofchicago.com. 
 *Image of Shimmering Mirage by Anila Quayyum Agha. Photograph by Justin Barbin taken at EXPO CHICAGO 2019, courtesy of EXPO CHICAGO.