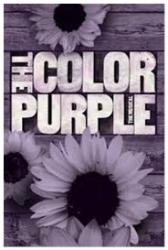 If you were poor, black and you lived in the South in the early 1900s, life was hard.  If you were a poor black woman, life was downright miserable.  Young Celie (Eben K. Logan) was fourteen and pregnant with her second child by her father.  As soon as she gave birth, she named the baby, just like she did for her little girl, but he took the baby boy away from her anyway.  She hoped both of her babies were still alive.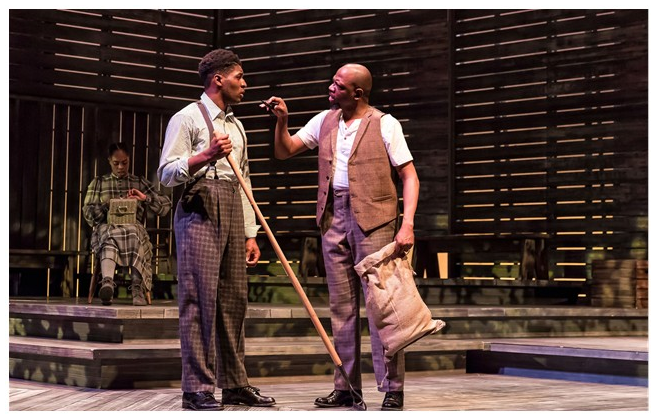 When Mister (Melvin Abston) noticed Celie's sister, Nettie (Kyrie Courter), and told Pa (Sean Blake) that he wanted her.  Pa offered Celie instead, but Mister said she was too ugly.  When Pa threw in a cow as an incentive, Celie agreed to go with him so Nettie could stay in school.  
After Mister's field hands told Celie about all the work she'd have to do, Mister gave her the first of many beatings.  Soon after, Nettie ran to Celie for shelter because Pa went after her.  Mister agreed to let her stay, then attacked her on her way to school.  When she fought back, he threw her off the farm, vowing that Celie would never see Nettie again.
Mister's son Harpo (Gilbert Domally) fell in love with a strong, bossy woman named Sofia (Nicole Michelle Haskins).  Mister told Harpo that the only way to get Sofia to mind was to beat her, and Celie said that was so.  Sofia was so angry, she left Harpo, who turned the home he built for her into a juke joint.
When Mister's first love, a singer named Shug Avery (Sydney Charles), comes back to town to sing at the juke joint, she's not well.  Mister took her home with him and ordered Celie to take care of her.  The two women became close friends.  When Shug found a hidden cache of Nettie's letters, Celie suddenly got a backbone and left Mister.
After she left, she stayed with Shug for a while.  Always a talented seamstress, Celie designed a pair of pants that would fit any woman's body.  The pants were a hit with all the women Celie knew – "Miss Celie's Pants".  Then Celie learned that Pa had swindled her out of her inheritance.  When her mother passed away, her second husband – and Celie's stepfather, Pa – took over
everything, even though it belonged to Celie.  She returned home after his death.    
While there aren't any top 40 hits in "The Color Purple", the music does work with the story.  The voices of the talented cast blend beautifully.  The love expressed in Act II of the musical is quite uplifting. 
Other characters: Bobby (Jos N. Banks), Grady (Chuckie Benson), Darlene (Shantel Cribbs), Squeak (Melanie Loren), Adam/Buster (Gabriel Mudd), Olivia (Adhana Reid), Jarene (Camille Robinson), Doris (Alexis J. Roston), Preacher/Ol' Mister (Lorenzo Rush Jr.), and Guard (Joey Stone). 
As I was trying to think of the perfect word to sum up my reaction to the show, the word 'triumph' popped into my mind.  The women in "The Color Purple" – Celie, Sofia, Nettie and Shug – triumph over the worst kinds of adversity. 
"The Color Purple" runs through November 3rd at Drury Lane Theatre, 100 Drury Lane, Oakbrook Terrace.  Parking is free, valet is also available.  Running time is 2 hours, 30 minutes, with an intermission.  Performances are Wednesdays at 1:30 pm; Thursdays at 1:30 and 8:00 pm; Fridays at 8:00 pm; Saturdays at 3:00 and 8:00 pm; and Sundays at 2:00 and 6:00 pm.  Tickets range from $50-$65.  FYI (630) 530-0111, Ticketmaster (800) 745-3000 or www.drurylanetheatre.com.