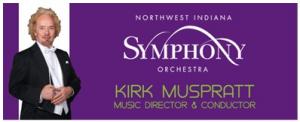 Without an end date to these circumstances in sight, we are currently planning to reschedule the two performances of "West Side Story in Concert," originally slated for May 14 & 15, to June 25 & 26, 2020, at Living Hope Church in Merrillville.
     
We apologize for any inconvenience resulting from these changes; we certainly wish that circumstances were otherwise. For those of you who have purchased tickets for "West Side Story," your current tickets will be honored for the new dates in June, with May 14 corresponding with Thursday, June 25, and May 15 corresponding with Friday, June 26. We are asking our "Carmina Burana & Firebird" ticket holders to please consider rolling over their purchased tickets to the rescheduled date next season or take a fully tax deductible donation. During this very difficult time you would be helping the Symphony stay in business and retain our employees.
     
Feel free to leave a message with our box office if you have any questions or concerns or if you would prefer a refund. You can reach us at 219/836.0525 ext. 200. You can also follow current updates to the Symphony schedule on our website.