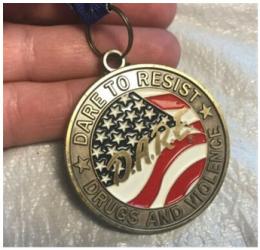 Due to the coronavirus and closure of regular school in mid-March, the students were not able to have their usual D.A.R.E. Graduation ceremonies in May where they would have received their DARE t-shirts, certificates, and other items in recognition of their completion of the program.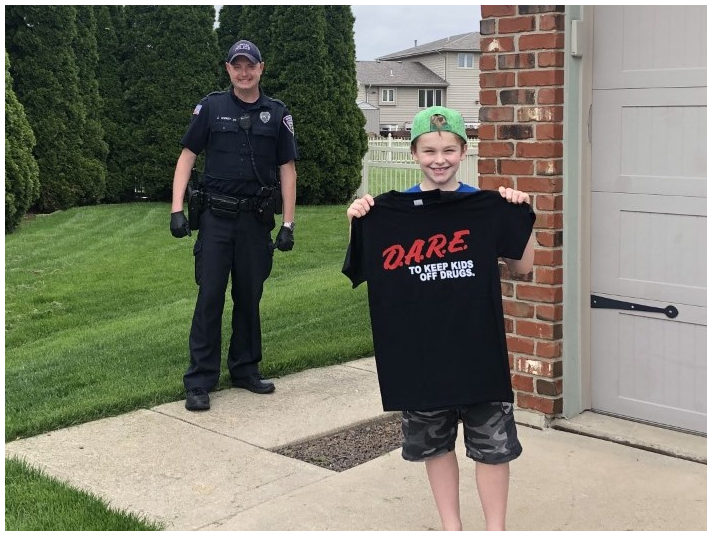 During the past few weeks, D.A.R.E. Officer James Ghrist has been visiting the approximately 275 fifth grade students at their homes (while maintaining a safe social distance) to drop off their D.A.R.E. items and to wish them luck for the future.   A number of students were also presented with D.A.R.E. Awards or prizes which were announced in last week's newsletter and posted on our department's Facebook page.  
The Munster Police Department would especially like to thank Mrs. Georgina Lindenmayer, who is a first grade teacher at Frank Hammond Elementary School, for writing out the names on all of the students' D.A.R.E. certificates.  Mrs. Lindenmayer has volunteered to assist with this for the past several years and her support for the program is very much appreciated.  
We would also like to thank the Parent-Teacher Organizations at each of the schools along with other community organizations such as St. Thomas More Church, the Munster Lions Club, the Munster Rotary Club, and Alice Cannon for their monetary support of our program.  Sponsoring businesses of our D.A.R.E. Program included Miss Print, McDonald's, Jewel-Osco, Pepsi, Munster Donut, Kentucky Fried Chicken, Lansing Cleaners, and Dante's House of Pizza.  
The Munster Police Department's D.A.R.E. Program provides safety visits to almost 2,000 students each year in kindergarten through 8th grade and includes    lessons on drug prevention, internet safety, stranger-danger, resisting peer pressure, and more.  Thank you to our sponsors and schools for helping to keep the program going strong in Munster for over 30 years.  For more information about D.A.R.E., please contact Officer Ghrist at 219-836-6639.