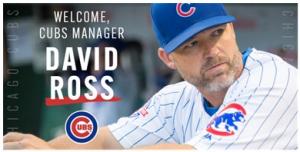 The Chicago Cubs today named David Ross the 55th manager in franchise history, agreeing to terms on a three-year contract through the 2022 season with a club option for the 2023 campaign. Terms of the deal were not disclosed. Ross will be formally introduced at a press conference at 11 a.m. CDT Monday, October 28.
A veteran of 15 major league seasons as a catcher and a two-time World Series champion, Ross retired after the 2016 season and has spent the last three seasons in the Cubs front office as a special assistant to baseball operations. In his Cubs front office role, Ross contributed to all elements within the club's baseball operations department, including major league operations, player development, pro scouting and front office work. He also assisted in evaluating amateur players leading up to the draft among other responsibilities throughout the year. Additionally, Ross has spent the last three years working as a major league analyst for ESPN, providing commentary and opinion on a variety of platforms, including studio and in-game broadcast booth assignments. Ross, 42, is the youngest Cubs manager since 42-year-old Jim Riggleman took charge in 1995. Ross turns 43 on March 19.
Ross advanced to the postseason seven times during his major league career with the Los Angeles Dodgers (2002-04), Pittsburgh Pirates (2005), San Diego Padres (2005), Cincinnati Reds (2006-08), Boston Red Sox (2008, 2013-14), Atlanta Braves (2009-12) and Cubs (2015-16). He played in 883 regular season games and in 25 playoff contests, winning the World Series in 2013 with Boston and in 2016 with the Cubs, ending his playing career with a home run in Game 7 of the World Series. He was a career .229 hitter (521-for-2,280) with 106 home runs and 314 RBI in the regular season.
Statement by Executive Chairman Tom Ricketts:
"My family and I congratulate David. He's a proven winner and we look forward to him leading our team back to the postseason," said Ricketts.
Statement by President of Baseball Operations Theo Epstein:
"We are thrilled to name David Ross as the 55th manager in franchise history," said Epstein. "David is as gifted a leader as I've ever come across, and I expect him to become a great manager. He is a natural connector with a high baseball IQ and a passion for winning. David has always stood out for his ability to cultivate the ingredients of a winning culture — accountability, hard work, hustle, competitiveness, trust, togetherness, and team identity.
"David's connection to the organization and his relationships with his former teammates could be assets initially, but they were not factors in our decision nor will they be critical to his long-term success in the role. He earned the job on the merits, and he will move the team forward in a new and different direction. We are excited to have David as our manager and look forward to working together to foster a winning culture and build the next Cubs championship team."
Statement by Manager David Ross:
"I'm honored by this opportunity to be the next manager of the Chicago Cubs," said Ross. "My time with this organization has been special since the day I joined, so to continue with the club in this role is a blessing for which I'm so very thankful. We have accomplished so much together since 2015, and my desire to lead this organization to another World Series championship could not be any stronger.
"A lot has been made, and rightfully so, of my connection to the 2016 World Series team, and the notion that I'll now be managing players I once counted on as teammates. Having those relationships going into this will be a bonus, no doubt about it. But those guys know I'll be the first to hold them accountable, the first to demand their best daily effort and the first to let them know about it if they give anything but their best. I never had a problem dishing out a lot of tough love as their teammate, and that won't change as their manager. We'll have our fair share of fun along the way, but working hard as a team, playing fundamental team baseball and winning a lot of games will be our top priorities.
"There will be people I want to thank on Monday, but for today I'd especially like to thank my family and two of my mentors, Bobby Cox and Joe Maddon, for their guidance and support throughout the years. I'd also like to thank the Ricketts family, Theo Epstein, Jed Hoyer and the Cubs for this opportunity of a lifetime. Now let's get to work."