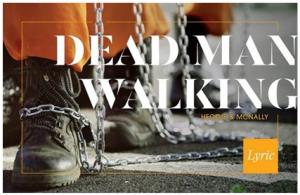 Dead Man Walking, the powerful opera by composer Jake Heggie and librettist-playwright Terrence McNally, will have its long-awaited Lyric premiere this month. There will be six performances Nov. 2-22 at the Lyric Opera House, 20 N. Wacker Dr., Chicago. Tickets start at $39 and are available at lyricopera.org/dmw or by calling 312-827-5600.
Based on the New York Times bestseller by Sister Helen Prejean, which also inspired the Academy-Award winning film of the same name, in Dead Man Walking a young couple is brutally killed and the convicted murderer, Joseph De Rocher (bass-baritone Ryan McKinny/Lyric debut), awaits his fate on death row. A nun, Sister Helen Prejean (soprano Patricia Racette), becomes his pen pal and eventually his spiritual adviser. As their friendship develops, Sister Helen meets with De Rocher's desperate mother (mezzo-soprano Susan Graham) and also with the parents of the murdered teenagers — all grappling with issues of life and death, faith and the true meaning of forgiveness.
Nicole Paiement, the founder, artistic director, and conductor of San Francisco's Opera Parallèle, makes her Lyric debut conducting these performances. Leonard Foglia directs the production he created for a consortium of regional companies and has staged numerous times nationally and internationally, with sets designed by Michael McGarty and costumes designed by Jess Goldstein (both Lyric debuts), lighting designed by Brian Nason, projections by Elaine J. McCarthy, and sound design by Roger Gans. Michael Black is chorus master, and Josephine Lee is children's chorus master, overseeing members of the Chicago Children's Choir.
Content Advisory:  Please be advised that Dead Man Walking opens with a scene of sexual violence. The opera contains explicit language and mature themes.
You can view Lyric's Dead Man Walking program book here.
Information about the score and alterations may be found here.
Musical excerpts from Dead Man Walking may be found here.
Performance dates for Dead Man Walking are November 2, 6, 10, 13, 16, and 22. Performance times vary.
For tickets and information call (312) 827-5600 or go to lyricopera.org/dmw.
Estimated running time is 2 hours 55 minutes, including one 30-minute intermission.
Dead Man Walking is performed in English with projected English texts.
About Lyric
 
Lyric Opera of Chicago is committed to redefining what it means to experience great opera.  The company is driven to deliver consistently excellent artistry through innovative, relevant, celebratory programming that engages and energizes new and traditional audiences.  
Under the leadership of general director, president & CEO Anthony Freud, music director Sir Andrew Davis, music director designate Enrique Mazzola, and creative consultant Renée Fleming, Lyric is dedicated to reflecting, and drawing strength from the diversity of Chicago. Lyric offers, through innovation, collaboration and evolving learning opportunities, ever more exciting, accessible, and thought-provoking audience and community experiences.  We also stand committed to training the artists of the future, through The Patrick G. and Shirley W. Ryan Opera Center and to becoming increasingly diverse across our audiences, staff, programming and artists - magnifying the welcoming pull of our art form, our company, and our city.
Through the timeless power of voice, the splendor of a great orchestra and chorus, theater, dance, design, and truly magnificent stagecraft, Lyric is devoted to immersing audiences in worlds both familiar and unexpected, creating shared experiences that resonate long after the curtain comes down.
Join us @LyricOpera on Twitter, Instagram, and Facebook. #Lyric1920 #LongLivePassion.