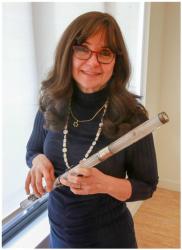 Silvert has owned her crystal flute, which is more than 200 years old, since 1998.  At first, she treated it like a collector's item, never to be touched.  She said, "The flute remained safe and sound in its case with an occasional visit from me until winter 2014, when a flutist friend convinced me that I had a moral imperative to concertize with it." 
Silvert's crystal flute was made by Claude Laurant, a Parisian watchmaker and mechanic in 1816.  It is one of about 150 still in existence, most in museum collections.  Of those still in private hands, only four are actually played in performance.  Silvert's flute is made of lead crystal, with sterling silver keys.  It has a large faceted quartz crystal on the crown. 
When she began to play her treasure, "I had quite a learning curve, since my crystal flute has only 4 keys while contemporary flutes have 18 keys."  She added, "It is easiest to play in G, which is lucky, since there are lots of pieces written in G."  Silvert celebrated the flute's 200th year by commissioning composer Gary Schocker to write a piece called "Crystal Healing" which premiered at the National Flute Association's Annual Convention in San Diego in 2016.