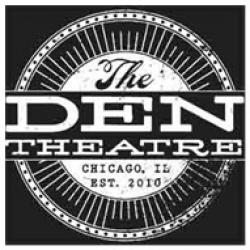 The Den expects to reschedule most performances and will update patrons as soon as new dates are confirmed. Current cancellations include:
Jacqueline Novak's Get on Your Knees (May 29 – June 18, 2020)
Every Waiting Heart, produced by Artemisia Theatre (June 5 – 28, 2020)
The Fig and the Wasp, produced by Haven (July 2 – August 2, 2020)
Comedian Melissa Villaseñor (July 9 – 11, 2020)
Other Rockpools, produced by The New Colony (July 15 – August 15, 2020)
Comedian Kurtis Conner (July 17 – 18, 2020)
Comedian Maz Jobrani (August 7 – 8, 2020)
Comedian Erik Griffin (August 14 – 15, 2020)
Tin Foil Hat Comedy Night (August 29, 2020)
The Den Theatre box office is contacting patrons via e-mail to process refunds and exchanges for all performances. In the event that a show is rescheduled for a later date, patrons will be offered the option to transfer tickets or request a refund. The Den is also offering credits towards future Den events. For additional information and updates, visit www.thedentheatre.com.
The Den encourages patrons to consider converting tickets into a donation, either to the producing company or The Den itself, to help offset losses and support the artistic community during the pandemic.
About The Den Theatre
Artistic Director Ryan Martin opened The Den in 2010 in the Wicker Park neighborhood with a single theatre space. Now celebrating its tenth year, The Den is a multi-level live entertainment venue that boasts seven intimate and unique theaters ranging from 50 – 300 seats, plus a convertible cabaret space. The first floor houses The Den's Haven Lounge – a full-service coffee shop and bar where neighbors, audiences and like-minded culture hounds gather to drink, eat, talk, read, watch, think, listen and live. Currently, The Den is home to four resident theatre companies including First Floor Theater, Haven, The New Colony and Broken Nose Theatre. Hundreds of other companies and artists from Chicago and beyond have called The Den home – from national names to local stars, The Den consistently plays host to a lineup of exciting and diverse talent. As a building created for interdisciplinary arts, The Den has accommodated a wide variety of programming, including plays, musicals, film screenings, live music, dance, improv and stand-up comedy, seminars and speaking engagements. For additional information, visit www.thedentheatre.com.