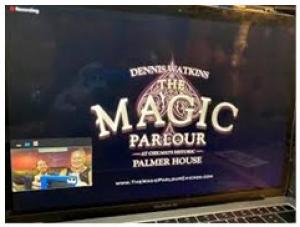 Dennis Watkins' The Magic Parlour at Chicago's Palmer House, a Hilton Hotel, will host a special Halloween themed magic show with the addition of a costume contest in support of the non-profit organization, Camp Kids Are Kids Chicago, an organization for children living with cancer. As part of "The Magic Parlour at Home" series, the show at 8 p.m. CT on October 31, 2020, will incorporate magician Dennis Watkins' world-class magic with a costume contest from children within the Camp Kids organization.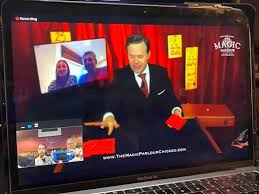 During the show's intermission, Watkins will introduce the participants for the costume contest to show off their Halloween looks. The contest will be judged by representatives from Palmer House and the winner will be awarded a voucher for an overnight stay, dinner at Lockwood Restaurant & Bar, and tickets to the in-person magic show (redeemable at a later date). 
"We are excited to be able to bring together two of our favorite partners - The Magic Parlour and Camp Kids Are Kids Chicago - to create Halloween magic and fun virtually, all for a good cause," said Gene Hare, Area Director of Sales & Marketing, Hiltons of Chicago. "While holidays might look different this year, the Palmer House is dedicated to continuing to bring people together and maintaining our connection with the Chicago community."  
Camp Kids Are Kids Chicago was founded in 2013 by a team of Chicago community leaders and pediatric oncology camping professionals who envisioned the creation of an urban camp for children living with cancer.  For many years, Palmer House has hosted Camp Kids' urban summer camp on property, turning guest rooms into cabins and meeting space into activity centers. This year, the hotel helped facilitate its first virtual version of camp which welcomed more children than ever before.  
"The Magic Parlour at Home series has been an amazing opportunity to gather virtually during these difficult times," said Dennis Watkins, Third-Generation Magician, Mentalist and host of the Magic Parlour. "The exciting acts I've developed in conjunction with the support of the Palmer House team and amazing kids from the Camp Kids Are Kids organization will make for a one-of-a-kind interactive night of magic." 
Tickets are on sale for $65 via www.themagicparlourchicago.com/reservations with a portion of ticket sales for the 8:00pm show on October 31, 2020 supporting Camp Kids are Kids Chicago. The Halloween performance will take place via Zoom and require a computer with a functioning camera and microphone to participate as well as a high-speed internet connection. After tickets are purchased, patrons will receive an email containing instructions and a link to access the performance. "The Magic Parlour at Home" is recommended for adult audiences. Guests ages 10 and up are welcome to join, while guests under the age of 18 must be accompanied by an adult. For a fully immersive experience, guests are recommended to sport cocktail attire and bring their own deck of cards. 
About Palmer House, A Hilton Hotel 
Located in the heart of Downtown Chicago, Palmer House, A Hilton Hotel is within walking distance to Chicago's famed cultural, business and shopping destinations such as the shops along State Street, the Art Institute of Chicago, Chicago Symphony Orchestra and the Joffrey Ballet. Acknowledged for its deep-rooted history, Palmer House, A Hilton Hotel first opened on September 26, 1871, the hotel began as an extravagant wedding gift and was immediately regarded as one of the most luxurious hotels in Chicago. Just 13 days after its grand opening, the Palmer House was completely destroyed by the Great Chicago Fire. However, not to be deterred, founder Potter Palmer rebuilt the grand hotel and the new Palmer House welcomed its first guests on November 8, 1873, marking the opening of what would become the nation's longest continually operating hotel. With 1,641 rooms, the hotel offers several dining options, including the seasonally inspired cuisine at award-winning Lockwood Restaurant and Potters Chicago Burger Bar featuring a burger menu built around the Chicago neighborhoods. The property also features an 8,000 square-foot oasis known as The Spa at Palmer House. 
About The Magic Parlour 
The Magic Parlour is an intimate evening of classic magic and mind-reading featuring the work of third-generation magician Dennis Watkins. Guests to this intimate, magic-packed evening gather at Potter's in the Palmer House lobby before Watkins personally escorts them to the performance space. Once inside, the audience participates in much of the performance as Watkins wows the room with classic sleight of hand, unbelievable mind-reading and magical wisdom passed down from his grandfather. Since opening at The Palmer House on New Year's Eve of 2011, The Magic Parlour has enjoyed phenomenal success and unimagined growth. With fewer than 50 seats available per show, The Magic Parlour has entertained over 45,000 guests in its nine-year run. Additionally, it has hosted more than 1,300 ticketed audiences and dozens of private groups, facilitated three truly magical wedding proposals, and has been featured in two books (Chicago Magic: A History of Stagecraft and Spectacle and 100 Things to do in Chicago Before You Die). 
About Camp Kids Are Kids 
Camp Kids Are Kids Chicago was founded in 2013 by a team of Chicago community leaders and pediatric oncology camping professionals who envisioned the creation of an urban camp for children living with cancer. The inaugural camp was an enormous success, and each year they have expanded to provide more opportunities to more kids from all over Illinois. The idea behind this incredible opportunity is to provide these children with a fun environment, where they can learn life-skills, team building, coping mechanisms and a new-found support, as well as acceptance and friendships which will extend into their everyday lives.