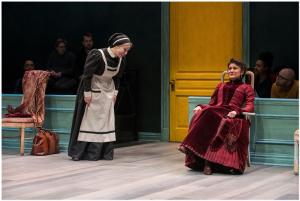 Someone is knocking on the door, so Ann Marie (Barbara E. Robertson) opens the door, falling back in shock when she sees the woman standing there.  Nora (Sandra Marquez) strolls in, perfectly at ease as she takes off her hat.  Ann Marie surveys Nora's stylish and obviously expensive outfit, and demands to know what she's been doing all this time.  Nora says that she's been able to support herself quite well by writing books which sell well.  Ann Marie, left to raise Nora's children, has a lot of anger and resentment to vent.  Eventually Ann Marie asks why now and Nora explains that she needs a divorce. 
Just then, Torvald (Yasen Peyenkov) comes home to get some papers he'd forgotten that morning.  When he spots Nora, he is shocked and leaves the room.  A few minutes later, he returns and demands to know why she's there.  Nora informs him that since it's easier for a man to get a divorce, she wants him to get one right away.  Torvald refuses and storms out of the house. 
Ann Marie suggests that the only way to get Torvald to agree to a divorce is to ask Emmy (Celeste M. Cooper), Nora's daughter to persuade him.  Nora doesn't want to see any of her children, however.  When Emmy comes in, she seems to be a sweet, smiling young woman, until she begins talking to her mother.  Although she never says anything objectionable, everything she says has a malicious undertone.   
When Torvald returns, he and Nora finally have a furniture-tossing, bottle-throwing, screaming confrontation which had been a long time coming.  Finally, they settle down and have an actual conversation in which they actually listen to each other. 
On-stage seating is available in a sort of gallery at the rear of the stage.  Set pieces consist of a door, several chairs and a couple of tables. 
 "A Doll's House, Part 2" runs through March 17th in the Downstairs Theatre at Steppenwolf Theatre, 1651 N. Halsted, Chicago.  Paid parking ($12 cash or card) is available in Steppenwolf's garage at 1624 N. Halsted.  Valet parking is also available ($14 cash). 
Running time is about 90 minutes, no intermission.  Performances are Tuesday through Friday at 7:30 pm; Saturday and Sunday at 3:00 and 7:30 pm.  Tickets range from $20-$99.  Special on-stage seating: $30.  FYI (312) 335-1650 or www.steppenwolf.org.