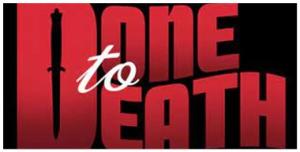 **** Recommended **** Done to Death, a laugh-out-loud comedy perfect for the Halloween season, was written by Fred Carmichael, author of more than 50 plays, most with a comedy-murder theme.  Done to Death parodies some of the most famous mystery plots written by some of the most famous mystery writers.  I could see bits of Agatha Christie's Miss Marple or Hercule Poirot, Dashiell Hammett's Sam Spade and Nick and Nora Charles, Ian Fleming's James Bond, even TV's Jessica Fletcher.  I laughed till I cried!  You'll love this must-see comedy!  3 ½ Spotlights
I wasn't familiar with Done to Death so I did a little research and learned that it was first performed in 1970 by the Caravan Theatre Summer Stock Company at the Dorset Playhouse in Dorset, Vermont.  Then I learned that Fred Carmichael and his wife Patricia owned and operated the Caravan Theatre from 1949 to 1975, 27 seasons, which means (duh!), Carmichael wrote his plays for his company to perform.   
A group of has-been mystery writes has been invited to collaborate on a brilliant new TV mystery series.  First to arrive at a TV studio set – Whitney Olive (Maggie Reister) and her husband Whitney (Grant Fitch), who embody their characters – a rich, glamorous, devil-may-care, cocktails-are-a-food-group couple – who can't wait to pull out the thermos of martinis. 
Mildred Maxwell (Cari Labok), who writes logical mysteries solved by logical detectives, arrives next.  She scorns the Olive's martinis and scoffs at their characters.  Rodney Duckton, who wrote hard-bitten detective stories until he retired.  He's rather bitter because he only retired after his sales plunged.  The final guest, Brad Benedict (James Rhoten), writes about womanizing spies who duel hostile agents while solving espionage issues.
Just when the writers are getting antsy, Jason Summers (Terry McLaughlin) who invited them, pops in.  He announces that they can begin their work tonight, and them tomorrow they will travel to an island in the Caribbean, Vulture's Vault.  There, in a drawing room identical to this TV set, they will finish the story. 
In turn, each begins a story in his/her/their genre.  With the aid of a couple of spotlights, each story comes to life – with the assistance of the rest of the cast – Stagehand (Angel Guerrero), Jane (Marilyn Catinella), Gregory/George (William Milhans), Man/Monster (Ian Horn), Martha/Secretary (Diana Smoot) and Girl/Stephanie Mildaur (Brizeida Bueno),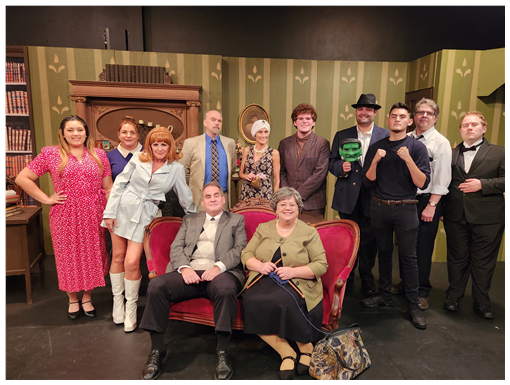 Kudus to co-Directors Aaron and Julie Breford.  Done to Death is one of the funniest shows Beatniks has ever done!
Done to Death runs through October 23rd at Beatniks on Conkey, 420 Conkey Street, Hammond.  Running time is about two hours including an intermission.  Performances are Friday & Saturday at 7:30 pm, Sunday at 2:00 pm.  Tickets are $18.  FYI (219) 852-0848 or www.beatniksonconkey.com.