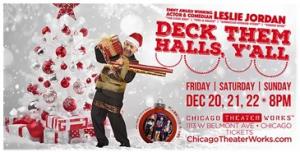 Deck Them Halls Y'ALL will play at Chicago Theater Works, 1113 W. Belmont St. running Friday, December 20 through Sunday, December 22 with performances beginning at 8 p.m., in a strictly limited engagement.
In Deck Them Halls Y'ALL, Jordan invites his audiences behind-the-scenes of his childhood at Christmas time and his long outstanding career. Offering a charming & hilarious look-back at his life experience as a flamboyant youth raised as a Southern Baptist, protected by his mother and grandmother as well as the "unbelievable real-life stories" and treasured anecdotes from his renowned stage and television performances. Best-known for his standout roles in Sordid Lives, American Horror Story, The Help, NBC's hit series Will & Grace and The Cool Kids on FOX, Jordan is one of the most consistently recognizable faces in popular entertainment. His journey towards stardom has provided one of the quirkier, impressive and varied career trajectories of the past four decades. 
The Feathered Beaus, Chicago's own cabaret act, featuring Kylie Bear, Olin, Kiki and Dustin, will join Jordan in the hilarious performance sure to be filled with singing and laughter aplenty. The beaus sing the gambit of music styles from blues and jazz to musical theatre and pop, all with style, sassiness, humor and dazzling vocal harmonies.
Deck Them Halls Y'ALL is open to guests 18 years of age and older, due to adult content that is not suitable for all ages. Performances are as follows: Friday, December 20 at 8 p.m., Saturday, December 21 at 8 p.m. and Sunday, December 22 at 8 p.m. Reserved seating tickets are $55 and general admission tickets are $40. To purchase tickets, please visit www.chicagotheaterworks.com.