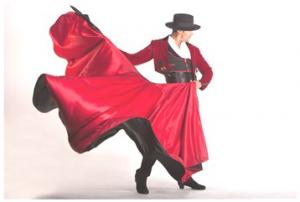 This includes the "Flamenco Passion" performances scheduled for June 19-21 at the Northshore Center for the Performing Arts in Skokie through the Spanish dance classes and workshops scheduled June 23-28 at the rehearsal home of Ensemble Español on the campus of Northeastern Illinois University.
"We heavily regret canceling all events of the 44th American Spanish Dance & Music Festival, however Jorge and I, as well as our board, recognize it is in our best interest, that of our dancers and the community's wellbeing to do so," said Artistic Director Irma Suarez Ruiz.
"Travel restrictions enacted March 11 by the U.S. Department of State mean it will no longer be possible for the international artists who were planning to join us to participate in our "Flamenco Passion" performances and Festival programming," said Executive Director/Associate Artistic Director Jorge Perez. "We are pleased, however, that all the guest artists are open and willing to return in June of 2021 when we will be honoring our 45th anniversary." 
The Box Office of the North Shore Center will be contacting all "Flamenco Passion" ticket holders. For anyone who has purchased a ticket to one of the "Flamenco Passion" performances, Ensemble Español asks they please consider turning that purchase into a donation.  More information on how to turn a ticket into a donation or receive a refund is available by calling the North Shore Center for the Performing Arts Box Office at 847.673.6300.
Ensemble Español, is a not-for-profit arts organization. As with many artists and arts organizations around the world, the impact of the COVID-19 virus is creating a significant financial challenge for the company. Ensemble Español welcomes donations to help sustain the company during this time. For more information, visit www.ensembleespanol.org
Ensemble Español, founded in 1976 by artistic director, Dame Libby Komaiko, is the premiere Spanish dance company and center in the U.S. to have a professional and unique residency at Northeastern Illinois University, Chicago. Under the artistic direction of Irma Suarez Ruiz and executive leadership of Jorge Perez, company successors, the Ensemble continues its  mission of preservation, presentation and promotion of Spanish dance and culture which also includes the exploration of the country's history in the; Flamenco, Folkloric, Classical and Escuela Bolera styles and identifies its influence on Latin American art and dance in both traditional and contemporary formats. They forge ahead as the leaders in Spanish dance and culture with a commitment to our communities, via performances, education, school residencies, academic university programs, festivals and tours. They remain committed to their roots in education and mission of educational, artistic, and social development. Their incredible rich history includes; serving over 30,000 students annually, training over 90 company dancers, training over 160 Youth Company dancers from ages twelve to eighteen, over 90 international guest artists and musicians from Spain and the Americas, over 2,600 scholarships  awarded to talented aspiring dancers, musicians and educators, tours and residencies of U.S., including Hawaii, Mexico, Puerto Rico,  Costa Rica, Poland, Australia, Canada, China and Spain. For more information visit www.ensembleespanol.org.