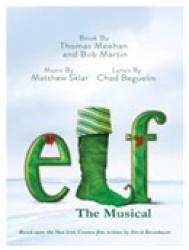 ***** Highly Recommended ***** To celebrate the holidays, Buddy the Elf and his good friend Santa, are back in town!  If you're looking for a special outing for your children or and/or grandchildren, choose Drury Lane Theatre's whimsical production of Elf-the Musical, a heartwarming, family-friendly, funny, delightful show.  4 BIG Holiday Spotlights
Drury Lane was abuzz on opening night.  Something was up, but what?  First hint, the program was missing pages.  The cast list and cast photos were on an inserted page.  Then I heard the news.  Just like in the movies, an understudy was going on in the starring role – and he killed it!  In fact, Ben Dow will play Buddy for the rest of the run. 
The story opens as Santa (A.D. Weaver) reads the story of Buddy, the Elf.  One Christmas, a baby boy whose mother had just passed away, somehow crawled into Santa's empty bag.  When Santa got back to the North Pole and found the baby, the elves decided to raise him.  Since that baby was human, he grew and grew and grew, until one day, he was taller than any of the elves. 
Buddy (Ben Dow) didn't care if he was too tall, he was happy.  Gotta love knee-high elves (a la Shrek) dancing with Buddy as he sang Happy all the Time.  One day, when Buddy wasn't keeping up on the toy production line, someone let it slip that he was human, leading to a meltdown!
Santa told Buddy a story, about a young woman who died, a baby who crawled into Santa's bag, and a father, who didn't know that Buddy was even born. Santa went on to say that Buddy's father, who lived in New York City, was on the Naughty List – and that Buddy need to leave the North Pole and find him. 
Buddy's grumpy father, Walter (Sean Fortunato) worked for a children's' book publisher in the Empire State Building.  When he tried to visit his dad, Buddy learned he had a stepmother, Deb (Melody A. Betts) and a little brother, Michael (Gabriel Solis or Elliott Mayeda).  Walter was annoyed that a crazy guy dressed like an elf was claiming to be his son, so he had him thrown out of his office.   
After his father rejected him, Buddy wandered around New York until he found Macy's, where he got a job working as an elf.  As they decorate Macy's Christmas department, the Manager (Lorenzo Shawn Parnell) and the elves join Buddy in one of my favorite production numbers, Sparklejollytwinklejingley.  When Buddy met on of the girl elves, Jovie (Lydia Burke), he fell in love. 
When Buddy attacked the fake Santa in Macy's, he lost that job too.  As he wandered New York, he and Jovie went skating at Rockefeller Center, then he spent the night in Central Park. 
There isn't much in the way of scenery, just Anthony Churchill's projections of various locations in New York.  I did like the way the ensemble danced furnishings for Walter's office or the Hobbs apartment on and off the stage. 
Some of my favorite things: 
Melody A. Betts was a hoot with her attitude, sarcasm and wifely eye-rolling
Buddy commiserating with exhausted Santas, singing Nobody Cares about Santa with them
Lydia Burke's soaring solo, Never Fall in Love (with an Elf)
Buddy's little brother Michael telling his father's boss, Mr. Greenway (Karmann Bajuyo), that substituting a horse for Buddy in Buddy' story was stupid
A fabulous tap dance number at the end
Ensemble: Juanita Anderson, Colin Bradley, Jenny Crouch, Shantall Cribbs, Brian M. Duncan, Kelly Felthous, Meghan Hoyt, Garrett Shin, Oz Shoshan, Ariel Etana Triunfo, Matthew Weidenbener
By the way, Drury Lane's lobby decorations are not to be missed.  There are Christmas trees, garland and wreaths, all festooned with sparkling white lights everywhere.  Gorgeous!
Note: Guests are encouraged but not required to wear masks while inside the building. 
Elf the Musical runs through January 8th at Drury Lane Theatre, 100 Drury Lane, Oakbrook Terrace.  Parking is free.  Running time is approximately 2 hours, 30 minutes, with an intermission.  Performances are Wednesdays at 1:30 pm; Thursdays at 1:30 & 8:00 pm; Fridays at 8:00 pm; Saturdays at 3:00 and 8:00 pm; Sundays at 2:00 & 6:00 pm.  Tickets range from $75-$85.  FYI (630) 530-0111 or www.drurylanetheatre.com.