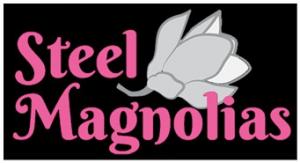 Footlight Players current production of the dramedy, STTEL MAGNOLIAS opens their 72nd season.
The show contains a cast of 6 actresses that work so well together that you will believe that they have all grown up knowing each other in the fictional town of Chinquapin Parish, Louisiana.  The show begins with Annelle, played superbly awkward by Maggie Gowan, putting the final touches on Truvy's, played by the sweet, but acerbic Dee Piotrowski, hair-do. We are soon introduced to Miss Clairee played by Kathy Chase, who has most of the funniest lines and delivers them with perfect timing.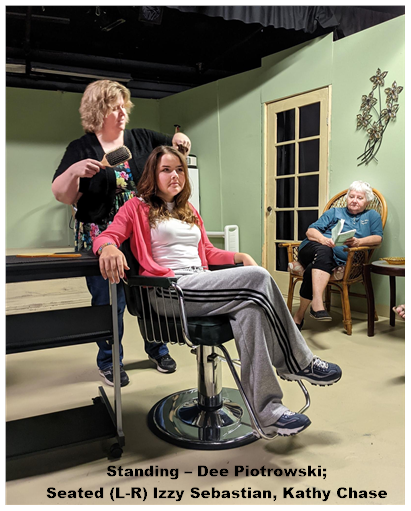 It's a busy day in Miss Truvy's House of Beauty because the town's prettiest girl, Shelby, newcomer Izzy Sebastian, played with such sincerity that you fall in love with her as soon as you lay eyes on her "signature pink" personality as she is just hours away from saying her wedding vows. In walks the mother of the bride, M'Lynn, played by a powerhouse on the stage-Sherry VerWey. She has one of the toughest roles, having to show us every emotion in the book during the course of the play, and she does so brilliantly. Last but definitely not least, in stomps the town's biggest "curmudgeon", played by Laura Meyer with her usual aplomb. She is a frequent face on the Footlight stage and one that is always a welcome sight to see.
This is a MUST SEE production. Be ready to laugh till your sides hurt but keep a hanky ready for a heart-felt ending. The whole of the play takes place in Truvy's car port turned into a beauty shop expertly designed by Tony J. Thomas and his crew. The lighting by Michael J. Thomas and Jim Milcarek added just the right touch as did the sound by Declan Rice and Ryan Sweeny. 
The costumes, complete with the ugliest Christmas Sweater I've ever seen, were done superbly by Sharon Kienitz. Where she found the many pink outfits that Shelby had to quickly "slip into" is beyond me. The "big hair" of Truvy to the "brown football hair-do for M'Lynn was styled perfectly by Cassandra Redeagle. The director, Jan Rice, assisted by Bryan Redeagle put together a first rate show using familiar names with many new faces that are definitely welcome to this theater group.
The Footlight Theatre is a small and intimate venue with only 80 seats so make your reservation early, so you don't miss out on this gem of a show and arrive early for there is no signed seating. Due to the Covid pandemic, masks are required to be worn inside the theater building.  
Footlight Theatre is located at 1705 Franklin Street in the bustling down-town area of Michigan City. To make reservations call their hot-line at (219) 874-4035 or go on-line and click reservations at www.footlightplayers.org.  The playdates are Sept 3,4,5 and 9,10,11, and 12 with curtain time at 7:30 Thursday, Fridays and Saturdays and 2:00 on Sundays. Ticket prices are $15.00 with a discounted price of $10.00 for children 12 years and under and for everyone on Thursday.
Critique supplied by J. Edwards