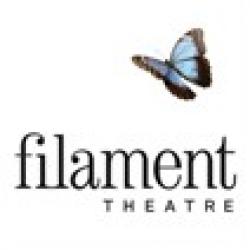 Filament Theatre's hit immersive play experience for families, FORTS: Build Your Own Adventure, is back again from November 30, 2019  - Feb 2, 2020 at Filament Theatre, 4041 N Milwaukee Avenue in Chicago. Conceived by Filament Theatre artistic director Julie Ritchey, FORTS: Build Your Own Adventure welcomes families to build, imagine and play together in an interactive playspace. Single tickets and birthday packages are now available at www.filamenttheatre.org. Press opening will be Sunday, December 1 @ 3pm.
The Experience:
Enter a world of play and creation as Filament Theatre transforms into a playspace for children and parents to build new worlds. Using cardboard boxes, sheets, clotheslines and more, families build adventures of their own devising. With theatrical design elements of sound and lights working together to support creative play, families are swept away in the adventure! Instructions will be available in both Spanish & Polish.
The production team for FORTS includes Julie Ritchey (conceiver), Eleanor Kahn (space designer), Jeffrey Levin (sound designer), Carley Walker (lighting design), and Andrew Marikis (experience design).
Parties and private events:
FORTS is available for private birthday parties for up to 24 children ages 1 - 14 or for all-ages community groups of up to 40 attendees. Additional information about private parties can be found here: www.filamenttheatre.org/forts. 
Sensory-friendly Performance: 
Filament Theatre offers a sensory-friendly performance of FORTS: Build Your Own Adventure on Sunday, January 12th @ 1pm. This performance is reserved specifically for families who have at least one member with sensory sensitivities. Tickets are now available at www.filamenttheatre.org/forts. 
Adult Night: 
Due to popular demand, Filament also offers BYOB adult only nights for adults 21+ looking to reconnect with their inner child! Adult nights will be held on Saturdays in January at 7:30pm. Tickets are available at www.filamenttheatre.org/forts. 
PRODUCTION DETAILS:
Title: FORTS: Build Your Own Adventure
Conceived by Julie Ritchey
Space design: Eleanor Kahn
Sound design: Jeffrey Levin
Lighting design: Carley Walker
Experience design: Andrew Marikis
FORTS: Build Your Own Adventure received its world premiere at Filament Theatre, Chicago in 2018 under the leadership of artistic director Julie Ritchey and managing director Christian Libonati.
Location: Filament Theatre, 4041 N Milwaukee Ave in Chicago
Dates:
Performance run: November 30, 2019 to February 2, 2020. 
Press Performances: Sunday, December 1 @ 3pm. (Arrangements can be made to attend a different performance.)
Curtain Times: Saturday and Sunday @ 1pm / 3pm
Private parties can be booked on Saturday/Sunday mornings at 11am.
An additional performances will be held on Martin Luther King Jr Day (January 20 @ 11am). 
Adult Nights: January 4, 11, 18, & 25 @ 7:30pm.
Ticket Prices: $8 - $9.75. (Price includes all ticketing fees). Tickets are now available at www.filamenttheatre.org/forts. For questions call the Filament Theatre office at (773) 270-1660.
***Photos are available here: https://goo.gl/sKj71U ***
***Watch a video about FORTS: https://youtu.be/eCW8Z3B2zVc***
About Filament Theatre:
Filament Theatre creates immersive and site-specific theatre that inspires, empowers, and activates young people and their communities. Filament envisions a future in which the leaders of tomorrow approach others with radical empathy, serving as ambassadors for their communities and stewards of the Earth. 
The company's staff is comprised of Julie Ritchey (Artistic Director) and Christian Libonati (Managing Director).
Filament Theatre's programs are supported in part by the Alphawood Foundation, the Chicago Community Trust, the City of Chicago Department of Cultural Affairs & Special Events, the Gaylord and Dorothy Donnelley Foundation, the Richard H. Driehaus Foundation, The Illinois Art Council, the MacArthur Foundation, the Saints, Wintrust Community Banks and more!
For additional information visit www.filamenttheatre.org