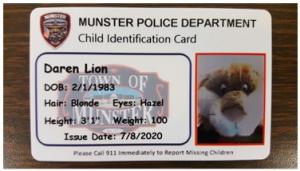 The station will be set up just outside of the main entrance of the Munster Community Pool (8837 Calumet Avenue). Those visiting the pool that afternoon are encouraged to stop by to have cards made for your child, and walk-ups are also welcome.
The Munster Police Department's child identification cards contain basic information and identifiers for your child along with their photo, and can be held onto by parents in the event that your child becomes lost. The card can be quickly handed to a responding officer to read the description of the child and text their photo as well to other surrounding officers who are searching for him or her. The cards save critical time in the event that a child is missing.  In addition, the child's photo is kept on file in the police department's child identification card database and can be used to create posters or print outs of the child's image in the event that they are needed.
Child identification cards are available for the parents of minors only, except for those with special needs or disabilities where there is no age limit for the cards. Parents of the child must be present and print, complete, and bring the necessary sign-up form, which is available here: https://www.munster.org/egov/documents/1595619525_97259.pdf
For your safety and that of our volunteers and other participants, visitors to the card station are encouraged to wear masks when in line and when conversing with our volunteers. Your child's mask will only be removed for their photo if the parent is fine with doing so. For more information, please contact Leo Tsirtsis at leotsirtsis@gmail.com or the Munster Police Department's Community Policing Unit at 219-836-6639.