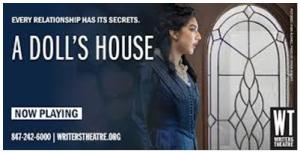 Torvald Helmer (Greg Matthew Anderson) positively dotes on his much younger wife Nora (Cher Alvarez), although he controls her every activity, to the point she hides a stash of macarons under the ottoman.  While Nora is devoted to her husband, she manages him carefully, finding small ways to ignore/escape his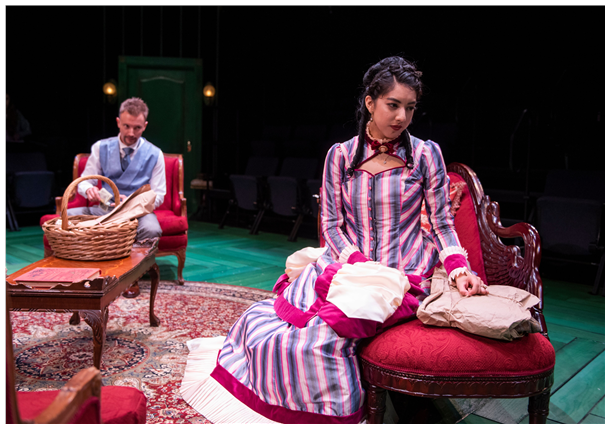 control.  Although Torvald frequently shuts Nora out of his study, his best friend, Dr. Rank (Bradley Grant Smith), is always welcome. 
One day, Christine (Tiffany Renee Johnson), a friend from Nora's school days comes to call.  As they're catching up, Nora mentions that Torvald has just gotten a new position at the bank, so they will soon be in a better financial position.  Christine shares that she's lost her family and needs a job, so Nora offers to ask if Torvald can find a place for her. 
While Christine is visiting, a man named Krogstad (Adam Poss) comes to call.  Christine is not pleased to see him because she knew him in her old town.  Nora is terrified when she sees him because he'd made the arrangements for her to borrow some money.     
A note here: In Norway in 1879 it was illegal for a married woman to borrow money.  A woman couldn't own property; couldn't hold a job (unless they were widowed).  When a woman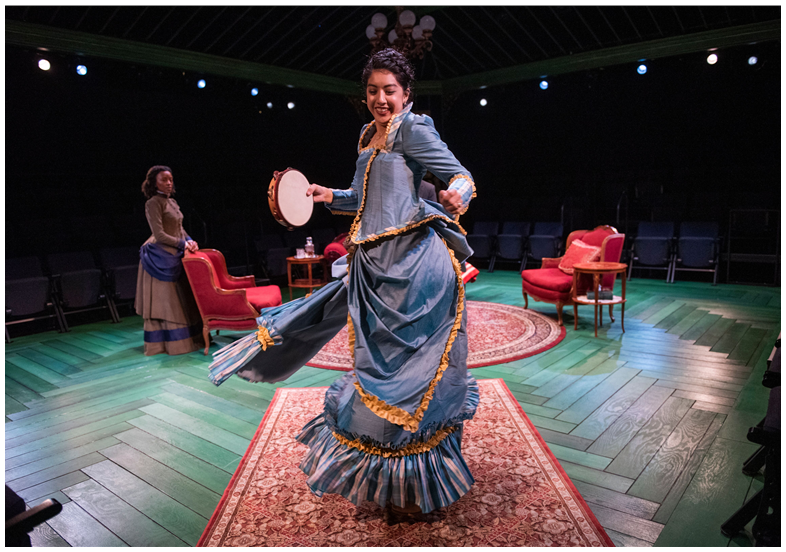 married, everything she owned became the property of her husband.  In fact, she became the property of her husband.
Krogstad is there to ask Nora to intervene with her husband, who is now Krogstad's boss.  Unfortunately, Torvald loathes Krogstad, who has a bad reputation, and he's just given his job to Christine.  When Krogstad threatens to tell Torvald about Nora's illegal loan – and that she forged her dead father's signature on the document – she becomes almost frantic with fear. 
When Torvald does find out, it's all about him.  He lashes out at Nora, screaming that she's forbidden from even seeing their children.  When he finds out Krogstad isn't goint to tell, he 'forgives Nora', even using his pet name for her again.  His over-reaction makes her realize that he couldn't possibly love her because he doesn't even know her.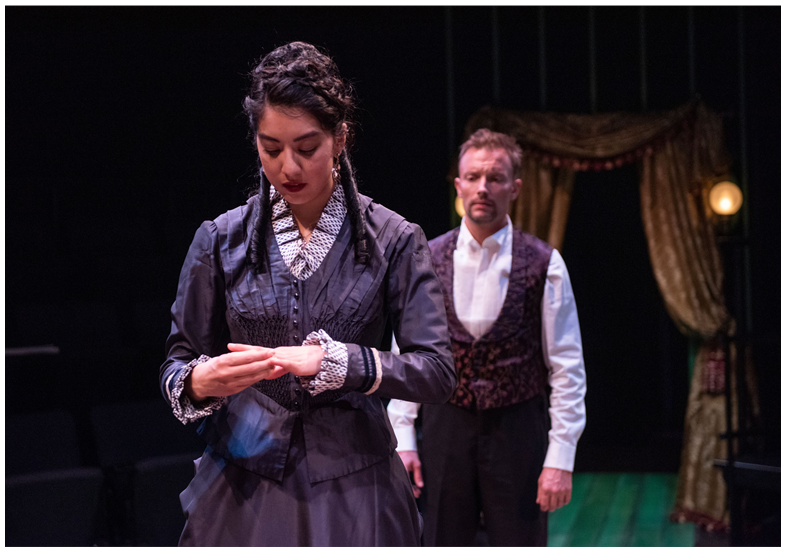 Costume Designer Izumi Inaba has created lush period costumes.  In fact, as the pampered wife, Nora's colorful gowns are nothing short of spectacular.  The dresses worn by Anne Marie and Christine reflect their status as working women/servants.      
For "A Doll's House", the Gillian Theatre has been totally reconfigured.  Tiered risers are arranged on the four sides of a square.  Scenic Designer Arnel Sancianco has placed the Helmer drawing room inside that square.  A settee, a couple of chairs, an ottoman and a table are arranged on a couple of area rugs with a chandelier hanging overhead.  There is a fireplace on one point of the square, with doors on the other three. 
"A Doll's House" runs through December 15th in the Gillian Theatre, Writers Theatre, 325 Tudor Court, Glencoe.  Free parking is available in the Metra lot a short walk from the theater. 
Running time is 90 minutes, no intermission.  Performances are Tuesdays through Fridays at 7:30 pm; Saturdays at 3:00 and 7:30 pm; and Sundays at 2:00 and 6:00 pm.  Tickets range from $35-$80.  FYI (847) 242-6000 or www.writerstheatre.org.