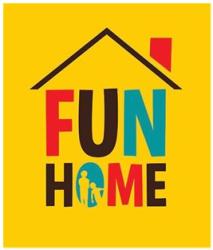 ★★★★★For those of you that listen to me on the radio (WCPT820 every Sunday 2-3 p.m.), you have heard me say that seeing a play is unique each time you see it. Unlike a film that is cut and spliced and then stays the same, a play enjoys a new life each time it is done. A different director sees things differently. A different venue changes the blocking. Each set causes a different concept and of course the actors and their interpretations of the roles they are playing is unique. I say this all because tonight, Jane and I attended our third incarnation of "Fun Home" with music by Jeanine Tesori and the book and lyrics by Lisa Kron, as staged by Jim Corti and Landree Fleming as part of the BOLD SERIES at Paramount Theatre's Copley Theatre in Aurora. What a production!
We have seen the Broadway road company and the beautiful production staged by Gary Griffin at Victory Gardens, which I thought might be the better of the two.
Could this be topped?
This version, is amazing and the cast shines through to perfection. The story is based on the life of Alison Bechdel, a cartoonist, illustrator, and we get to watch her life unfold right before our eyes. There are three stages of Alison. There is Alison ( current) who is in reality the narrator of the story played by Emilie Modaff. Emilie is perfect in the role as we watch he interact with her young self , her college self and at one point all three Alisons are onstage to do the final number "Flying Away".
For those of you unaware of this Tony Award Winning gem of a musical, it is a story about coming of age and coming out. It is a story about family and family secrets. It is a story about complex lives and mostly it is a story about truth and finding the truth to  take from 2d ( two dimensional) to 3D ( three dimensional). It is a story about understanding yourself, and others. Many families live in a way that others cannot understand. This family is one of those. What appears to be an ordinary small town family turns out to be a far cry from what the neighbors might think, and in the case of Alison, upon her father's death as she learns more, she finds the hidden truths that were there but never noticed.
As I said earlier this cast is sensational. Let's start with Small Alison ( tonight played by Maya Keane who is a pure delight to watch and listen to- on other performances Milla Liss takes on the role). Medium Alison (Elizabeth Stenholt truly captures the energy of a young girl away from home finding herself for the first time). Her "Changing My Major" was adorable. Devon Hayakawa as Joan, Medium Alison's "new friend" is adorable.
Alison's father is Bruce ( played to perfection by Stephen Schellhardt). His emotional handling of this role is the best of the three that I have witnessed. Bruce has a family but as we learn during the story, he has been in the closet for many years. "Edges Of The World", is a song that he sings near the end of the play. It is so powerful that the audience cannot applaud for fear they will break the mood that Schellhardt just created. It is a magical moment on stage! The mother, Helen Bechdel is deftly handled by Emily Rohm ( a Chicago favorite). Her "Days and Days" is a three tissue number for sure. In fact, there are several tissue moments in the third half hour of the play as many secrets come out of their closets.
The other cast members are: Jordan Anthony Arredondo as Roy, Mark, Pete and Bobby Jeremy, Jaxon Mitchell as Christian and Ezekial Ruiz as John. The two boys along with small Alison do a bang up job with "Welcome To Our House On Maple Avenue" as well as their "Come To The Fun Home".
The band under the direction of Kory Danielson is well done , never overpowering the singers. The sound ( Adam Rosenthal) and lighting (Mac Vaughy) were just right and the costumes (Jordan Ross) and properties (Jesse Gaffney) worked. The set (Yeaji Kim) was nothing out of the ordinary, but one could see that it was created for easy transitions from scene to scene, so there were never any awkward breaks in the action or the storytelling. The flow of this show must be clean and this production is just that.
The only thing negative about this show is the actual physical theater itself.  With arena seating looking down on the stage some of the action on the floor can get lost from the rear seats. Thank goodness the directors did very little on the floor, so not a major concern. Co-directors  Fleming and Corti did a masterful job on this one and  I suggest you find a  way to see.
"Fun Home" will continue September 18th with performances as follows: thru
Wednesdays:1:30pm & 7:00pm
Thursdays:7:00pm
Fridays:8:00pm
Saturdays:2:00pm & 8:00pm
Sundays:1:00pm & 5:30pm
run time 90 minutes- NO INTERMISSION
Stage: Copley Theatre-    Covid rules-   masks are optional
 8 East Galena Blvd. ( across the street from The Paramount) in Aurora
Show Type: Musical
Box Office: 630-896-6666