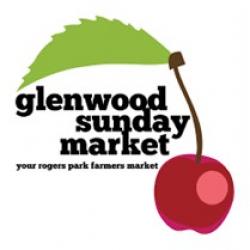 The nonprofit Rogers Park Business Alliance (RPBA) announces the postponement of the 11th season of its Glenwood Sunday Market. Originally scheduled to open on May 31, the market now operates every other Sunday from June 21 to October 25, 2020, from 9 a.m.- 2p.m. The market will take place at a new location, to be announced later, in order to allow social distancing.
Starting now, shoppers can visit the market's website www.glenwoodsundaymarket.org and "Shop GSM from Home" as many vendors offer online shopping with home delivery and/or easy curbside pick-up options. This year's vendors include Bennison's Bakery, Earth First Farms, Elsie Mae's Bakery & Cannery, Feed Your Head, Finn's Ranch, Global Garden Refugee Training Farm, Hardin's Family Farm, HoneyWorks, Katherine Anne Confections, Lyons Fruit Farm, Mickii's Desserts, Milwaukee Homegrown, Mindful Baking, pHlour Bakery,  Phoenix Bean Tofu, River Valley Ranch, Sitka Salmon Shares, Stamper Cheese, That Pickle Guy, The Stick Up, The Urban Canopy, Urban Tables, Vangie's Farm, and Wild Coyote Farm.
Glenwood Sunday Market is a farmers market celebrating its 11th anniversary this year. A program of the nonprofit Rogers Park Business Alliance, Glenwood Sunday Market serves 52,500 shoppers annually, with a vision to create an equitable, ethical and secure local food system. Composed entirely of farmers and food artisans that work within 200 miles of Rogers Park, the market's mission is to make sustainable, regionally produced foods accessible to the whole community in Rogers Park, the city and region. For more information, visit www.glenwoodsundaymarket.org.
Rogers Park Business Alliance (RPBA) is a nonprofit organization that has served Chicago's diverse Rogers Park neighborhood for more than 25 years. RPBA works to cultivate and sustain a thriving economic environment in Rogers Park, serving businesses and residents with a variety of public events and business initiatives. RPBA programs include the GROW/PROGRESANDO entrepreneurial training program, annual Best of Rogers Park awards, Chalk Howard Street and Taste of Clark Street festivals, and the Glenwood Sunday Market farmers market. For more information, visit RPBA.org.