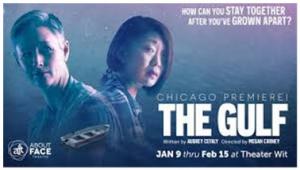 Director Megan Carney and her design team have completely reconfigured the space at Theater Wit where "The Gulf" is receiving its Chicago premiere. The scenic design of Joe Schermoly has an old wooden boat, an actual functional well-weathered rowboat as opposed to a more modern fishing boat, that sits at center stage. Theater patrons sit in rows of chairs on all four sides, but only two rows deep all around so that audience members are almost like coastal plovers or sandpipers perched atop wild reeds in a marshy area not far away from the action. This intimacy greatly adds to the almost claustrophobic feeling of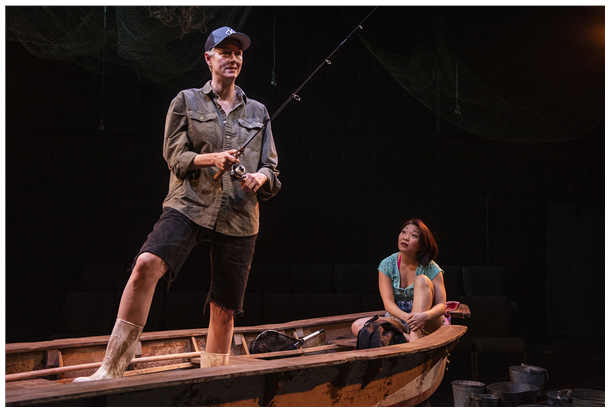 the two women, Kendra and Betty, who are confined to the boat during the duration of the show as we eavesdrop on their very personal exchanges. Scattered around the boat, which is mounted on a large wooden turntable which moves and is frequently rotated so that you get many different perspectives, are nearly 100 small vessels -- round aluminum washtubs, oval gun-metal basins, stainless steel bowls, silver service pitchers -- all containing water to signify the sea upon which their boat gently sways.
The avid fish enthusiast is Kendra, expertly played by veteran actor Kelli Simpkins, who is constantly casting her line into the water and purely enjoys the outdoors. Her partner is Betty, a very refreshingly natural and endearing performance from Deanna Myers. Betty is taking some courses at the local community college and wants Kendra to consider possibly doing the same. Not happy with Kendra's stagnant position as a sanitation worker -- a job which Kendra actually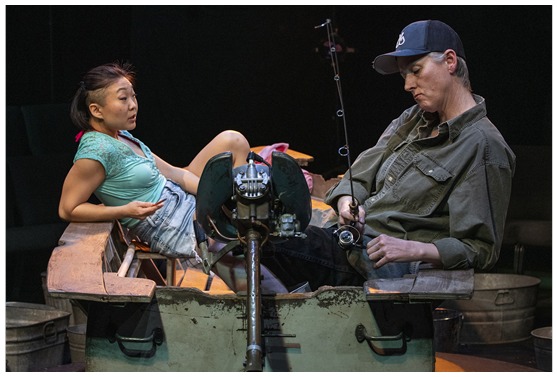 enjoys because it gives her plenty of time to go out fishing -- Betty starts to verbally prod and subtly psychologically work Kendra into a bit of a frenzy. Without heeding the common sense knowledge to not poke a sleeping bear with a stick, Betty literally starts to rock the boat.
As questions of self-worth, childhood histories and possible concerns about infidelity arise, our pair become adrift in apprehension. The dilemma of a broken outboard motor, which strands the two on the water during a chilly evening, doesn't do much to bring them closer together. As each retreats to their respective opposite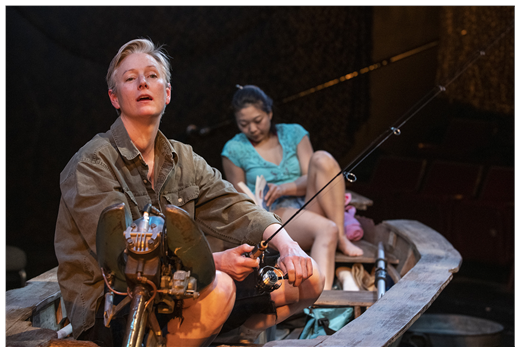 end of their snug boat, confined by their personal fears and inner thoughts, the distance between them feels like a vast ocean.
While "The Gulf" may not be as desirable to those who prefer loads of action to be properly entertained, it is a fascinating portrait of human relationships, especially because Cefaly has created dialogue which has a very honest touch. The natural ebb and flow is impressive and both Simpkins and Myers are extremely strong. Carney and Intimacy and Fight Director Gaby Labotka have helped to shape two affectionate but disharmonized souls who are awash in uncertainty. Will they be able to ride the waves and sail smoothly off into the sunset? They both come to learn the valuable life lesson -- you either sink or swim.
__________________________________________________________________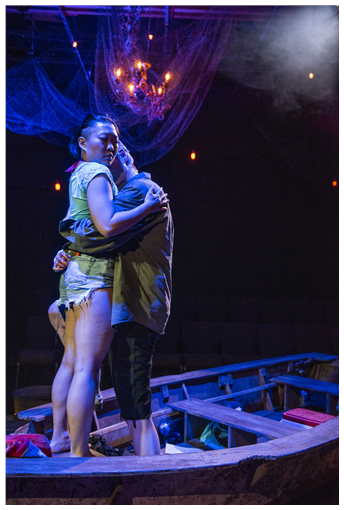 "The Gulf" continues through February 15, 2020
Performing at Theater Wit, 1229 West Belmont Avenue, Chicago, IL
Performance Run: Thursday through Saturdays at 7:30 PM and Sundays at 3:00 PM
Tickets are on sale now online at www.AboutFaceTheatre.com, by calling 773-975-8150 or in person at the Theater Wit box office. Tickets are $32 each. Discounted tickets available for students, seniors and veterans.
Running time is 85 minutes without an intermission.