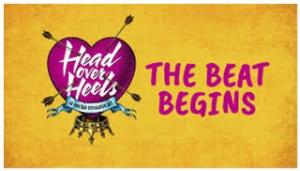 For some strange reason, Jeff Whittly, who also wrote "Avenue Q", thought that The Countess of Pembroke's Arcadia, a prose poem written by Sir Phillip Sidney in the 16th Century, could/would be the perfect story for a new jukebox musical. 
"Head Over Heels" premiered in 2015 at the Oregon Shakespeare Festival.  After Whitty's libretto was adapted by James Magruder, the show opened on Broadway on June 23rd, 2018, and closed January 6th, 2019.  This is just the second post-Broadway production.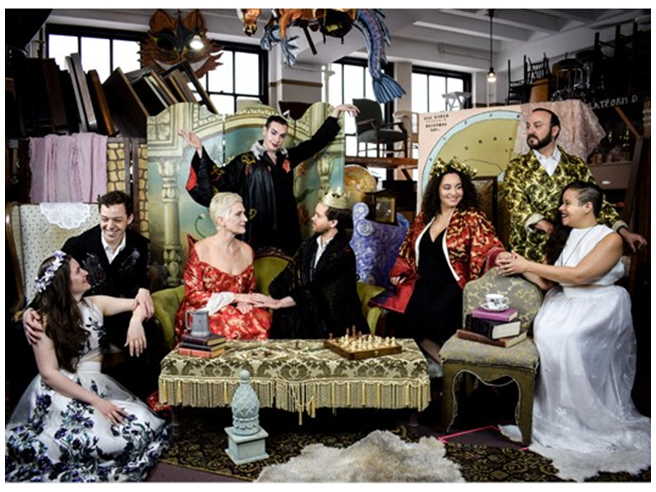 The show opens with a big production number, "We Got the Beat" – the very 'beat' which keeps the kingdom of Arcadia peaceful and prosperous.  King Basilius (Frankie Leo Bennett) and Queen Gynicia (Liz Norton) have two daughters.  The older, Pamela (Bridget Adams-King) is positive she's the most beautiful woman in the land – a fact she emphasizes as she puts down her not-as-beautiful younger sister, Philoclea (Caitlin Cerza).  By the way, Pamela's servant, Mopsa (Deanalis Resto), secretly has a crush on her boss. 
King Basilius is fed up with Pamela sending suitors away, so he orders her to pick a husband from the latest group.  Philoclea is in love with a friend from her childhood, Musidorus (Jeremiah Alsop), a shepherd, but the King declared him unacceptable and banished him from court. 
Meanwhile, the oracle Pythio (Parker Guidry) sends a message warning that Arcadia might lose the 'beat', so the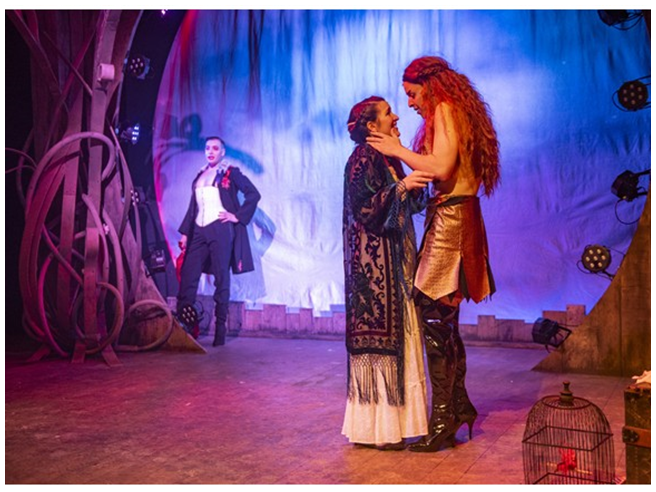 King and his viceroy, Dametas (Shane Roberie) go off to the forest.  Pythio warns the King that he's become too rigid and traditional and makes four riddle-like prophecies, and that when they are fulfilled, four flags will fall.  Since Basilius only heard what he wanted to hear, he decided to find the 'traitor' mentioned in the prophecies and kill him.  He told the queen that the oracle predicted happy endings, then dragged everyone in court off to track and kill a 'golden stag'.
Musidorus follows them through the forest where he meets Pythio who gives him a new identity, as an Amazon.  When a lion attacks the court, the Amazon, Cleophilia – aka  Musidorus – rescues Philoclea, so she/he is invited to join the court.  The King is interested in her; the Queen is interested in him (having seen him in a private moment); only Philoclea knows about the deception.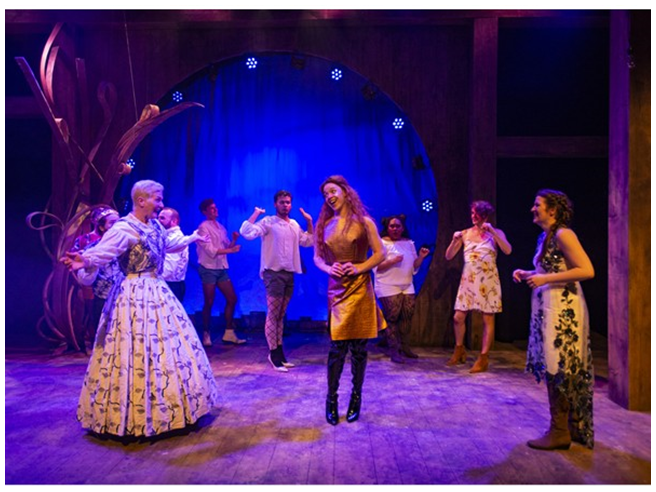 As each prophecy is fulfilled, a flag drops on hapless Viceroy Dametas, who becomes more hysterical with each.  Although the plot is kind of complicated, don't worry, there is an HEA (happily ever after) for everyone.  Remember though – nothing is as it seems.  Non-traditional casting and equally non-traditional costumes (designed by Uriel Gomez}) should clue everyone in on that – while spotting a male ensemble member wearing an adorable slip dress in the opening number might be another hint. 
Kudos to the ensemble – Emily Barnash, Caitlin Dobbins, Britain Gebhardt, Connor Giles, Courtney Dane Mize, Kalmana Neil, Patrick O'keefe, Roy Samra, Tiffany T. Taylor and Marco Tzunux – they truly made the show.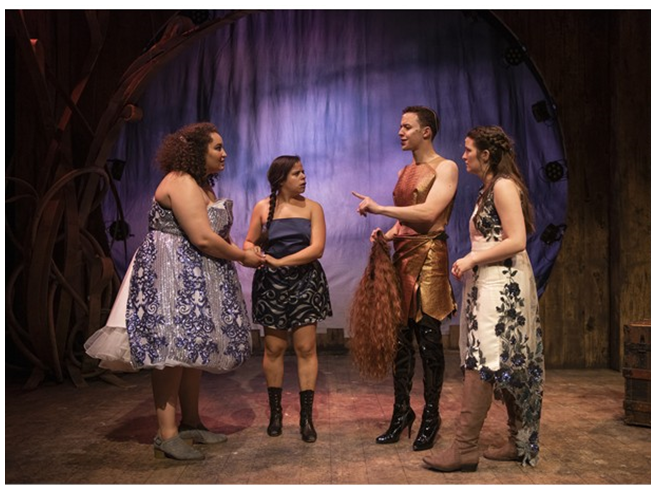 Both lyrics and dialogue are laugh-out-loud funny.  It's amazing just how well the '80s sound of the Go-Go's fit into not-so-ancient Greece.  You gotta love songs like "We Got the Beat," "Our Lips Are Sealed," "Vacation," Belinda Carlisle's "Heaven is a Place on Earth" and "Mad About You."  Breon Arzell's choreography ties everything together well.
"Head over Heels" runs through August 25th at Theater Wit, 1229 West Belmont, Chicago.  Theater Wit has $8 parking in their lot across the street.  To find the lot, drive through the alley directly opposite Theater Wit's front door. 
Running time is 2 hours, 20 minutes, with an intermission.  Performances are Thursday through Saturday at 8:00 pm; Sunday at 3:00 pm.  Additional performances: Saturday, July 27th at 2:00 pm; Wednesday, July 31st at 8:00 pm; Saturday, August 10th at 3:00 pm; August 14th at 8:00 pm; Wednesday, August 21st at 8:00 pm; Saturday, August 24th at 3:00 pm. 
Tickets are $40, $35 for Seniors/Students.  First-come, first-served $15 mobile Rush tickets are available beginning at 9:00 am each performance day through www.TodayTix.app.  FYI (773) 975-8150 or www.kokandyproductions.com.