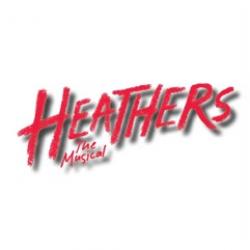 Chicago Street Theatre is welcoming audiences back into the theater with their production of "Heathers: The Musical."  Based on a cult classic film from the '80s, "Heathers" might not be your cup of tea, but the talented cast will reach out and pull you right in.  The music sounds pop light, but the lyrics are wickedly clever. "Heathers: The Musical" is well worth seeing.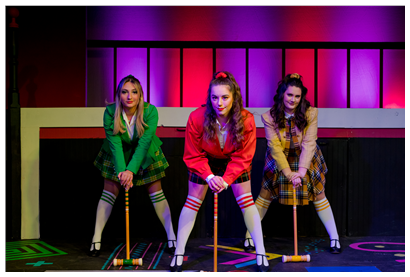 Everyone who's been a high school misfit – and that's almost all of us – can relate to the story.  In fact, my daughter-in-law, Samantha, loves the movie so much she and all of her friends celebrated her 40th birthday at a performance of Heathers in Portland, OR. 
Veronica Sawyer (Peyton Tinder) is a brainiac who is constantly bullied in school, mainly by all the cliques.  To me, she wasn't all that believable as a teen misfit because the over-sized clothing had hat just couldn't hide her good looks.  Movie nights with her best friend and fellow misfit, Martha Dunnstock (Erin Sharpe), just didn't make up for the bullying.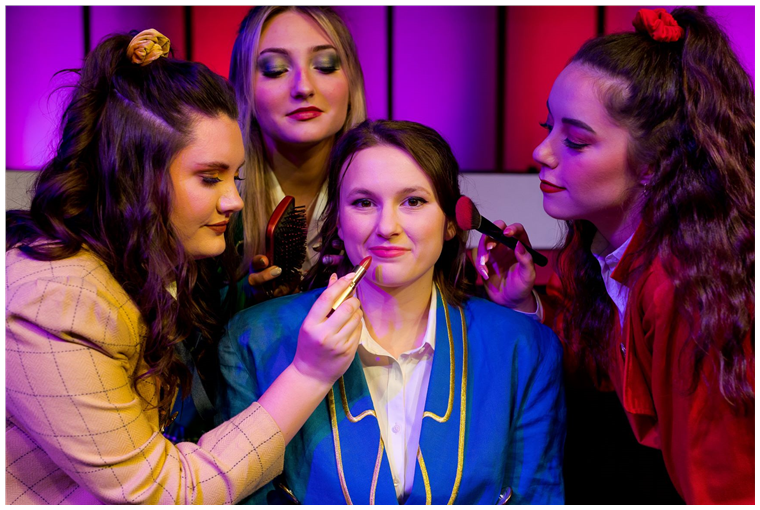 Veronica's ability to forge a signature on a hall pass got her an approving nod from Heather Chandler (Michaela McGaret), Heather Duke (Mara Manoski) and Heather McNamara (Madison Marsh).  Of course, that wasn't enough to let her eat lunch at their table!  With the promise of future forgeries, the Heathers decided to make her over in their image.  
Soon after her makeover, Veronica meets a new guy, J.D. (Tyler Mills), who offers her a signature cold drink from a convenience store, singing "Freeze Your Brain" – and what a cool idea to write a song about a brain freeze!   When J.D. takes on the jocks, Ram (Steven Mayersky) and Kurt (Jet Terry) and wins, Veronica is totally impressed.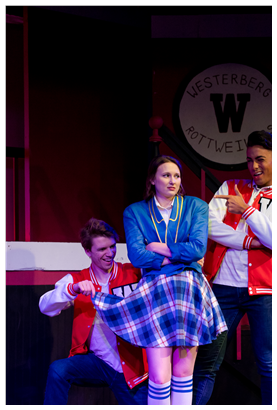 Even though she's suddenly popular, Veronica still feels a twinge of conscience when Heather Chandler asks her to write a note to Martha, in Ram's handwriting, inviting her to his party, but she writes the note anyway, knowing Martha will be thrilled since she's had a crush on Ram since Kindergarten.  
At the party, Martha is humiliated and Veronica is upset, but even so, when Heather Chandler orders her to get her a drink, she does it.   As she pours the drink in a mug, J.D. is pouring drain cleaner into another mug.  Veronica accidentally – on purpose – grabs J.D.'s mug.  Heather drinks it and dies.  Her ghost hangs around haunting Veronica while J.D. contemplates more hilarious homicides.  Will Veronica and J.D. confess?  Probably not, but you'll have to see the show to find out!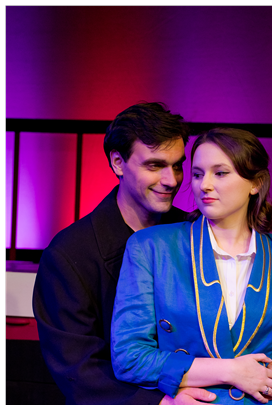 Rounding out the cast and playing multiple parts are: Frank Allen, Alyssa Zagoreos, Julian Raab, Maxx Johnson, Garet Paul, Adam Barney, Abigael Allen, Hannah DeLaughter, Emma Radke and Lindsey Parpart. 
"Heathers: The Musical" runs through June 27th at Chicago Street Theatre, 154 W Chicago Street, Valparaiso.  Running time is 2 hours, 10 minutes with an intermission.  Performances are Fridays and Saturdays at 8:00 pm; Sundays at 2:30 pm; with an additional performances Thursday, June 24th at 7:30 pm.  Tickets range from $20-$22.   Street parking is available.  FYI (219) 464-1636 or www.chicagostreet.org.