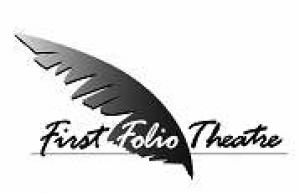 In a clever bit of staging, a tour guide/the Chorus (Lydia Berger Gray), leads a group of camera-toting tourists onto the stage/an historic site.  Throughout the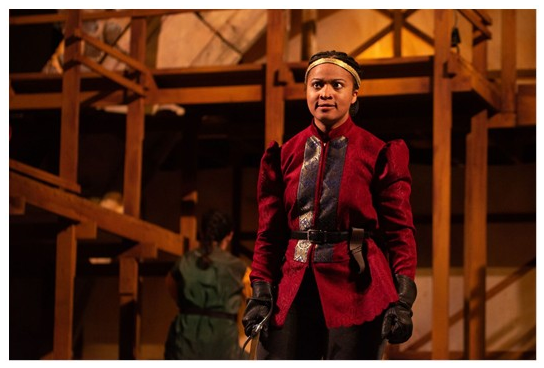 production, her reappearances and narrations provide segues which tell us who's who, where they are, and what's happening. 
Young King Henry V (Diana Coates) is calling upon his experts, Bishop Canterbury (Mark Lancaster) and Bishop Ely (Morgan Manasa), to answer a simple question: is he or is he not entitled to rule France?  When, after a great deal of obfuscation, they answer in the affirmative, Henry sends a message to France.  In response, the Dauphin (Sophie Scanlon) – who seems to have channeled the taunting French in "Spamalot" – sends him an insulting gift of tennis balls, so Henry decides to go to war.        
Now don't get your knickers in a twist because a female is playing Henry!  Remember that Shakespeare had men playing women – which is absolutely ludicrous!  Coates is perfect in the part.  Henry was young,
brash and rather arrogant, with a young man's swagger.  Coates has plenty of swagger – and the athletic ability to handle all the sword fights.  She doesn't even have to deepen her voice, she's totally believable in the part.
Before Henry can go off to war, he has to deal with a teeny bit of rebellion at home.  His cousin, the Earl of Cambridge (Derek Jeck), plotted with Lord Scroop (Madison Merket) and Sir Thomas Gray (Esther Fishbein) to kill Henry, but they're caught and executed.  After that's taken care of, Henry, his brother Gloucester (Austyn Willliamson), his uncle Exeter (Robert McLean), and his courtiers, Westmorland (Todd Douglas), and Warwick (Shane Richlen), prepare to sail for France.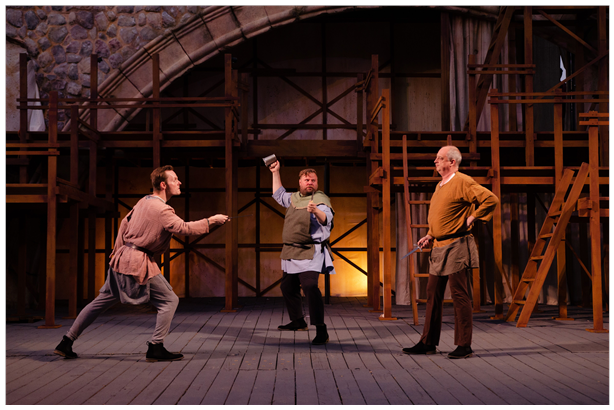 Meanwhile, at the Boar's Head Inn, Hostess Quickly (Robert McLean) informs her husband, Pistol (Sean Sinitsky) and his drinking buddies, Pym (Shane Richlen) and Bardolph (Derek Jeck) that Sir John Falstaff has died.  After drinking a round in his memory, they decide to join the army and some loot.   
In France, the King (Sean Sinitsky) offered Henry his daughter's hand in marriage with a dowry of a couple of "petty and unprofitable dukedoms".  Henry declined, of course, but Katherine (Sophie Scanlon) works on her English anyway, with help Alice (Lydia Berger Gray).  While the King tries to use diplomacy, the Dauphin continues to taunt Henry.  Henry and his army charge Honfleurs by running through the audience wielding their swords in just one of the eight battles in this production.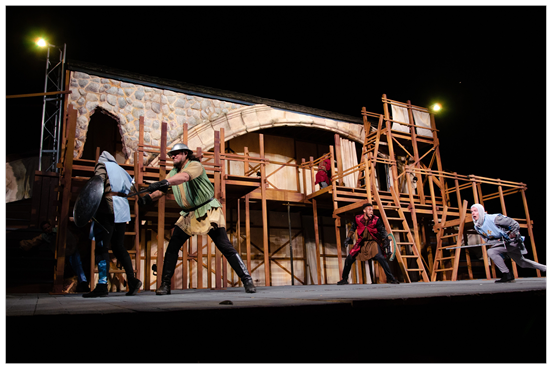 Kudos to the fourteen actors who play multiple roles – not necessarily of the same gender – in this production. 
Sadly, I have to report that there will not be an outdoor production in 2020, since First Folio will be tearing down the old stage as soon as "Henry V" closes.  Fundraising for a new stage has already begun.  They plan to bring back the outdoor shows in 2021. 
All around us, we saw people who'd grouped their chairs around portable tables festooned with candles, wine in proper glasses and gourmet foods!  My friend Karen and I brought some delish snacks and soda, but forgot the table, lol.  By the way, if you'd rather not bring your own food, you can order a meal through First Folio. 
Just a note – In years past, I've wondered how First Folio handles weather issues.  A couple of summers ago, I found out.  During Act I, I could see lightning in the distance, and it got closer and closer.  At intermission, a young woman from the First Folio staff took the stage to announce that they were shutting down the production because a storm was on the way.  She encouraged everyone to quickly pack up so they could get home safely.  As people left, they were given rain checks.  Meanwhile, the stage crew were up on ladders covering the lights – battening the hatches, you might say.  I returned a week or so later and saw the complete production.    
"Henry V" runs through August 18th on First Folio's outdoor stage on the grounds of the Mayslake Peabody Estate, 1717 W. 31st Street (31st & Rt. 83), Oakbrook.  Parking is free.  Bring your chairs or blankets and enjoy the evening.  If you'd rather not schlep all that stuff, First Folio has chairs and blankets to rent.    
Running time is about 2 hours, 30 minutes, with one intermission.  Performances are Wednesdays through Sundays at 8:15 pm.  Tickets range from $29-$44.  FYI (630) 986-8067 or www.firstfolio.org.