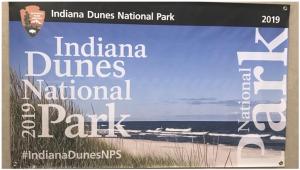 Outdoor activities, and travel to and from those activities, are still permitted. These include hiking, fishing, boating, birding, hunting, bicycle riding (on paved trails and roads) and geocaching. Bike use (on unpaved trails) and horseback riding on DNR properties is temporarily suspended.     
The Park would like patrons to keep social distancing in mind, staying off of unmarked trails, and taking back anything that was brought with you to reduce environmental impact. The Indiana Dunes Welcome Center and Nature Center and Visitor Centers are closed. Shelters and recreations buildings are closed. Vending machines and drinking fountains are off. Also, you will need to bring your own maps. Find Maps HERE
Even though Law Enforcement Rangers remain on patrol, visitors need to do their part to help protect park resources during this difficult time. With bathroom facilities closed and most maintenance staff under shelter-in-place orders, it is very important for visitors to practice Leave No Trace principles when visiting Indiana Dunes. These include staying on trails, coming prepared to pack out your own trash, and leaving the park as you found it. If you see a violation, please report it at 1-800-Park-Tip. Inspect your picnic area, food preparation areas, and rest areas for trash or spilled foods. Pack out all trash, leftover food and litter. For  more on these policies, click here
The health and safety of our visitors, employees, volunteers, and partners at Indiana Dunes National Park remains our number one priority. The National Park Service is working with federal, state, and local authorities to closely monitor COVID-19. They  will notify the public when they resume full operations and provide updates on our website, www.nps.gov/indu, and social media channels like www.facebook.com/IndianaDunesNPS. 
Story courtesy of Sue Baxter, PanoramaNow