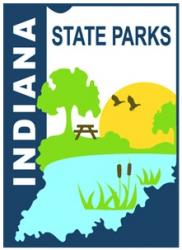 Nature centers, restrooms and trails are open for you to enjoy. Campgrounds, inns and cabins are tentatively scheduled to open on May 24. Subscribe for the latest info on what's open and closed at on.IN.gov/dnrcovid19. See you soon!
Call us!
Reservation staff is eager to help
Did you know that when you dial 1.877.LODGES 1 you reach a team of friendly agents working out of Clifty Inn, Clifty Falls State Park, in Madison?
Our Central Reservation Staff is there to serve up Service State Park Style each and every day as they answer your calls. The team is dedicated to knowing the answers to your questions. Field trips to the other six inn locations and state parks are just a part of their training. Have a question or want to make a reservation? Give them a call at 1.877.LODGES 1.
Accidental Discovery
Protect Your History
Have you ever been on a hike at your favorite Indiana State Park and come across something on the ground that catches your eye? Maybe you bend down to see what it is and find out it's a candy wrapper someone carelessly tossed aside. Maybe it's a discarded plastic water bottle. Or maybe you realize that it's something much more interesting: a historical artifact.
We appreciate you picking up any present-day litter you see, but historical artifacts found on state and federal lands are protected by law. What should you do if you find an artifact? There are three steps that you can take to ensure that you're not only following the law, but also helping to protect our precious cultural resources.
Step 1: Leave it where you find it. Don't pick up artifacts or dig to retrieve them. Artifacts are human-made objects.Examples include stone and metal tools, pottery, glass bottles, ceramics, buttons, etc.
Step 2: Take photographs and document the location. You can use your smartphone to get the GPS coordinates or simply mark the location on a property map. Do not move the artifact from where you found it. An artifact's placement can tell us a lot about the history of the object. If the object is moved, we lose that context.
Step 3: If you find something you think might be an artifact, please notify someone in the property office or nature center. Only a qualified archaeologist, with a permit, is legally allowed to evaluate and excavate artifacts from a site.
David Story
Chain O'Lakes
David Story manages the Sign Shop at Chain O' Lakes. With Department of Correction offender labor, the Sign Shop supplies the entire Division of State Parks with wooden and plastic signs. He is also responsible for building maintenance, and new construction. Dave is the park's liaison with the Chain O'Lakes Correctional Facility on the park grounds. He interviews and fills the varied positions of the 25-man park offender crew.
Since 1995, he has held several positions, including Cabin Maintenance, Assistant Maintenance Technician, and now Sign Shop manager. David takes pride in working all positions that serve property functions and patrons. He is a graduate of Indiana Wesleyan University with a Bachelor of Science in Management. He is very active outside of work. He enjoys water sports, snow skiing, snowmobiling, hockey, football, and rugby. His favorite pastime is making memories with his family while camping in Indiana State Parks.
Prairie Songsters
Grassland birds make a comeback at Indiana State Parks
At the time of European settlement, Indiana rested on the eastern edge of vast grasslands called prairies. Though much reduced in size, grassland habitats support a diversity of plant and animal species, including birds.
In the absence of trees, grassland birds build their nests on the ground, hidden in the dense grass. Insects make up a large part of their diet. As a result, many grassland songbirds are migratory, heading south in the winter to find insects. Songs range from the insect-like buzz of the grasshopper sparrow to the sing-song call of the meadowlark (which was once described as sounding like "laziness will KILL you").
With the arrival of settlers, much of Indiana's native grasslands were converted to agriculture. Grassland bird populations declined. Birds such as the Henslow's sparrow became a Federally Endangered species.
Today, several Indiana State Parks manage and restore grasslands for birds and other species. Prophetstown, Potato Creek, Pokagon, Shakamak, Summit Lake, Patoka Lake and the Upper Wabash reservoirs manage grasslands. As a result, birds such as the Henslow's sparrow can once more be heard singing in their Indiana home.
Learn about Indiana's Grasslands for Gamebirds and Songbirds Program, managed by DNR's Division of Fish & Wildlife at wildlife.IN.gov/9467.htm.
(Henslow's sparrow photo from the USFWS, public domain)
Friends of McCormick's Creek
Good work and good community
McCormick's Creek State Park is lucky to have one of the most active Friends groups in the state. In 2019, Friends of McCormick's Creek raised over $100,000 in monetary and in-kind donations for the fire tower restoration. The group has restored the park's historic Peden springhouse; cleaned the CCC Rec Hall, allowing it to become a rentable shelterhouse; and assisted with construction of Centennial Cabin.
In addition to working on important projects, the Friends Group manages to have fun in an inviting atmosphere. Every month's general meeting is a potluck with an invited speaker. Friends volunteer at annual events and reconnect with people from Arts in the Park or BBQ & Blues. They work the booth at park festivals and invite more people to join. It's a wonderful community that has benefited Indiana's first State Park tremendously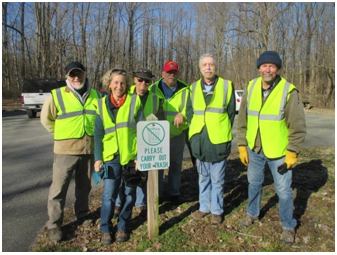 To learn more about Friends Groups at State Parks and to find out how you can join visit: on.IN.gov/INStateParksFriends.