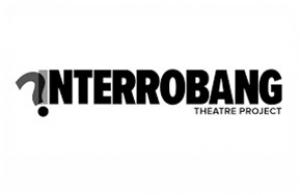 Interrobang Theatre Project is pleased to launch its eleventh season with The Spin, a virtual dark comedy ripped from the headlines, written and directed by Spenser Davis and commissioned by ITP. The Spin will stream via BroadwayWorld from October 30 – November 22, 2020. Tickets ($15) are currently available at interrobangtheatreproject.org. 
The Spin features Salar Ardebili* (Clark Megan), Tom Dacey Carr (Paul McGuire), Elise Marie Davis (Female News Anchor), Elana Elyce* (Deirdre Young), Sarah Gise* (April Henning), Matthew Martinez Hannon (Lorne Collier), Darren Jones (Campaign Commercial Narrator), Scott Sawa (Shawn Treadmore) and Laura Berner Taylor* (KC Pecarrero).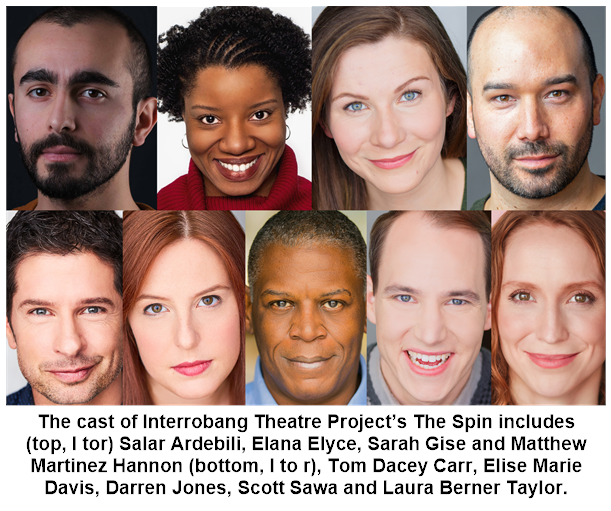 September 2020. Politics are at a boiling point, COVID is rampant and Zoom calls are still the absolute worst. When the Public Works Director of a major city confesses to a horrible crime, a team of spin doctors are brought in at the last possible second to pull off a tough assignment: prepare the Mayor's top aide for a crucial news interview, distance City Hall from the controversy and point the public's attention elsewhere. And do it all entirely over video-conferencing. At a time when live theatre is at a standstill, The Spin is a brand-new dark comedy written and produced entirely for the virtual medium.
The production team includes Matthew Freer (videographer),  LaVisa Angela Williams (costume design), Richie Vavrina* (production manager) and Shawn Galligan* (stage manager).
To learn more about ITP's monthly memberships, visit patreon.com/interrobangtheatreproject.
*Denotes Interrobang Theatre Project Ensemble Member or Artistic Associate.
About the Artists:
Spenser Davis (Playwright/Director) is the Director of Programming for Broken Nose Theatre and an ensemble member at The Factory Theater. As a director, he's been nominated for the Jeff Award for Best Director three times, winning once; his credits include A Red Orchid Theatre, American Blues, The New Colony, Hell in a Handbag, Promethean Theatr, and First Floor Theater, among others. His production of At The Table was named "One of the Top 25 Shows of the Decade" by Storefront Rebellion and "One of the Year's Best" by Chicago Tribune. As a playwright, his work includes Plainclothes, Merge, and Underdogz. He received the 2019 M. Elizabeth Osborn New Play Award from the American Theatre Critics' Association, the 2020 Elizabeth George Commission from South Coast Rep, and was named a finalist for the Harold & Mimi Steinberg/ATCA New Play Award. He's represented by William Morris Endeavor.
 About Interrobang Theatre Project
 The recipient of 2019's Broadway In Chicago Emerging Theatre award, Interrobang Theatre Project, now in its eleventh season and under the artistic leadership of Georgette Verdin, has been hailed by the Chicago Tribune as a "company to watch" and by Time Out Chicago as "one of Chicago's most promising young theatre companies." Chris Jones called Foxfinder, which kicked off Interrobang's 2017-18 season, "...a ripping good yarn," earning it 3.5 stars from the Chicago Tribune. Foxfinder also garnered seven non-Equity Jeff Awards nominations including Best Director and Production of a Play, and took home two awards for Best Original Music and Set Design. The company also earned seven non-Equity Jeff Nominations for their seventh season, including Best Director, Production of a Play, Solo Performance and acting nominations for Lead Actor, Actress (win) and Actor in a Supporting Role (win). Productions have included the world premiere of Calamity West's Ibsen is Dead (Jeff Recommended), the Jeff Recommended The Pitchfork Disney, Orange Flower Water, Recent Tragic Events, The North Pool, The Amish Project, Falling, Grace, The Goat or Who is Sylvia?, I Call My Brothers and Out of Love. 
What's an interrobang?
An interrobang is the combination of a question mark and an exclamation point, joining the Latin for "question" (interro) with a proofreading term for "exclamation" (bang). Through the plays we produce, Interrobang Theatre Project aims to pose worthwhile and exciting questions which challenge our understanding and assumptions of who we are and the world in which we live.
For more information, please visit interrobangtheatreproject.org.